Global Forecast: 2.55 Billion Social People
In June 2013, eMarketer released its "Worldwide Social Network Users: 2013 Forecast and Comparative Estimates" report, revealing one in four people worldwide will use social networks in 2013. The number of social network users around the world will rise from 1.47 billion in 2012 to 1.73 billion this year, an 18% increase.  By 2016, the same study predicts that 2.55 billion people worldwide will use social networks. Top areas of growth? India, Indonesia, Mexico, China and Brazil.
Spotlight: Mexico's Fast-Growing Social Media Market
I'm delivering a workshop entitled, "Twitter Simplified" at this year's Engage Mexico social media conference. The work-vacation is set in awe-inspiring Puerto Vallarta, voted as Mexico's best "Mexican Vacation Destination" by USNews.com in 2010. And for me and a couple hundred North and South American business owners getting together to tan, relax, and learn social media all at the same time, doing so in one of the world's hottest social media markets is ideal.
"Beginning in 2016, Latin America will pass Western Europe in social network user penetration."- eMarketer
México is home to the largest block of Spanish speaking internet users, which after English and mandarin users, are the largest internet content consumer market. "The Mexican web market is not necessarily huge by US Standards, but boy is it dense," explains Ophelia Pastrana, CFO at Kraken Comunicación. "There's twice the amount of people browsing the internet in México than there are people living in 'technology-darling-of-latinamerica,' Chile."
Indeed, Mexico has a voracious appetite for social media. In fact, social media has seen faster penetration in the Mexican market than in the U.S. market.
Mexico's Mobile Influence
Mobile device driven demand is a big factor to Mexico's social media explosion. Smartphones and tablets are the preferred Internet access devices  for Mexicans. Mexico was the first Spanish speaking country to import iPads, iPhone, iPods and to develop it's own locally built Android Phones. Before any countries further south in the equator, and even those Spanish-speaking countries in Europe, Mexico was bringing the latest smartphone technology into its culture.
That puts Mexico in reserved company for what I call "Mobile's Notable Nine"–nine most influential countries in the mobile industry.
The latest smartphone sales figures published by Kantar WorldPanel Comtech show Samsung and Android accounting for 65 percent of all smartphone sales in the nine influential smartphone markets in the world (UK, Germany, France, Italy, Spain, USA, Australia, China, Mexico) for the 12-week period to the end of July. These are the industry players, and making a splash with any of them is a big industry coup.
Windows knows this. The company's low-price models like the Lumia 520 now represents around one in 10 smartphone sales in Mexico. "For the first time [Microsoft's Windows Phone OS] has claimed the number two spot in a major world market, taking 11.6 percent of sales in Mexico," a Kantar analyst notes.
Internet Users Are Social Users
Internet users are social users in the Mexican culture–or, at least, it appears to be evolving that way. "Nine out of ten online Mexicans access some social media channel," cites Havi Goffan, President at Target Latino. "Findings from a comScore study of Latinos Online report Youtube as the most popular entertainment site in Mexico, and Facebook has the most social media activity."  In fact, the study found internet users in Mexico have the highest average online video engagement in Latin America at more than 14 hours/month per viewer.
Mexico is number five in total Facebook users and number seven in Twitter users. From a 17.8 percent penetration in 2010 the social network has grown to 30.3 percent in 2013, a 70 percent growth in just three short years. Twitter reached 10.7 million users in Mexico last year, and according to Socialbakers, the top performing Twitter profile there gains over 50,000 followers a month.
Most Social Media Users Are Real
Mexico offers an unpublished, but noteworthy benefit to the social media marketer–real social media users. Fake or inactive users slow us down as social media marketers. Cultivating meaningful online relationships takes time, and the seasoned social marketer likes to ensure he or she is cultivating influencers. Real people, with real buying power, and more importantly, word-of-mouth social clout.
When Facebook runs its ongoing cleanup of fake, spam, user-misclassified and duplicate accounts, it shares the before and after outlook. Stats from February of 2013 show the top 10 impacted countries, and Mexico is one of the least affected. While the world lost 4.4 million scrubbed Facebook accounts, the entire country of Mexico lost a mere 56,000.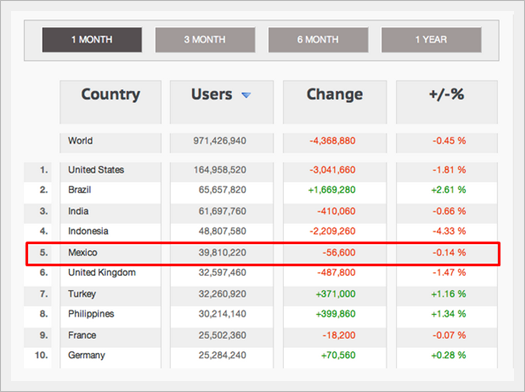 FYI – Wishpond has put together an infographic featuring data on worldwide social-network use. Check it out to find out what parts of the world are likely to see the greatest growth.