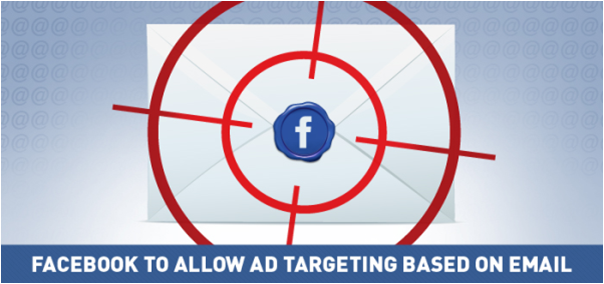 We recently learned how Facebook advertisers will soon have the ability to target advertisements based on the email addresses and phone numbers they already have. Inside Facebook first announced the news and it's since then been confirmed; the relationship between Facebook users and a business' customer base will be bridged.
While full details on how this feature will work are still working their way out, LoudDoor, a social media research and targeting company, provides us with a preview. From conversations with Facebook, LoudDoor has learned that an advertiser will soon be able to provide a list of email addresses that have been obtained on an opt-in basis or phone numbers. Facebook will do a blind match between the advertisers email addresses or phone numbers and the corresponding information in Facebook profiles. Based on this match, the advertiser will be able to target this pool of individuals just like any other Facebook targeting criteria.
For consumers, this means if you've provided an email address (for a newsletter subscription, for example), or purchased something online, your email address or phone number can be used to identify you within Facebook. Whether this provides valuable content and future purchase opportunities depends on how businesses use this data. But certainly, it's an exciting social media marketing advancement for companies who want to target messages to known customers or leads.
Further to this are five great ways LoudDoor recommends markers optimize this new social media reach as it becomes available.
1. Coordinated Campaigns
This is likely the most obvious opportunity, but marketers have long-term, deep experience with email marketing and there are a number of well-established techniques for reaching and monetizing this channel. Coordinating email campaigns with Facebook media campaigns will likely increase the response rates from both platforms.
2. Precise ROI Measurement
One of the most frequent complaints about Facebook is the difficulty tracking campaign performance. Combining known metrics from email campaigns and Facebook campaigns will provide another tool to compare cross-channel campaign statistics and to measure the increased efficiency of each individual campaign. Advertisers will also be able to more precisely control exposed versus unexposed consumers by establishing control groups that match the census of the target population and exposing the groups to unique messages.
3. Repeat Engagement
Introducing calls to action that include email acquisition to the media buying mix on Facebook will allow advertisers to directly re-engage users who have, by responding to an ad unit previously, placed themselves in the lead generation funnel. As these users have already shown engagement with an advertising unit in the first place, subsequent campaigns to them have tremendous potential to increase conversions.
4. Enhanced Look-Alike Targeting
Facebook consumer profiles contain some of the richest information about consumers available. This option enables savvy marketers to match known consumers' with their profiles in ways that will give precise understanding of what over-indexes with these consumers on Facebook. By targeting media buys at these keywords, advertisers will have a higher confidence that they are reaching other users who have a higher likelihood to become customers. In other words, consumers who have opted in to email based offers will form clusters that over-index with certain likes and interests on Facebook. LoudDoor further details this audience segmentation analysis here.
5. Deeper Research Capabilities
Consumer research is core to what LoudDoor does and this capability provides exciting opportunities to greatly enhance the effectiveness and depth of this research.  While email survey campaigns have long been effective, the ability to target these surveys to known consumer databases will greatly expand the breadth of information that can be gleaned from these surveys by combining the traditional survey information with self-reported profile information, providing actionable insights about known consumers.As CRM and social data begin to merge, brands and companies who continue succeeding with Facebook will be those who are adjusting their marketing tactics to utilize this ever increasing suite of tools.