By Alex Gomez
In just a span of a decade, we've gone from stuffing our wallets with business cards and carrying resumes in bulky folders to digitally sharing our email addresses, blog sites, Facebook accounts, Twitter @usernames, and LinkedIn profiles to introduce ourselves professionally. The steady rise in the use of social media as part of our everyday lives is discussed and illustrated succinctly in a 2015 Pew Research Center survey that shows nearly two-thirds of all American adults (65%) currently use one or more social networking sites.
Meanwhile, according to We Are Social.com, monthly active users of social media platforms add up to almost 2.08 billion worldwide. And the chance to engage professionally with just a tiny fraction of that pool is something entrepreneurs, content marketers, and job seekers aren't passing up. Some businesses have even created hubs of shared content written by influential experts to maximize relevance in their particular markets (such as electronics superstore Adorama and its popular Learning Center).
Now, you don't need a "who's who" list of celebrities, rock stars, or gurus to know or endorse you personally and give your brand more marketability and exposure. By simply establishing your professional reputation with well-written, value-rich social media profiles and content, as well as following—and engaging with—movers and shakers in your industry, you will be well on your way to making a name for yourself that has both recognition and impact.
Here's how social media can help you develop a respectable professional reputation:
1)    Craft an Interesting, Value and Information-Rich Professional Profile
Make a list of your most marketable skills, accomplishments, and value propositions and combine them into a sales pitch where the product is you. Add your most attractive (but not overly polished) photo and take a confident yet approachable tone with your words to set yourself apart.
Also, keep these things in mind:
Curate your keywords so that they are relevant to your profession.
Avoid using outdated buzzwords.
Show, don't tell; use action verbs consistently.
To optimize your profile across the most popular social media platforms, here's a handy best practices guide from Unbounce that you can refer to: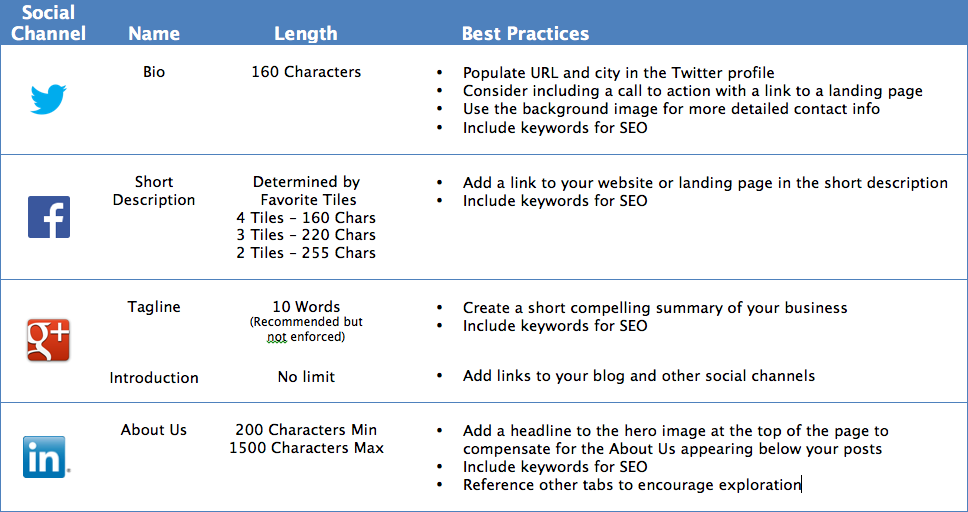 Infographic source: Unbounce
2)    Find and Follow a Digital Influencer
Leverage your professional reputation by following one or more renowned authorities in your area of expertise—who are also very active on social media—to serve as your influencers; even better if they engage you on topics you both have interests in and are willing to amplify your content as you amplify theirs. Here are some questions to ask that can help you spot the ideal influencers in your field:
Do they have a significant quantity of quality followers and shares on social media?
Are other authoritative sites and blogs in the industry consistently citing their name, content, or posts/guest posts?
Are they regularly invited as speakers to conferences relevant to your niche?
Are they genuine, responsive, interactive, and accessible?
3)    Become an Influencer and Not Just an Advocate
Once you've joined a community of fellow professionals and found a few influencers to help you gain traction on social media, you can start the steady process of becoming an influencer yourself. To be considered an influencer in your particular area of specialization, however, you need to be able to start discussions, ask questions no one has thought of asking before, and formulate possible rational solutions or answers. By simply agreeing with opinions without offering challenging points for conversation, you simply become an undistinguished advocate in the crowd rather than an influential voice worth listening to.
4)    Use the Right Tags and Hashtags
With your impressive, attention-grabbing profile, an influencer that has your ear, and a professional community willing to listen to what you have to say, you can now strategize on how to make your your brand and content more discoverable online. But with millions of videos, blog posts, tweets, podcasts, infographics, and photos being uploaded and shared every day, it's easy for your content to drown in the information deluge.
Most, if not all, of the major social media platforms use tags to organize and find content according to topic. By using core keywords and then adding more flexible [hash]tags to them, you can link to current related content as well as remarket old articles from your archives as long as they are relevant to the topic. By doing your keyword research and constantly re-visiting them, you can keep your most intriguing or relevant pieces of content in the loop indefinitely without fear of them getting buried in the crush of new material.
5)    Measure Your Social Media Traction with Google Analytics
With all the hard work you have put into optimizing your professional reputation and brand online, you'll likely want to find out how your social media strategies convert into actual business results and return of investment (ROI). With Google Analytics, you can set up goals for your profile or content pages and receive reports generated from your social media conversions in areas such as new users, visits, page views, time on site, form completions, downloads, email opt-ins, etc… on a network-to-network level.
In the old days when you had to physically find and then meet face-to-face with clients, customers, or influencers to personally make a case for your brand and professional reputation, you can only wonder at how many missed opportunities and connections you might have made if only the right people were able to find you. In today's digital world, fortunately, social media platforms are making it easy to market your name and value proposition, giving you a chance to reach millions of people you could have never dreamed of reaching before. So, if you're in the business of promoting yourself, seize social media marketing by the reins and run with it!
—
Alex Gomez is a freelance blogger for Adorama, a New-York based gadgets and electronics store that offer nationwide delivery. You can catch his update on his Facebook account, he loves to spend his time reading books and playing with his camera.