The way we do business has changed significantly in the last 10 to 20 years. The strategies we used a few years ago is not as effective anymore today. With more and more people gaining access to the internet, businesses now need to turn to the internet for guaranteed success. For many companies, however, it can be somewhat difficult to adapt to the latest advancement and to get acquainted with the World Wide Web.
By reading through the numerous guides out there, it becomes obvious that setting up a website is the first step to taking a business from a local brand to an international brand. Once published, the website needs to be promoted with the utilization of effective online marketing strategies to become successful – without proper marketing, the website will not be able to help the business achieve a higher sale number and obtain an increase in profits.
To help your business grow and become successful on the internet, we would like to share some strategies that can be utilized by both startups and running companies to help them grow their sales and profits through online marketing.
1. Search Engine Optimization
We should start by discussing the importance of search engine optimization for any website owner – be it a blogger trying to make some profits off their writing or a corporate organization looking to drive more customers to their brand. Search engine optimization involves numerous techniques that can be implemented to rank higher in Google, amongst other major search engines.
When it comes to search engine optimization, ePages recommends focusing on creating high-quality content on your website and optimizing the content for keywords that are relatively easy to rank for. Once content has been created, it is important to build backlinks that point to the content to help rank the content higher in search engines.
2. Video Marketing
Staying on top of the latest trends in online marketing is important if you wish to keep your business ahead of the competition when it comes to ranking higher and reaching your target market first. Video marketing is one particular online marketing trend that many companies are adopting now – and it has been proven to be a highly effective strategy for building trust and awareness, while also driving more sales.
Video has become extremely powerful. Forbes report that over eight billion video views are accounted for each day on Facebook and more than half of all people with internet access watches at least one video on the internet per day. In a survey, HubSpot also determined that as much as 90% of online shoppers find explanatory and promotional videos to be helpful when they are deciding whether or not to buy a particular product they are interested in.
3. Content Marketing
While the video is now considered one of the most effective types of content to promote as part of an online marketing strategy, it is not the only type of content to be created and marketed. Even though the majority of internet users are turning to videos when they seek information, there are still a significant number of people that prefer images and written content over video – or a combination of different content types.
For this reason, content other than video should also be created regularly and promoted on numerous platforms. Create press releases and publish them on press release distribution platforms. Infographics can be shared on a variety of websites that specializes in infographics, as well as on Flickr and other image sharing websites. Articles can be written and shared on article sharing websites, as well as on your company's blog.
4. Instagram Marketing
Even though Instagram is still considered relatively new to the social media networking industry, especially when compared to platforms like Facebook and Twitter, the network has seen a significant growth rate since its initial launch.
Wordstream
reports that Instagram has over 600 million active accounts, with more than 50% of Instagram users signing into their account on a daily basis. Furthermore, almost 100 million posts are published on this social network each day.
Instagram marketing is all about being creative and utilizing all the tools provided by this platform to maximize return – plus it does not even have to cost your business anything to be active on Instagram. Create a profile to represent your brand and ensure you add a link back to your website. Share relevant images and use trending hashtags to grow your Instagram account.
5. LinkedIn Marketing
There are more than 460 million active users with registered accounts on LinkedIn, with more than 100 million logging on their LinkedIn account daily. LinkedIn is also one of those networks which are still somewhat new but have grown considerably well since the very beginning. When it comes to marketing a business on LinkedIn, some people are a little disappointed when they are unable to achieve the desired results – this is often due to the fact that they fail to realize that LinkedIn is primarily a platform for B2B marketers. Still, there are many ways to utilize the platform, even when promoting content to consumers and not to businesses.
6. Facebook Marketing
Facebook is often considered the "original" social network, with over 1.7 billion active users and more than 1.1 billion users who sign in to Facebook daily, according to HootSuite. This platform is not only great for catching up with friends but also serves as one of the most powerful social media channels for businesses promoting products or services to consumers. To fully utilize Facebook, ensure you create a professional-looking profile page for your business and share your content inappropriate Facebook groups.
7. Twitter Marketing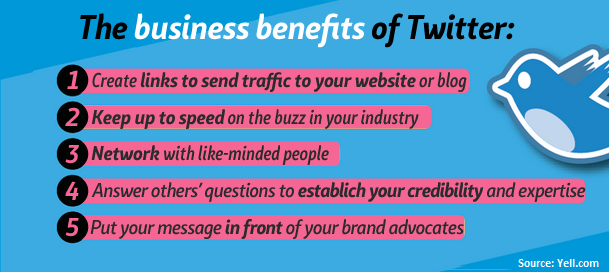 Similar to Facebook, Twitter is also a relatively old social network that has been growing since the start and boasts with some impressive stats. According to Expanded Ramblings, the platform has over 320 million monthly active users, with a total registered account count of 1.3 billion. Considering these figures, it is obvious why Twitter marketing should also be part of your online marketing strategy. This platform allows you to deliver short, yet powerful messages and also features the use of hashtags, which helps you reach more people in your industry.
Conclusion
Thousands of businesses have seen a tremendous growth in sales and profit after expanding their brands to the internet. The internet opens up a whole new world of opportunities for any business, big or small, but when a business fails to implement the right strategies to ensure their online marketing strategies are efficient, their efforts may soon go to waste. The tips we have shared here will help to ensure your online marketing efforts does, in fact, give your business a boost towards better success.