What's the best way to market your salon, spa, or barbershop? It can be hard to determine which marketing strategies are right for your type of business, but one thing is for sure – social media can amplify your mission, products, and services fast. There are so many opportunities in social media for a company to differentiate itself that it can be hard to determine where to start. However, this guide will show you just how to leverage social media as a business owner to not only secure new business but keep clients and customers coming back.
Set Up Your Social Accounts for Success
First things first: You'll want to make sure that your social media accounts are memorable and easy to find on any platform. Here are some steps to make sure your company is positioned for success.
Check Your Username – Does your social media username fit the actual name of your business? Is it easy for your clients and potential customers to find you on social media, or do they have to search high and low or go to your website to find your account? You will want to make sure your username matches your company name exactly. If the username you desire isn't available, you'll need to add descriptors that can help people find your channels, like the city you're located in.
Diversify Your Social Media Channels – Is your company on Instagram but not on Pinterest? Either way, you should be on all platforms. The fact is a lot of people use different platforms and aren't on all of them. By being on Instagram but not being on Facebook, you may be missing out on your main clientele base and excluding a bunch of new customers. When creating accounts on all social media platforms, you'll want to use the same username so that people can easily find you on different platforms.
Assemble Your Hashtags
Yes, hashtags are still extremely relevant when it comes to social media. In fact, hashtags are critical to bringing in new business and attracting a targeted audience who is looking for your services or products. In order to amplify your presence on social media, you'll need to find the right hashtags for your salon, business, or store. To get started, check out other businesses in your area that offer similar products and services and see what hashtags they are using. You can also look into which hashtags your favorite influencers are using. You want to find hashtags that are not only geo-specific, which means they include a location, but you also want hashtags that cover the type of services and products you offer. For example, a hair salon would really benefit from using hashtags like #Balayage and  #HairExtensions along with hashtags like #ChicagoHairSalon. Aside from these hashtags that allow your content to be seen by a large audience, you can also have specific hashtags that you encourage your customers and clients to use when they post to social media at your store or about your products. You can either create a hashtag that's unique or use your brand's name.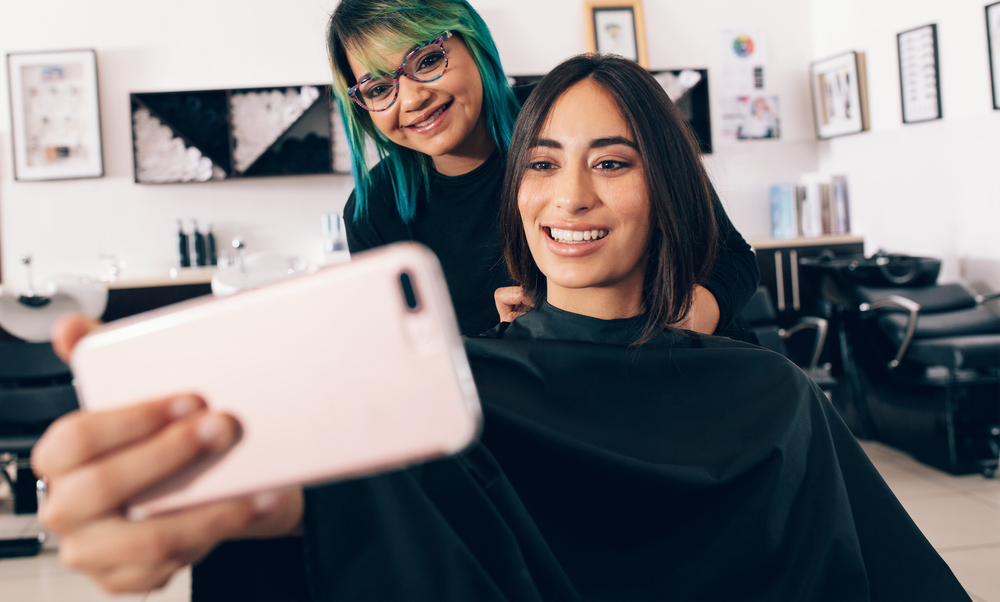 Create an Instagram-worthy space
If you have a storefront, spa, or salon, you will want to create an atmosphere that encourages your customers and clients to post about their experiences. What are the first things clients and customers want to do when they get their hair done or buy something they are excited about? They want to take pictures. And that's great because, at the end of the day, it means more promotion for you. However, many stores and salons miss out on the photo opportunity because their space isn't "Instagram friendly." If you can, dedicate a corner by your retail displays to an instagrammable photo wall. Add great lighting and a fun backdrop that gets your customers and visitors wanting to strike a pose. By doing this, you're giving customers the opportunity to create social media buzz about your brand with stunning photos. Invest in-ring lights and a solid-colored backdrop, and encourage your customers to take photos and tag your brand!
Hang Up Social Media Signage
If you want to create a buzz about your company on social media, you may want to hang up signs or posters around your store or salon that tell your clients where to find you on social media and what hashtag they can use when they post about your company. If you run a salon or spa, you may want to put reminders by a pedicure chair so that guests are encouraged to post about their experience. This could be a great way to gain followers, and make sure people are posting about your company. As an example, if you run a nail spa, you may want to put reminders by your pedicure chairs so that guests are encouraged to post about their experience. If you run a salon, setting signage on styling stations or in the hair processing area may be a good idea.
Offer Discounts for Social Posts
You might consider offering discounts on your retail products in exchange for social posts. For example, you could hang a sign or advertise: "Post a post-service selfie, tag the salon, and receive a percentage off any retail item."
Social Media Giveaways
There may be a lot of people who follow your social media profiles but haven't shopped at your brand or visited your store yet. One way you can turn these followers into customers and clients is by hosting a giveaway. Hosting a fun giveaway by asking your followers to engage with your content or share your profile will boost your brand's image and create buzz around your products or services.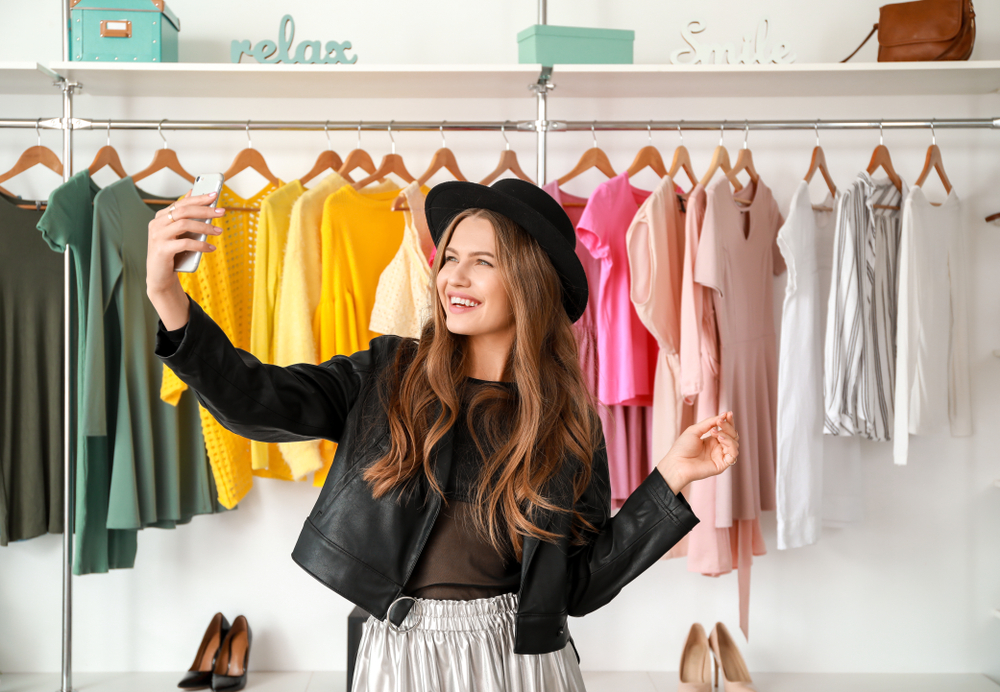 Employee Spotlights
Today on social media, people enjoy seeing actual stories of real human beings. So, instead of only posting product still shots or reposting trendy graphics, it's really important to also highlight the people who keep your company running — even if it's just you. Are you looking to personalize your salon or medspa? Photograph your stylists or estheticians at work! Ask them to pose for a photo next to the salon equipment they use and then post the photos on your social media accounts along with fun anecdotes about them. This really personalizes a company and brand, which draws people in.
Provide At-Home Tips
Salons may provide tips for their clientele to take care of their hair at home. For example, you could post short how-to tutorials to help clients achieve great style at home. This can give some value-add and make potential clients feel that the salon actually cares about them after they leave the salon.
Hire a Photographer
While it's a given that you may need professional photography for your website, we're here to tell you that it's just as important to have a good blend of professional photographs and candid shots on your social media profile, too. At the end of the day, people want to see high-quality photos. Posting a good mix of natural and staged photos of your people or products will win people over on social media.
Social media marketing is always rapidly evolving, and it can seem overwhelming at times. But our best advice to you is to start today! Don't be afraid to solicit feedback from your clients, customers, and followers to find out if people are vibing with your content and voice. And don't forget to hashtag!