By Michael D. Shaw
One of the more overlooked issues concerning health care reform is the relationship between technology and social media, as the former serves the latter regarding news about specific issues relating to personal wellness.
Take the case of Kool Smiles, a national children's dental provider or Dental Support Organization (DSO), and the group's use of Facebook and Twitter to advance every tech enthusiast's dream: The rise of the (mostly) paperless office, where, free from signing and sorting reams of documents, including stacks upon stacks of files and records, a dentist can offer savings to the public and critical care to patients.
According to this study about the value DSOs offer, social media is strengthens a physical community through the resources of a virtual community of likeminded men and women; it embraces new technology as a marketing tactic, which inspires professionals to be in and of the areas they help.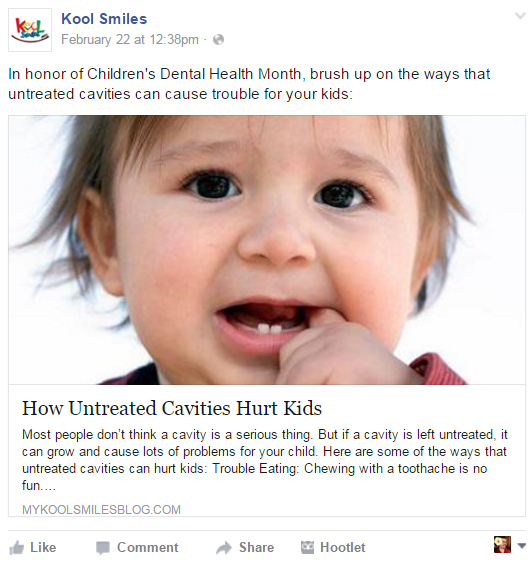 Please note: As a scientist, and as a longtime author, spokesman and industry consultant to individual dentists, this topic matters a great deal to me. And, in that spirit of full disclosure, I am not an employee of or an adviser to any of the groups referenced throughout this piece. The facts I reference are the result of my own research.
Let us, therefore, look at what this organization chooses to post or tweet – and its correlation to the following numbers (see below).
Report: #Medicaid expansion reduces children's uninsured rate https://t.co/EH2FHY4Jt5

— Kool Smiles 🙂 (@Kool_Smiles) February 20, 2016
Kool Smiles providers order 15 percent fewer total dental services, per Medicaid patient, than the competition. The emphasis is on essential care, not inflated charges or excess billing.
A 33 percent lower monthly Medicaid expenditure per patient.
A 23 percent lower utilization and a 38 percent lower monthly Medicaid outlay, per patient, than a non-DSO dental provider.
On a state level, a Medicaid program of this kind would equal $550 million in savings.
Bottom line: Social media is the catalyst for starting – and sustaining – this discussion, in comparison to paying lip service to the idea of helping the ill and impoverished.
This mission requires frequent updates, relevant material, accurate data, timely information and respect for the marketing reach of social media.
This mission, I must emphasize, is not a one-off production; it is not a part-time indulgence, to be exercised at the whim of some intern or inexperienced staffer.
This mission is a collective endeavor – it is a community-run enterprise – for the long-term health of children, girls and boys most vulnerable to neglect or in need of medical assistance.
This mission enhances the immediacy of technology, with the intimacy of online interaction among dentists, parents, and friends and families of those with a stake in this conversation.
This mission symbolizes the good social media can do, for the greater good of educational and individual empowerment.
This mission starts now, without restrictions or reservations; acting as a summons to leadership and group accountability.
It thrives on social media.
It shall continue to flourish.
—
Michael

D.

Shaw is a

 biochemist and writer about a diversity of issues,

Michael

D.

Shaw

is a former protégée of the late Willard Libby, the 1960 winner of the Nobel Prize in Chemistry.

Michael

is a graduate of UCLA, with post-graduate work at MIT. He resides in the Greater Washington, DC, Area.