After Facebook's winter re-release of search ads, the social platform-turned-advertising-giant has recently expanded this option to more advertisers. In addition to the typical locations advertisers could place their ads, like the news feed and stories, this new option now allows ads to be generated as results right in Facebook's search bar!
With this game-changing new feature potentially becoming available to all advertisers soon, here's a bit of history–and some tips for adjusting to the expansion of Facebook search ads using social media PPC advertising.
Facebook Search Ads Make a Comeback
Facebook's search ad feature gives search engine-like functionality, allowing businesses to reach potential higher-intent individuals through advertisements that appear within that tiny top bar of facebook.com.
Facebook previously introduced its original version of search ads briefly in 2012, but earlier iterations were messy and fiercely competitive as they allowed for targeting that could give apps and pages the chance to cut ahead of competitors' organic (possibly more relevant) results. Advertisers' actions in pulling traffic away from competitors could be considered unethical, at best.
A re-imaged version of the feature returned to select advertisers toward the end of 2018 and has just recently been opened up to even more. In this newer version, you simply select Facebook search ads as a placement option, just like you would for the News Feed or Stories. You can choose where you'd like to direct your traffic, including outside of the app and straight to your site.
The creative is up to the advertiser and the live ads appear with the "Sponsored" tag just as they would in any other available placement locations. As of now, video formats aren't supported and it's required that any ads that appear in the Facebook search bar must also be placed in the News Feed.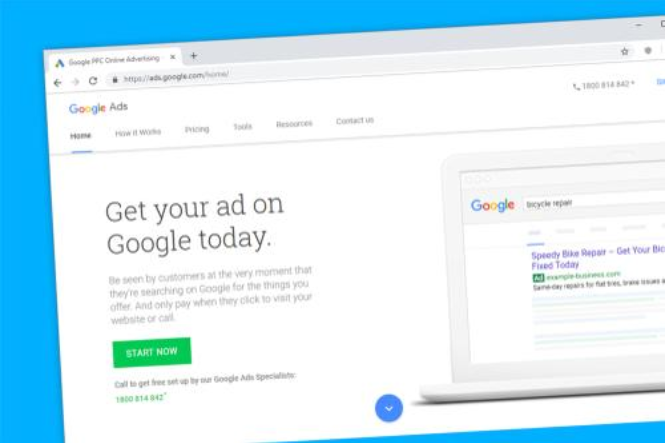 No, This Isn't Just Like Google's Advertising Platform
While it's natural to think that the Facebook search ads feature operates just like Google's search ads, it's not the same. Facebook's version offers more limited options for keyword targeting but gives advertisers the opportunity to experiment with creative and formatting.
While Google's search ads allow you to target hyper-specific keywords and phrases, Facebook references the information directly on your page in order to determine where to place your ad for particular searches.

The queries made through Facebook are likely to be quite different from those in Google, as the search intent on Facebook is still more likely related to going somewhere–like to a specific page–rather than buying something. The Facebook search feature hasn't been traditionally used for purchase-specific queries, even if the users there express higher intent than those consuming content elsewhere on the platform.

Facebook search ads can include rich creative that combines words and imagery, while Google's search ads are normally more straightforward as either text-based or shopping feed-based.
Despite its differences from more traditional forms of PPC advertising, like search and display ads through search engines, this new addition to Facebook's advertising offerings has forced professionals to continue to evaluate the relationship social media PPC advertising has with eCommerce businesses.

How to Adapt to This Expansion
Facebook search ads don't operate the same way other forms of PPC do, but that doesn't mean they should be ignored. There are creative and strategic ways you can build Facebook search ad placement into your overall PPC strategy.
Focus on Your Page's Content:

Since Facebook search ads don't allow you to handpick keywords and phrases, it's important that the content on your site speaks clearly to your intended audience and contains the terms you'd like for your ad to come up for. Just as you would build keywords and phrases

into

your SEO strategy on your eCommerce site

, do the same with your Facebook page. If nothing else, this will give you the chance to audit your current content (which you might not have touched in years) to ensure it truly reflects what matters most to your business.

Explore the Competition:

Run your own test searches in the Facebook search bar to understand where your competitors are appearing and possibly find inspiration for your own site content. Think about how your customers might be searching through Facebook and how those queries could differ from other PPC channels. Use this information to guide your exploration.

Find Those with High Intent:

If you're selecting the search bar as a placement for your lead ads, consider

checking off the "high intent" option

to ensure you're collecting as valuable of leads as possible. High volume can be beneficial in some instances, but if you're trying to put together a list of people who'll convert, you're better off focusing on your high intent customers.

Don't Discount Other Placement Options:

The Facebook search ads feature is so new that it's not even available to all advertisers yet. While it's helpful to think ahead by exploring the different ways you can best utilize it, it's also important to explore how this placement can work with your other advertising placements. A bigger picture view can help you tie it all together.
What's Next?
Will this resurgence of Facebook search ads lead consumers to start using Facebook's search bar like they use Google? Will advertisers jump on board immediately? What type of return will this new placement option bring businesses?
While there's no way to predict how–and how quickly–the industry continues adjusting to the expansion of Facebook search ads, with a little upfront knowledge and careful planning, you can stay ahead of the curve.