If you doubt the efficacy of social media – rather, if you want to see the greatest discrepancy between what so many marketing experts and their respective agencies claim to do versus what a specific group can do – look at the shell casings, police tape, memorial flowers, candles and photographs that surround the streets of Paris and the town of San Bernardino, California.
The perpetrators of these acts, the jihadists responsible for the mass murder of innocents, share at least one thing in common: Their recruitment and admission into this theocratic monster of hatred and defeat has its roots in the power of online propaganda in general and the alarming lethality of Twitter in particular.
Now, ask yourself the following question: Why is a barbaric movement that seeks to defile women and decapitate non-believers – an Islamist organization that already does commit rape and murder – have more dedicated followers, people who will kill themselves while in a state of religious exhilaration, than, say, an entrepreneur peddling an organic fruit bar or a sugar-free energy drink?
Why are so many companies paying so much money to so many people for so little return on their investments?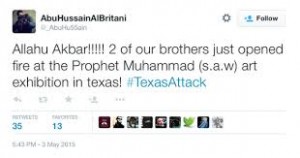 Why, in other words, are actual cavemen – international outlaws who hide and sleep within caverns throughout the Middle East – able to emerge from the darkness, and capture a Wi-Fi signal and tweet their 140-character-count fatwas of death against Western civilization, while data scientists and social media marketing specialists (so-called) struggle to get followers to buy something that costs five dollars or less?
The answer is simple: Our enemies have something to say, no matter how vile their rhetoric is and how violent their actions are. A sincere messenger beats an inauthentic promoter almost all the time.
Still, truth alone is not sufficient to transform pliant people into homicidal maniacs. In fact, the "truth" our enemies circulate, that an orgiastic paradise awaits those who blow themselves to smithereens, is a crude – and cruel – lie.
But that result is a testament to the influence of persistent communication and aggressive recruitment by terrorists, murderers condemned to the depths of the earth and destined for the lowest rungs of hell.
And yet, their deeds demand a response to the questions posed above. For it is indisputable that these killers know how to make a person the center of attention, how to court the alienated and disaffected, and how, through a series of verbal blandishments and impassioned promises, to get these individuals to do anything.
The moral is clear: Unless we counter lies with the disinfectant of truth, and until we treat people as human beings and not as "followers," social media will be as alien to us as is the ideology of those who use this medium to reiterate their intentions to exterminate us.
We must create content worth reading.
We must deliver news worth sharing.
We must respect people worth knowing.
We must master a platform worth using.
We must prevail.
—
Dr. Julie Albright is the co-founder of Walden Bromley Media. Dr. Albright specializes in branding as storytelling, and is a frequent author and sought-after speaker about social media, marketing, technology and communications.
Main image credit: MariaScrivan.com