Written By: Barbara Elliot
A landing page is the most effective way to display your services or products to your targeted audience. It explicitly provides details to the online visitors about your services and guides them how they can find what they are looking for. It is one most effective ways to quickly boost your online traffic and increase sales. However, many people need guidance to take advantage of this technique. A boring and ineffective landing page may not bring any positive outcomes for you.
The following are the most effective tips that you need to consider if you want to create a perfect landing page design for your website.
Avoid too much cluttering  
You don't need to put too many colors, animations, unnecessary content, and images. If your page includes this, then you need to revamp your landing page design and make it simpler, easily visible and easy to understand. In this way, you will be able to put a professional image on others. As per a research, the best fonts for landing pages are considered Arial, Helvetica, and Geneva. Design your page with just 2 or 3 simple colors. Similarly, just use the least number of images as you can, because excessive images and content may distract the online visitors.  
Present features of your page  
Tell your online audience what your landing page is about. Give them every opportunity to know the features that they must understand as soon as they land on your page. So maintain your page features and offers in such a way that keeps up their interest in your landing page and never make them leave the page for any particular reason.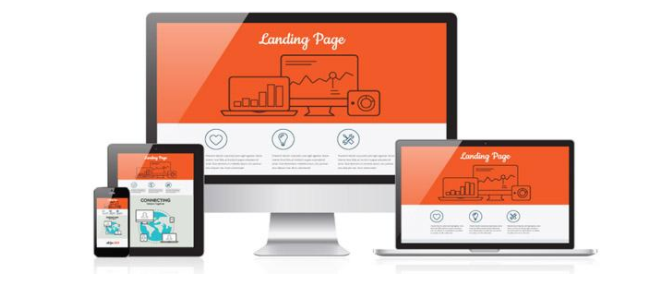 Avoid asking too many questions of visitors   
Do not put a burden on your online visitors or annoy them by asking irrelevant info. Just ask basic and essential questions such as a name, a valid email and a contact number are all you need. They will be able to quickly get registered on your page by providing this basic info.   
Never optimize your page for large resolution screens  
This is very common blunder made by fresh designers and unprofessional people. If you design your page for large resolutions, your online visitors will face problems and will not be able to quickly load your page. It is recommended to create a landing page design for 768X1024 resolutions. This way, you will be able to get more traffic on your page.  
Get Speed optimized Design  
This is a beneficial and a key aspect that is missing in many landing page designs. However, you must not avoid it. It will enable your landing page to load swiftly on almost every internet connection.  Online visitors will leave a page right away if a page takes too much time to load.
Author Bio
Barbara Elliott is a Digital Marketing Specialist for Phdify.com. She particularly enjoys technical onsite SEO and content development and has very strong beliefs in genuine and ethical marketing methods. Barbara enjoys Design and Photography. She also writes articles on SEO and Online Marketing for different blogs and magazines.