Article first published as Big Data without the Big Wait: An interview with Marius Moscovici, CEO of Metric Insights on Technorati.
Co-authored by Lillian Pierson

"Data plus context equals insight," that's the mantra of business intelligence (BI) solution,
Metric Insights
. The company provides a self-service, collaboration-focused business intelligence platform that delivers insight from the combination of source data and user-generated collaborative data context. I met with Marius Moscovici, Founder and CEO of Metric Insights, at the second annual
NoSQL Now! Conference
and Expo hosted by
DataVersiity
.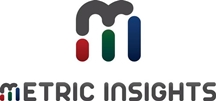 Metric Insights addresses the recurring complaints business intelligence (BI) users frequently have about data solutions: limited adoption, limited and accessibility, and long wait times. The company's solution differentiates itself from other providers by boasting a combination of advanced data features to each, including:
Context-based reporting — external event data and annotations
Collaboration between users
Ease of use for greater user adoption
Multiple data sources — from Excel spreadsheets to Big Data
Quick deployment
CONTEXT-BASED REPORTING:
"There's a big spike in sales. Let's see what happened here."
In his article, "The Pathetic State of Dashboards," Mark Smith of Ventana Research stresses the importance for BI solution providers to find a way to prioritize data and make reading it more like reading a newspaper. "With headlines and stories that people can read to make decisions or take action," Smith describes.
Traditional BI solutions don't provide the context around data. This is Metric Insights' strong suit. Suppose, for example, your company did a system upgrade, or suffered system failure. Measurement of around these external events provides greater insight into what's happening with your company.
Without context, "52," for example, is just a number. But what number is it? Because the enterprise organization behaves much like its own ecosystem, everything is related to or impacts everything else. In this environment, context means relationships and correlations that provide deeper meaning to just mere numbers. With elements like cause-and-effect, hierarchies and feedback loops paired with an overlay of external events, that "52" can be reflective of a whole series of events. Knowing this, the data-based decisions you make with Metric Insights are better informed ones.
COLLABORATION: No more lost email threads.
Next to context, collaboration, is perhaps the second most important function of a meaningful data solution. Think business intelligence meets social media; that's what Metric Insights delivers. "Data has no value without collaboration," Moscovici insists. Metric Insights' collaborative capabilities embed conversational elements that make emailing back and forth a thing of the past and turn data into actionable intelligence.
EASE OF USE = MORE ACCESSIBILITY: BI adoption flat at 15% of users (Source: BARC)
What if, like a Google alert, you could set your BI solution to do most of the work for you, in vying for your attention only when it's necessary? As Moscovici describes it, that's how his Metric Insights platform was designed in the first place. The idea, he explains, was to make things easier, not just for BI professionals and data scientists, but also for end-users and enterprise IT. To this point, Metric Insights allows end-users to self-service their dashboards by adding events, comments, alerts, reporting elements, and 3rd party objects to the data points and metrics of their choosing.
Metric Insight alerts can be delivered via email, twitter, or even text message. Imagine that? "I don't want to look at this chart every day, so just let me know when we're either over or under performing." Set. Done.
And when these events happen, End-users can also star particular metrics, thus allowing them to "follow" all commentary, alerts, and events that are associated with those metrics. "Metric Insights allows us to rapidly deliver Big Data analytics reporting and dashboards that are elegant and intuitive," remarks Marc Parish, VP at Barnes and Noble. In these ways, the platform functions as a collaborative self-service BI portal where each user receives only the information that they want; not too much and not too little–from clerk to CEO.
MULTIPLE DATA SOURCES: From Big Data to Excel
Goal: get all the information you work with into a single view. As Moscovici explains it, "The challenges of quickly delivering meaningful analytics from Big Data is solved with Metric Insights. Our customers can visualize information from multiple sources and review charts with insights gathered from across their organization."
Metric Insights allows data scientists and BI professionals to quickly select appropriate visualizations, configure their metrics, and then publish dashboards to a sea of end-users on the platform. BI professionals no longer have to spend their time doing custom build-outs for each data visualization. Rather, they spend more time analyzing the underlying datasets and selecting key metrics.
With Metric Insights, the BI professional is able to set privileges for each individual dashboard, thus controlling access rights by end-users or group of users. No training or custom dashboard development is required if Metric Insights is implemented as a BI solution.
QUICK DEPLOYMENT: "The shortest time to value of anything I have seen." – Vincent Dacanay, Sr. Data Analyst, MyPoints
Big Data analytics typically requires long waiting times that are unacceptable to most users. Like other BI solutions, Metric Insights allows for rapid data visualization and incorporation of data from multiple data-sources like SQL, Oracle, and Excel. It also allows for external data sources such as data from Salesforce, Google Analytics, and Splunk. The solution runs off of a data caching layer, which makes things easy for IT and the underlying data infrastructure.
Metric Insights' data cache can be set to only send an update query to the underlying database when that underlying database has been updated with new data. Because the platforms run off of the data cache, when each individual user opens their dashboard, the dashboard will pull from the cache and not the data warehouse itself. This decreases the overall demand on the underlying IT infrastructure. "With Metric Insights' intelligent caching  architecture, users access pre-rendered analytics instantly, without the wait," Moscovici explains.
Therefore, unlike competing solutions, Metric Insights users benefit from an implementation in hours instead of weeks. "It is remarkable how short our time-to-value was on this project," reports John Zdanowski, COO of PixelFish, a Metric Insights and Google BigQuery customer. "With less than 8 hours of effort, we had data loaded into BigQuery and produced a rich dashboard of insightful metrics and reports."
—
Lillian Pierson is a data scientist, and the author of Renegade World Travel. You can connect with her on Twitter @LillianPierson and at her blog, The Freedom Co-op.