As written for Social Media Today
Trademark Theft Goes Social
A fun article, "Suing Big Companies in Small Claims Court Is Fun and Easy," makes it sound reasonably "fun and easy" to go after a big company with a small claim as a bullied consumer. Author Ben Popken talks about his successes as the little guy up against telecom behemoth, T-Mobile.
But what if it's a bigger claim, and you're just a small company? That can get get pricey when the checkbooks are opened. Certainly, small companies can sometimes be overshadowed, and, in the worst case scenarios, even bullied by large corporations. Often, not a whole lot can be done about it.
One San Francisco Bay Area company, BizCloud®, knows a bit about this. They've experienced somewhat of a theft–a trademark theft.
"BizCloud® has thrived because we built a strong, recognizable brand that is trusted in the cloud computing market," company founder Vahid Razavi asserts. "But our good name has been hijacked by a large corporation, named CSC (Computer Science Corp)." The latter company having launched a "BizCloud"-named product two years ago.
Razavi is quick to point out that his emblematic trademark, "BizCloud®" is registered with the USPTO office, having been used for many years. "Today we enjoy the success we share with our clients whose organizations were transformed by our services, but CSC's taking our name has led to direct confusion within the technology sector, and it's affecting our business."
So BizCloud® contacted CSC.
They tried to be nice at first. Razavi tells me, "We informed CSC on more than one occasion that they are infringing on our IP, and asked them to kindly cease and desist." But the pleas were disregarded, and CSC's BizCloud business continued to grow. According to trademark-registered BizCloud®, they tried everything and even consulted with experts, but can't go head-to-head with their nearly $16 billion rival.
So they got creative.
The little guy in this story went the unconventional approach, and launched a full blown "Stop Bullying!" social media campaign. "A campaign?", you ask? Indeed–and you can even win an iPad Mini.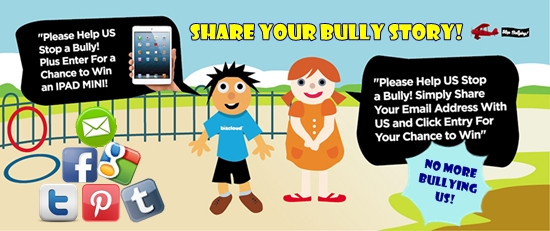 "We wanted to raise awareness of this important issue, and figured, 'hey, who hasn't been bullied at one time or another?'," Razavi recalls. "I'm short and foreign with kinky hair, I know about being bullied!."
The social media campaign, promoted through Facebook, Twitter, LinkedIn and other channels, invites victims of bullying to share their stories for the chance to win the iPad Mini. The promotion reads, "Tell us in short about yourself and your business and share how it was impacted by any unfair actions of an individual or a large multinational corporation. Your story matters! #CloudBully"
It all makes great sense. In his article, "How Your Small Business Can Beat a Large Competitor," blogger Rob Marsh says it succinctly: David can beat Goliath, but not in a sword fight. He has to change the battlefield…come from an unexpected angle. That is the only way he can win against a superior enemy.
Is It Working? 
It appears to be working. In less than two days from launch the little grassroots effort has generated over 3,000 shares and produced 250 stories. A number that's expected to surge as the campaign is heavily promoted while CSC has its earnings call this week.
"Some corporations have rightfully earned the reputation for bullying and harassing smaller companies," Razavi explains. "We want to crowd-source stop them."