As published in Business2Community
Video Production
"Any video you make should "add value" to your other content. In other words, don't just do a video version of an article you've written."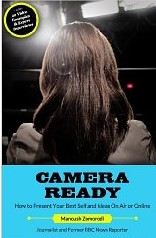 That's how Camera Ready: How to Present Your Best Self and Ideas On Air or Online, a new multimedia eBook, begins. Author Manoush Zomorodi uses her on-camera expertise from years of producing and reporting for BBC News, Reuters Television, and other media outlets to create this pithy instructional on what works (and doesn't work) in video-making.
Zomorodi's Camera Ready covers the gamut of essential video best practices . Topics include how to present your best self and ideas, what to wear, and essential interviewing skills. The multimedia eBook includes twenty how-to videos on experiental tips and techniques, in addition to interviews with video experts from industries including broadcast journalism, retail, non-profit, PR, and education.
I gained valuable insight from "The Art of Interviewing Chapter" of Camera Ready, where the importance of speaking in soundbites was pointed out. But what's particularly engaging about Zomorodi's book is the particularly personal voice she's chosen to write it in. Manoush isn't afraid to share details of lessons that got her to this set of important rules. Full of examples of in-field, on-tape, trial and error are the types of stories we learn a great deal from. All together, it's a fabulous guide to being brilliant on-camera.
"Teaching means repeating yourself a lot so I always thought, 'One day I'll write all these tips down,'" Zomorodi recalls. And she's done quite a bit of valuable writing on the subject. Her eBook can be found on Amazon.
which includes clips such as How to go LIVE, Should You Walk and Talk on Camera, Bloopers and more