Twenty years ago if you wanted to get marijuana you practically had to dress in a black hooded sweatshirt and pants, commission an unmarked vehicle and travel to the darkest street corner in the worst neighborhood in order to sneakily purchase a dime bag. It was either that or building up the courage to visit your local drug dealer's 'not so incognito' basement apartment and pray that he didn't get raided by the police before you were able to leave with your newly acquired stash.
Buying pot on the corner. Photo from Gentside
Thankfully, for many of us, the days when purchasing cannabis was a shady, dramatic affair are no longer. This is largely due to the fact that it is now legal to purchase marijuana in several states. Cannabis lovers can now get their supplies legally for authorized dispensaries or cannabis retail stores located in state where the plant has been legalized. When marijuana dispensaries first started opening up in some states they were not exactly concerned about how aesthetically pleasing their shops were. Retail design took a back seat and the focus was just on providing stronger varieties of the marijuana plant to their growing customer base.
Today, however, things have changed. The number of cannabis retail shops is on the rise and the operators of these dispensaries are looking for ways to stand out from the competition in a market that is steadily expanding. It's no secret that there is money in the cannabis industry and lots of it. Everyone wants to get their share of the big green pie and many are willing to up the ante in order to get it.
Putting more thought and planning into their retail store design and aesthetics is what the best dispensaries are doing to standout in the market and this inevitably also has the effect of enticing more customers while simultaneously slowly shedding the negative stigma that has become attached to cannabis over the years.
The cannabis dispensary retail stores that are being opened today are notably more aesthetically pleasing than their ancestors. Many of the old style dispensaries are being renovated to be more modern so that they can stay relevant and competitive while also giving the customer more value and a superior shopping experience.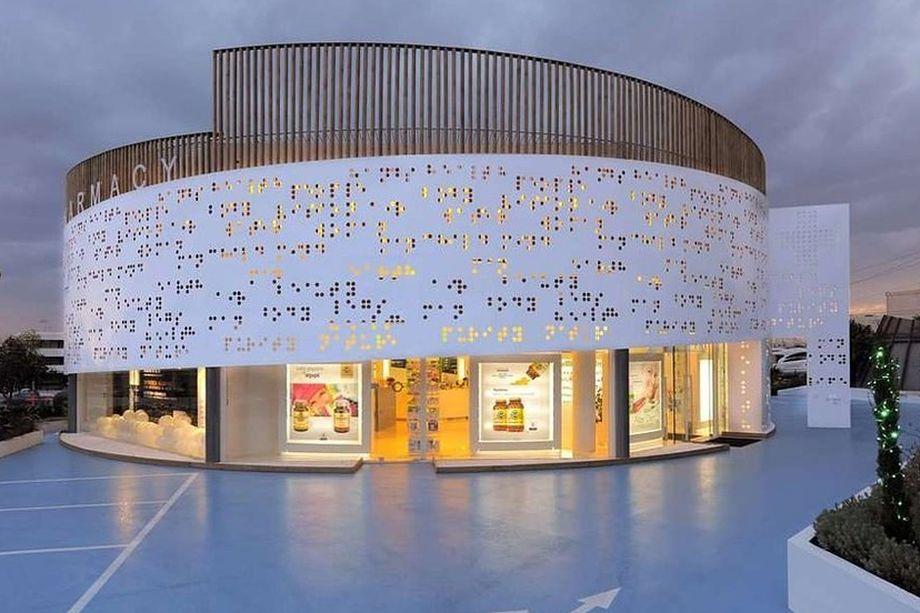 Placebo Pharmacy. Photo from Arch Daily
Curb Appeal
Before you enter a building, the curb appeal is what you will see the area immediately outside if you are facing it from street. This will include the outside walls, any landscaping (or lack thereof), signage and sidewalks. In business, the curb appeal is what forms your customs first impression, as it is the first thing that they will see prior to entering your store.
Curb appeal is one area that has to be addressed in order to make a cannabis retail store more inviting to potential customers. Cleanliness is fundamental to good curb appeal – no one wants to buy cannabis from a dirty building so the cleaner the better. If there are plants on the outskirts of the store they should be well kept and cared for. The outside area of the store should be kept clean and clear of debris at all times.
Any signs that are located on the outside of the store or in the store display window will contribute to its curb appeal and so they should always look professional. Hanging signs haphazardly in just any old location tends to look messy and this can unknowingly have the effect of turning customers away. Cannabis products are primarily consumed orally and most people like to know that what they are putting in their mouths is coming from a clean and tidy place.
Interior Decor
Once someone enters the door of a cannabis retail shop everything that they see inside is a part of the store's interior decor. All flooring, lighting, seating…even the cash registers are included. If a dispensary is to be more inviting to customers, this intention needs to be deeply considered when planning the interior decor of the retail space.
The color scheme or theme colors should be chosen with care. A color may go well with your logo but will it be uncomfortable for customers to look at? Most bright colors and patterns with closely repeating lines should be avoided. Natural toned and soft, earthy colors are very popular choices found in well-design cannabis retail spaces.
SilverPeak Apothecary. Photo From Silverpeakapothecary.com
Display Units
In the old days, there was always a good chance that you did not actually see the marijuana you got from the local street side dealer until you were safely back in your car or your apartment. It was not uncommon for cannabis customers to get conned into buying poor quality produce this way. Modern dispensaries, however, are all about proving cannabis of the highest quality and they are proud of it.
In most modern cannabis retail stores the available strains, extracts and other products are prominently displayed in professional packaging and on beautiful customized display shelving / cases with adequate lighting. Everything is carefully labeled with all ingredients and strength of the THC and / or CBD content, giving customers as much information about each product as possible so that they can buy in confidence.
Technology
There has also been a notable increase in the number of cannabis retail shops that are integrating the use of technology into the design of their spaces. Computers or iPad's loaded with customized software are now replacing the traditional cash register in many stores, recessed lighting is all the rage and wide screen HD television screens line the walls of the new, modern marijuana dispensary.
Retail Store Staff
Staffing is also a very important aspect of any retail space. A far cry from the dope dealer who quickly handed buying customers a mysterious, small package with no more information than "This is da bomb!", today's modern cannabis retail store staff are much more knowledgeable about the goods that they are selling.
Friendly Cannabis Retail Staff. Photo from KUOW 
Savvy cannabis retailers are taking the time and effort required to ensure that their staff members are thoroughly educated about their products as well as how to professionally interact with customers. The result so far has been knowledgeable, well-dressed and friendly staff who are only too happy to help customers find the best cannabis products to meet their needs. This type of service can be very appealing to cannabis newbies who may otherwise never consider buying.
Cannabis retail stores across the nation are taking steps to improve the aesthetics and overall customer experience in their stores. Doing so will help them to attract more new customers, encourage customer loyalty, remain competitive and give more value to their customers. The cannabis industry as a whole will also benefit from this trend to improve store designs as the public will get to see more beautiful cannabis stores and this will slowly but surely help to remove the cannabis stigma so that all can see the plant in a more positive light.