Article first published as CEO Interview: Visual Engagement: The Power of Storyboarding with Storyboard That on Technorati.

Paraphrasing the Lean Startup mantra – In today's business world the question isn't what you can build, but what you should build. Central to knowing what to build is a firm grasp on what problem you want to solve, why you want to solve it, and then how to solve it. I grasped much of this in my interview with Aaron Sherman, CEO of 
Storyboard That
.

"Storyboard That was designed from the ground up to provide the tools and mental frameworks to help people ideate and iterate over ideas via visual storytelling," Sherman explains. Anyone working in an enterprise organization, or at a place with more than a few parking spaces in the lot knows the importance of cross-organizational communication. In order to break down and build up ideas strong communication between all of the stake holders (marketing, development, IT, creative, etc. is paramount.
Storyboard That fills a critical niche of providing a professional rapid storyboarding tool focused on conveying a message and rough user interfaces. Sherman explains, "The artwork is intentionally a bit vague to give the impression that the storyboards are works in process and invite conversation to improve them." Storyboard That isn't competing with high-end programs to create high-definition movies. The opposite, in fact. The company is focused on delivering an easy-to-use, cut-and-paste program that enables users to go from thought to mock-up in minutes. "We see ourselves as the PowerPoint of the storyboard market," Sherman reflects, "professional, easy to use, and incredibly powerful but not flashy."
Storyboard That is a deceptively simple but powerful tool. In just a few mouse clicks, a storyboard creator can have a great looking storyboard that clearly illustrates the players, actions, and objects of a concept. "By focusing on a frictionless interface, we free the author to focus on the truly value creating questions of what message do they want to get across and why," Sherman shares.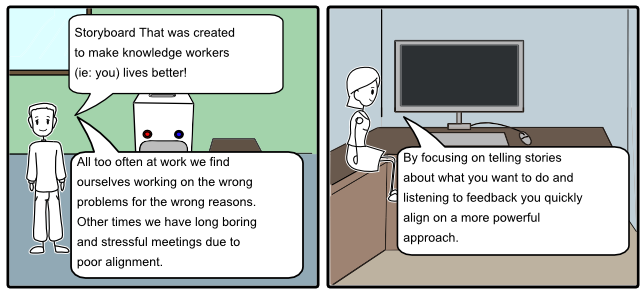 According to Sherman, the very linear nature of a storyboard constantly forces high value questions on the image creator. Things like "and then?" or "why?" necessitate answering through illustration. With each tweak to the storyboard the author thinks further and deeper about the subject. After the first draft is done the author gets to share their storyboard with colleagues who will instantly be able to grasp what is being communicated by the visual cues and able to add their own ideas and further the iteration. By focusing on alignment and understanding at the beginning of a project higher quality results are achieved.