Written by: Normand Bourque
If you're like me and are always looking for easier methods to manage all of your social media accounts, you know the possibilities are endless. A few good platforms have great elements to them, but are then deficient in other areas.
Hootsuite has long been the go-to standard for many social media marketers, and I used it for years. But it's hardly intuitive and has mixed reviews.
I've long held the quest for simple, intuitive, comprehensive social media management.
I recently tried eClincher, and found it to be a simultaneously robust, yet easy-to-use tool. That's a rare combination to achieve. But eClincher manages to do it. It has everything you want in an social media management (SMM) tool, and things you didn't even think you needed until you use it.
Below are some of the highlights of my eClincher test run.
When I say it's robust, I mean it with Eclincher you can set up almost every type of platform that you need to manage your accounts:
As expected, eClincher allows you to fill queues for your various accounts to create an auto posting schedule. The platform provides a preview of your post.
RSS
A fabulous differentiating feature of eClincher is the ability to easily create RSS/custom feeds. eClincher simplifies it. Feeds from specific publications can be added, and custom feeds can be developed with search words. eClincher will automatically search that keyword and produce related articles and posts that can be added to your queue.
I tried both approaches, set them up to publish to my Twitter account and it worked fabulously. The platform offers a superb RSS auto schedule system that allows publishing intervals to be customized and configured.
Consistent content generation, particularly on a platform like Twitter, is the key to getting noticed, and eClincher's RSS feeds make it easy.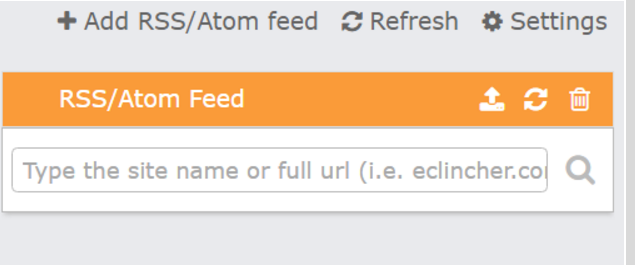 Instagram
There's only so much automation that can be done with a strictly mobile-managed platform like Instagram. It can't be entirely automated.
But eClincher's devised the next best thing: A way to manage "managing" Instagram. Images, copy, and hashtags can be added through the web portal. You schedule the day and time, and eClincher will notify you via your mobile device to post at the designated time.
While other tools have a variation of this feature, what sets eClincher apart from the others is that it automatically saves your picture, and copies your text…all you have to do is hit post.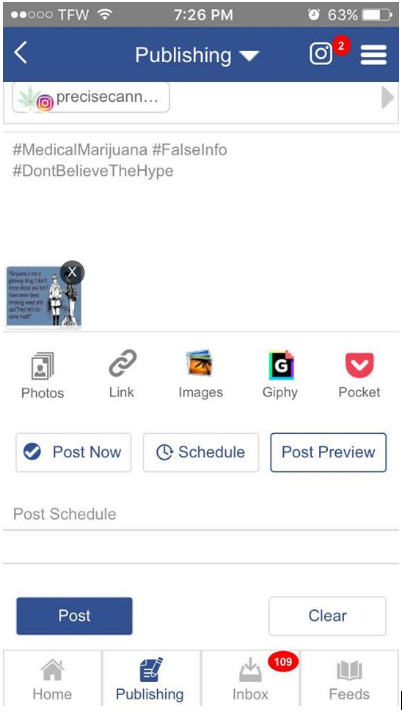 Canva & Giphy
You know what's cool? A social media management platform that plugs right into the coolest amateur graphics programs. eClincher allows you to work with Canva and Giphy, and their image galleries have thousands of stock photos at your disposal to help create fresh and unique content. Visual social media is a must, and this helps facilitate it.
Photo Editing
I didn't realize how handy it is to have a robust photo editor as part of a social media management system. I'm so used to going back and forth between the SMM and Photoscape (which I highly recommend as well, if you haven't checked it out).
The photo editing tool is a familiar interface with a surprising number of photo finishes, effects, and overlays.
Got memes? You do now.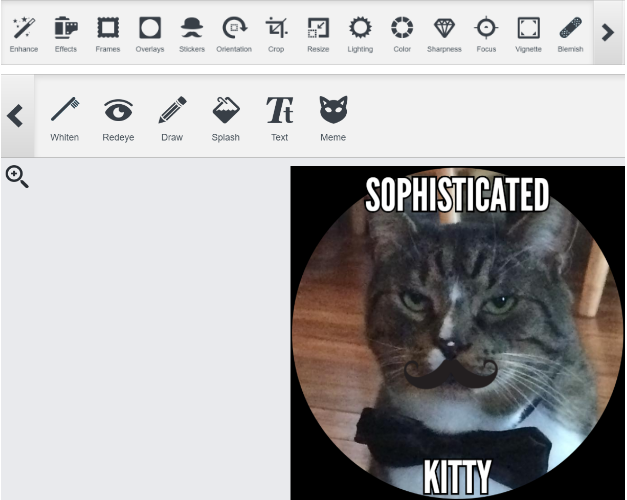 Relationship Management
Eclincher isn't all fun and games, the platform has what I found to be a helpful "inbox" feature that tracks all comments, followers, and DM's from as many social media accounts as you like. From there you can follow back, respond to comments or DM's, and even tag people as influencers, leads, or just people to follow-up with.
I made a couple custom tags to separate business from personal contacts and track influencers.
Analytics
eClincher offers a robust analytics suite that tracks follower demographics, page likes, mentions, as well as top influencers, and all the great stuff you need to impress even the most scrupulous of marketing VPs.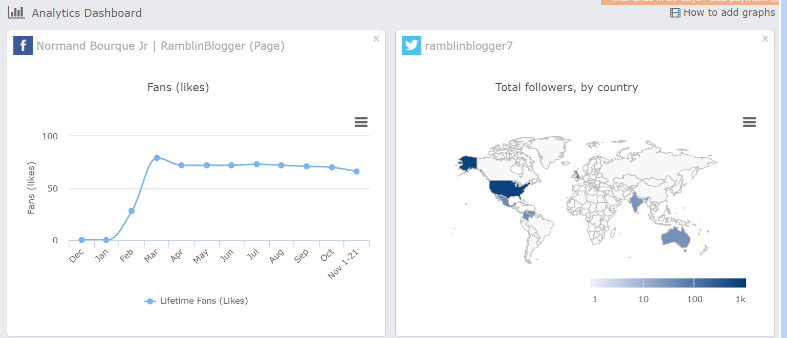 Summary
I was very Impressed with eClincher. I told a friend of mine, "If you're looking to finally upgrade from Hootsuite, this thing has everything you could ever want." I found it to not be as user friendly in a handful of areas, compared to some of the other programs I've reviewed. But then again, no other tool has as many features as eClincher.
It's superb in what it does, and the company's website has plenty of tools to help navigate even a novice through the platform. I even gave chat support a try three times and found them very responsive to my questions.
The cherry on top? They have a mobile app that does just about everything that can be done on the desktop version, making this the perfect on-the-go application.
If you want to see more of what this beast of a tool can do you can schedule a private demo with someone and they are more then happy to show you. Tell them Norm sent you and mention my code to save 10% off your chosen plan: Rambling10