As published in Social Media Today
Email Marketing
Is email marketing dead? I've written about this two years ago and it keeps coming back. Certainly, mumblings around the social media circuit like to evoke the sentiment and I expect we'll here more about it at San Francisco's ad:tech this week. I'm sure there's a track somewhere in the two days which asks: "Is email marketing still relevant in a world full of social networks?"
Remember all the talk a few years back about how Social was going to replace email? Dave Scott, CEO of Marketfish does. The sentiment back then was all about how kids 18 and under "don't know what email is." But things appear to have come full-circle according to Dave, "If you are a brand and you want people to like your Facebook page, all you are really doing is hoping they are going to like it. What smart social marketers do is use email to drive people to social engagement."
Part of Social Media Marketing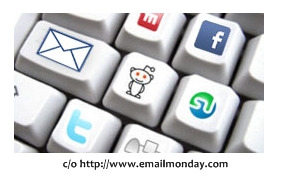 Dave's not alone in his thoughts. Social media strategists are writing that email marketing is still a very important and relevant part of any complete web marketing strategy. The key now is to effectively combine your email marketing and social media marketing strategies together to execute on your goals. "In order to make social effective," Dave says, "you have to drive the right traffic."
Email is certainly a good way to do that. After all, people rarely switch email addresses, but they do migrate from one social media channel to another. And a company like Marketfish is able to deliver cost-effective CPCs because email marketing done right is highly targeted. 
In the end, 
email 

may very well be an 

essential

 element to 

social media marketing

. 

Combining email and social media is becoming easier for marketers, as well, as technology providers have synchronized the two. Constant Contact allows you to include a share bar in your newsletter so readers can share it on your social networks. And MailChimp makes it easy to drop in social sharing icons from an abundance of social networks, including Facebook, Twitter, Digg, to bring your marketing campaign full circle.