Earlier this week, Entertainment Promotions closed its doors, laying off 667 employees, including 225 at its Troy, Michigan headquarters. The company is best known for that massive coupon book some of us buy from kids out fundraising for their school. The company had a 50-year history and earned itself a household name.
This may not rival the Twinkie news, but it's a big blow for schools, parents, and people who don't mind the awkwardness of carrying around large coupon books. The tendency may be to dismiss this news as a tragedy, the product of the economy. But like Hostess, the news holds valuable lessons in the importance of evolution.
To be fair, we don't know all the deals of the bankruptcy filing yet, and we're unsure of the company's plan of action. Still, We can look at a cursory level a surmise a few things.
Importance of Keeping Up 
Certainly the company's ill-fate has something to do with M.H. Equity Investors, a Carmel, Ind., company that purchased the brand in 2008. The year, by the way, when you really needed to be on top of evolving technology trends to begin taking advantage of them. The firm has a colorful past, including ties to earlier Indianapolis-based insurer Conseco drama. And high profiled personal legal battles, paired with low profiled name calling make for not-so-smooth times.
Let's put all that aside and have an objective look around their website.
Wait, is this the M.H. Equity Investors that have given us the "Jersey Shore" spin-off, JWOWW beauty line? Why, yes it is. Majority owners in the distributing company.
Clearly, then, a firm not entirely focused on investments for strategic longevity.
Dig deeper, and discover the group's third, majority-owned investment has a website that pays homage to 1998's Microsoft Frontpage.
So, clearly not a firm riding on the cutting edge of things here. But that alone doesn't have you drive a 50-year old brand into the ground.
Other things do.
Three Lessons
1. Save Trees, Go Mobile
The first lesson is rather obvious. You and your friends ever download the red-hot Entertainment.com phone app? No, of course not.  First because it's not cool, and second, because there are better ones out there.
The big book-toting user of Entertainment Promotion's past success isn't the same burgeoning market as today's mobile adopters. Mobile users are more sophisticated, and we expect the brands we deal with to be sophisticated, as well. Adapted from Detroit Free Press, this timeline history shows that somewhere between acquisition, and the Extreme Savings Card for high school football teams launch, should have been some real investment into R&D.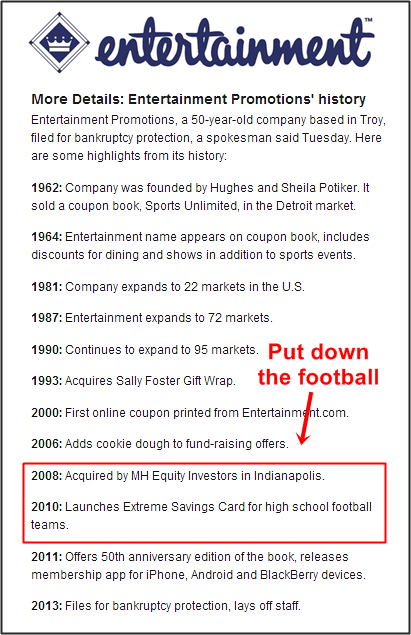 2. Sell the Experience, Not the Deal
This is the less obvious, but equally responsible to Entertainment Book's failure. Like them or not, use them or not, the winners in today's "daily deal" industry are those who've shifted emphasis away from the "deal." The experience, not the deal, is the new consumer appeal.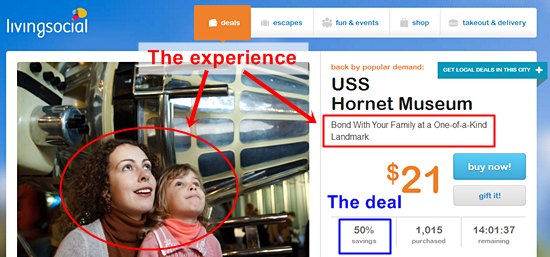 3. Sharing Is Caring
The Entertainment Book needed to evolve from a one-to-one concept, to a many-to-many strategy back in 2008. Content is the currency of Social today, but even back then, user generated content began gaining in value and demand.
Sharing reviews. Sharing stories. Sharing images.
Every perforation in the printed Entertainment Book of past needed to equal every social, mobile, and web share in the future.