As written for Technorati

Is This the Year of Gamification?
Last year I had a prediction that 2012 would be the year of gamification. I may have been wrong. Just this year the Gamification.co proudly announced 1 million views to their consistently compelling SlideShare content. And others are beginning to talk of game integration into processes as line items on next year's P&Ls
. In fact, Technorati registers 32 gamification blogs today, when just a few years ago we had one or two!
One ambitious startup I've covered in the past year is Fanzy. The company originally launched as a branded platform for consumer brands and celebrities to identify, manage, and engage brand influencers. The social loyalty SaaS platform gamifies the experience of being a fan by rewarding users for social activity around brands, TV shows, films, celebrities, sports teams, athletes and more. As Fanzy members generate buzz for a brand, they unlock real life rewards, social achievement badges, and are added to a leader board for each user.
I spoke with Fanzy's Co-Founder & Co-CEO, Tuhin Roy a year or so after meeting him at Ad:Tech 2012. This is a recount of agile product, marketing, and branding management on how one company turned it's gamification proposition around in just about a year.

ANDRE: What does this enterprise approach afford your target users, that the former product/approach did not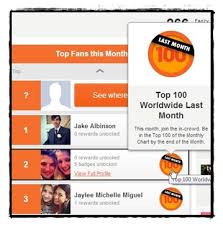 TUHIN: After years of investing to grow likes on Facebook and followers on Twitter, social marketers are discovering that social channels are broken.  When a brand posts to their Facebook Page, only 8-10% of their fans will see the post and almost none will share that content. Fanzy goes a long way to solving that problem by identifying a sub-set of their fans who will get the word out to their friends and want to get rewarded for their influence.
Once we realized that we could get great amplification by engaging power fans with rewards and gamification, we started to realize the power of rolling Fanzy out broadly across multiple Facebook pages run by each brand.  Based on this insight, we created Fanzy White, which is a white-labeled version of Fanzy that enables enterprises to create a consistent social loyalty experience for all of its social fan bases.
Many of our clients are struggling to engage hundreds of social fan bases for various sub-brands on separate Facebook Pages and Twitter accounts.  With Fanzy White they can create social loyalty programs for all of those sub-brands within a single app.  By doing this they aggregate all of that fan power and can focus it on whatever their top marketing priority is at any given time.
ANDRE: What does this approach afford Fanzy insofar as growth, partnerships, and revenue?
TUHIN: In late 2011, we launched Fanzy in beta first as a free tool and then as a freemium SaaS tool. It was self service and very low cost. We got more than 25,000 brands on the platform but weren't driving enough upgrades to take the company where we thought jt could go. In Q1 2013, we shut down the self service platform, and launched the Fanzy "Social Loyalty Suite," adding new options for larger enterprises.
Our goal was to have a conversation with each potential client. That approach has worked out great. It gives us the opportunity to really understand each company's challenges and to offer a set of products and features tailored to those needs. From a revenue perspective, the shift has been positive for Fanzy. Starting with the revenue base we built with the freemium SaaS tool, we've grown revenue by about 200% per month for the last four months.
ANDRE: Where do you see gamification going and growing as a fundamental part of brand strategy?
TUHIN: Gamification has quickly gone from being a buzzword to being a fundamental part of consumer expectations. A great recent example of this is Waze, which is effectively navigation gamified. If I asked an entrepreneur a year ago, how would you take on Google Maps, the answer would probably be "you don't."  Well, gamification (and, of course, crowd-sourcing) were the answer.
What I think that points to is that gamification is becoming a default feature for almost every consumer experience. Fanzy applies it to social loyalty, but I would be looking at every aspect of brand strategy to see where it can help engage consumers.
More on Fanzy's gamification for strong branding: