Digital media consumption has increased by nearly 50% in the last three years, which means people are turning to online sources for content more and more. The market is getting overcrowded, and having just a clever "click-bait" headline is simply not enough anymore – if it ever was. 
According to research done by the CMO Council, more than 25% of all marketing funds in the United States are directed toward custom content creation. Taking into consideration that online content marketing was in its initial stages only ten years ago, this fact is astounding. Therefore, if you are a content creator, you are probably aware that getting noticed on the crowded web is becoming harder and harder. In addition, being creative can be tough when you have to think about ROI at the same time.  What follows are four content marketing ideas that will help you make sure your content does not get lost in the shuffle.
1. Instagram Storytelling
In the past few years, the visual CM world has taken the web by storm with social websites such as Instagram, Vine and Periscope. The fact is, people use social media to engage with each other, and Instagram is still the king of social engagement – it is delivering 58 times more engagement per follower than Facebook, and 120 times than Twitter.

It is valuable for both sales and engaging your target demographic, and, it is one of the best ways to get feedback from your followers. You need to use Instagram to "pull back the curtain" and show the human side of your brand. Take for example, Adam Braun, a successful entrepreneur and a New York Times best-selling author, who posts photos of his family and memes all the time, and links to his posts once in a while to drive traffic to his blog.
2. Start a Podcast with your Blog
Podcasting is finally making a breakthrough – close to 17% of adults in the U.S. listen to podcasts on a regular basis, according to Statista. You should also note that less than 3% of marketers are using the medium to reach potential customers, so you could not pick a better time to start using the platform. If you are blogging on a regular basis, you should consider creating a weekly podcast from your blog posts – it does not have to be anything complicated, each episode could be as simple as reading the text verbatim. In addition, each episode should be posted on the same page as the post it is based on, so that your visitors have the option to read the text, or have it read to them.
3. Make a Weekly Link-Roundup
If you are a marketer, chances are you are following the news and events going on in your industry – so why not bookmark relevant news stories, interesting articles and blog posts throughout the week. You could simply take a few minutes each Sunday, sort out those links and turn them into a blog post, for example, you could make a list of Top 10 blog posts, downloads or podcasts each week. In addition, this is a great way to build links – you could get in contact with the people you link to, and get your link in their roundups. Moz reveals, that in 2014 alone, 37% of business owners spent between 10,000 and 50,000 dollars on link building. You could achieve great ROI through legit, methods of this New York based SEO company and organic link building with less money invested. In my experience their White hat techniques have proven to be very successful. While White hat SEO techniques are a ton of work, they work flawlessly.
4. Focus on Specific Holidays and Events
The holiday season is a great time for content marketing, in addition to increased spending and traveling, people consume more content, according to research from Outbrain. Not only that, but the article also points out that demand exceeds supply. You should also take into consideration that each month is full with events and holidays. Take for example this February; marketers had at least five big opportunities: World Cancer Day, President's' Day, Valentine's Day, Super Bowl 50 and the Oscars.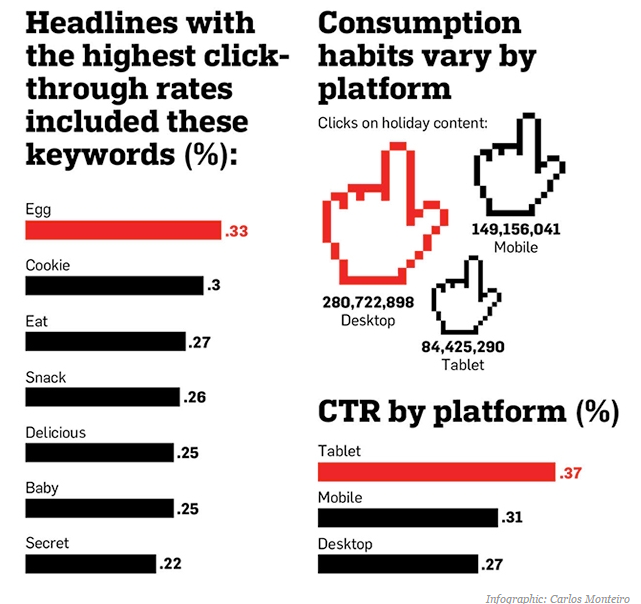 These are just four options; there are multiple ways to tackle the challenge of content creation but the four above mentioned will continue to work flawlessly for the time being. It seems that we cannot get enough of innovations and we keep neglecting the golden rules of Content Marketing, hoping that we will stumble upon the next big thing. But, what the heck, why not? Content marketing is extremely intuitive filed that requires a lot of creativity. So start by asking yourself, what your buyers would want to read and see. Once you figure that out, try and figure out how to drive high engagement from your content. Let us know about the results.
—
Nate M. Vickery is a business consultant from Sydney, Australia. He has a degree in marketing and almost a decade of experience in company management through latest technology trends. Nate is also the editor-in-chief at bizzmarkblog.com.