As published to Huffington Post
In March of this year, a group of social media enthusiasts and developers of the@Crowdfire Twitter Premier League set out to challenge one another to see who could amass the greatest number of Twitter followers in a given period of time. Growth hacker Karan Thakkar won this challenge, growing a nascent Twitter account from 300 to over 5,000 followers in three weeks. And this is how he did it…
The challenge was set up in three stages.
The Challenge
Round 1. Maximize your follower gain
Round 2: Maximize engagement per tweet
Round 3: Maximize engagement per follower
1. Maximize Your Follower Gain
The objective in this first challenge is the simple task of accumulating a gain in followers (Follower Gain (FG) = Followers – Unfollowers). Bear in mind, by rule,Twitter only allows a new account to follow 2,000 users, so you've got to be selective and shrewd about how you accomplish this.
How do you find Twitter followers who are likely to follow you back? Then, how do you get them to engage with your tweets?
With some research and actual experimentation, Thakkar determined it's first essential to select a niche interest for your Twitter profile. For example, thimble collector.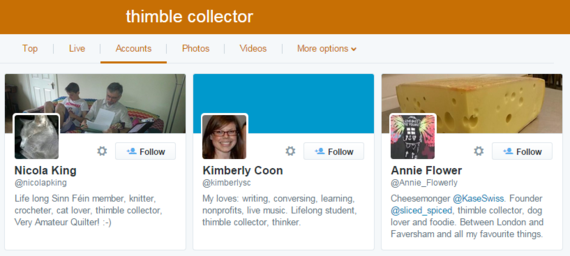 Find active users who tweet daily, and have a follower to following ratio of 1 to 2, as these people are more likely to follow you back. It's essential here to allow some time for people to follow back before unfollowing those who do not (I do 4-5 days).
For this objective, Thakkar wrote a simple browser script to automatically follow people on Twitter. Note, this is highly against Twitter's T&Cs, but for the purposes of this story, that's what he did, generating 1,200 new followers in a short period of time.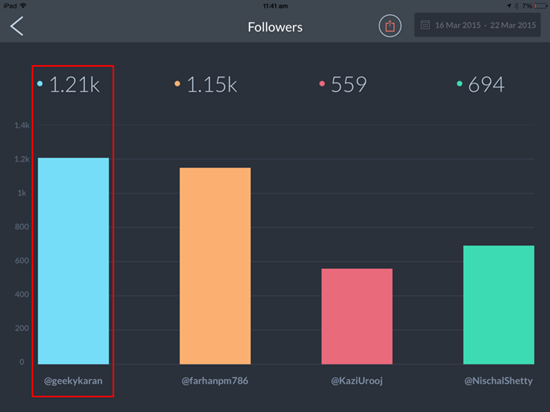 2. Maximize Engagement per Tweet
The measure of Twitter engagement is equal to (retweets + favorites + mentions) / number of tweets. Therefore, you want to tweet fewer times, with better content, to create more engagement. The key to this is two-fold: great content and distributed scheduling of tweets.
For this competition, Thakkar achieved more engagement for his tweets by including trending hashtags like #growthhacking, #socialmedia, #smm, #marketing, #seo and #blogging. He created a script that would favorite all the tweets on the search results page and developed a tool to list targeted users–in this case, growth hackers and social media gurus.
Here are his results:
3. Maximize Engagement per Follower
In this next phase, the objective is to maximize engagement with the lowest number of followers as possible–essentially then, to ensure the followers you have are active and engaging with your content. The formula used for this competition was:
Thakkar had had around 3200 followers at the time, and wanted to grow that to 5000 followers by the end of the round. For that, he was targeting that every one of his tweets had at least one favorite and one retweet. Here, tweet volume and content quality is critical.
Thakkar discovered something called the Twitter Streaming API that lets you monitor events and tells you when a user has tweeted, and wrote a script that would monitor his best followers and tweet the same content from his account.
His results of this phase are here: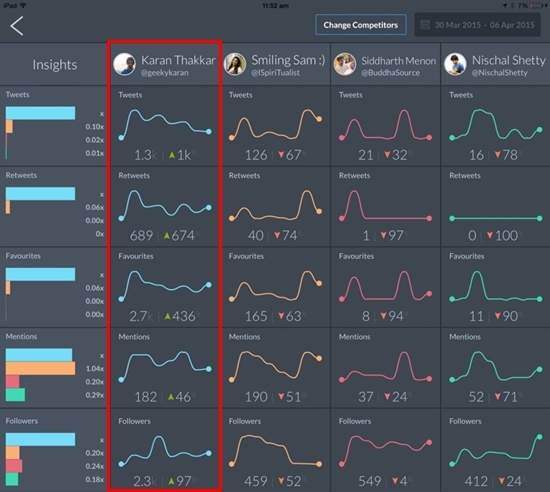 In the end, Thakkar hacked his way to following 4.7k users, and acquiring 5.2k followers in three weeks. And along the way, he developed a new found level of Twitter expertise.
Key Takeaways
Don't follow blindly and expect a followback. Choose your target and follow wisely.
No one likes inactive accounts. People will unfollow you if they see that you are inactive, so post quality tweets and stay active.
Post content that is relevant to your niche market. Do not tweet about a random of topics, no one likes that.
Use a social media management solution to automate and schedule your content.