Hashtags are widely used in Twitter, Instagram, Facebook and other social media websites, and are referred to by blogs, news websites and commercial websites. People are using hashtags in order to promote an idea or a concept. Social media marketers are using hashtags to promote their posts so when readers are clicking those hashtags, they will be promoted with that post in the "Hashtag Search Results" pages. This is ABC of social media marketing. Now…. Imagine you could tell which hashtags will be trending up in the following day? Imagine you had an accurate forecast of not only which hashtags are been used NOW, but of which hashtags WILL BE used?
Obviously, If you had the power to forecast the trending hashtags – you would use the trending hashtags, and not the hashtags that you usually use when write your posts. This is what the TagPredict App is proposing: a hashtags prediction technology.
TagPredict is a small free Chrome Extension that plotting hashtags predictions on your screen, as you browse. It highlights hashtags on your screen, and gives you the predictions when you mouse-over a specific hashtag. It looks like that: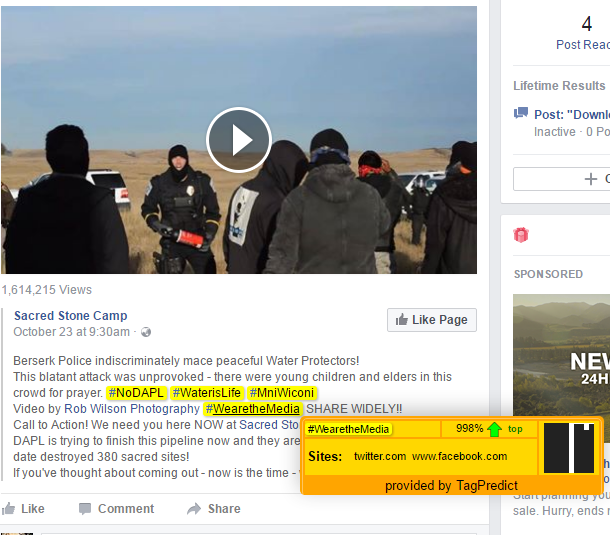 The small window presents a small trend graph and listing the top 3 websites where the hashtag been recently used. It is also giving you the trend forecast for that hashtag – is it going up or going down in popularity?
TagPredict hashtags predictions are based on a smart algorithm which reads the historical data and looking at the progression speed of each hashtag in comparison to the others. The data is derived from a group of crawlers that operate like Google Crawlers, only that TagPredict is dedicated to looking at hashtags only.
When you click the TagPredict browser button, you can get the trends of hashtags captured on the site you currently browse: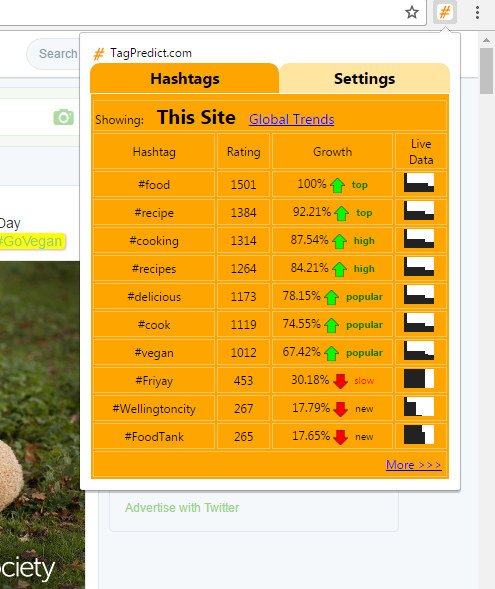 And if you have the TagPredict Biz license, you can get full analytics reports on every hashtag you want: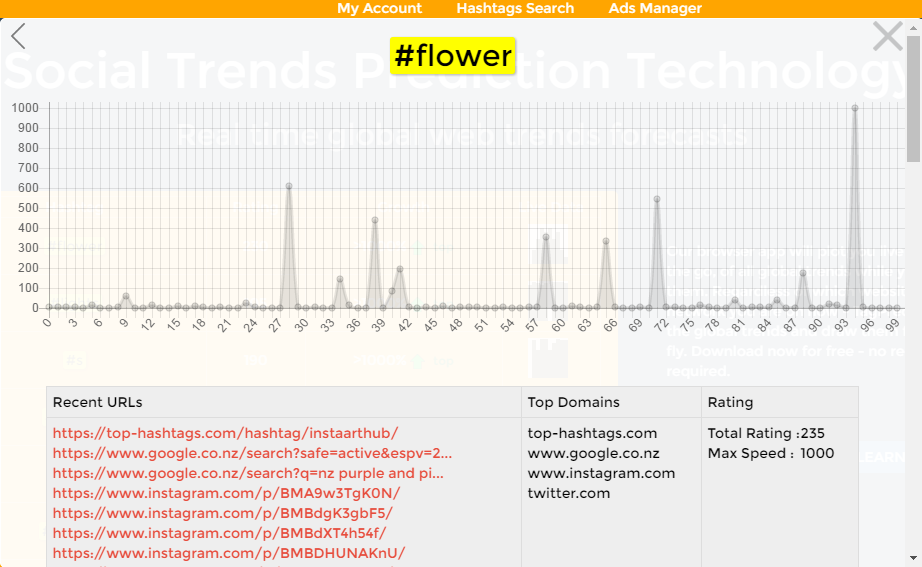 One of the main advantages of TagPredict is that it consolidates hashtags data from ALL websites, and not just from Twitter or Instagram. It also does not rely on the Twitter / Instagram APIs – TagPredict run their own crawlers. So for example, when you look at the "#Burger" hashtag in Facebook, you get only Facebook posts which use it. When you look at the "#Burger" hashtag in Twitter, you see only the twitter posts which use it. But when you look at #Burger in Tagpredict, you see data from all available websites and all together  – Twitter, Facebook, Google, Instagram, Blogs, and even your own website. Now this is a conceptual revolution!
Not relying on data from the social media APIs is also a refreshing idea. We all know that Twitter and Facebook are promoting posts for payment. It means that popularity of content presented on social media is biased by the provider. TagPredict on the other hand, is crawling to *all* social media pages (and other websites), regardless if it is promoted or not, and ranking the hashtags popularity according to the hashtags prediction algorithm.
The add on is free to download from the Google webstore:
https://chrome.google.com/webstore/detail/tagpredict/paeleikfhjllfcdmkgnjmmkikchonnih
And more detailed supplied at the TagPredict website: