By Michael Akinlaby
With 42% of Twitter's users following brands, Twitter is a great place to build brand ambassadors, drive traffic and convert sales.
Instead of starting all the way from the scratch, you can tap into the fan base of your competitors.
Your established competitors have spent years building their army of ambassadors and customers on Twitter. By tapping into their fan base, you'll be stealing their most active customers which would help you accelerate your business growth.
So where do you start from?
Find Your Authority Competitors
Forget the small players in your niche. They have almost the same goals as you. They could quit or pivot their business at any time. So, it's hard to compete with them. Your long established authority competitors have spent years building their brands.
They have many dedicated customers. The first step is to know who they are. The best way to recognize your authority competitors is to perform a search on Google for your main keywords.
Let's say you're in the dog niche. You can search for a keyword like "dog breeds." According to Google Keyword Planner, "dog breeds" receives 550,000 average monthly searches. A lot of your established competitors would surely appear on the first page of Google for that keyword. Below is Google search result for "dog breeds."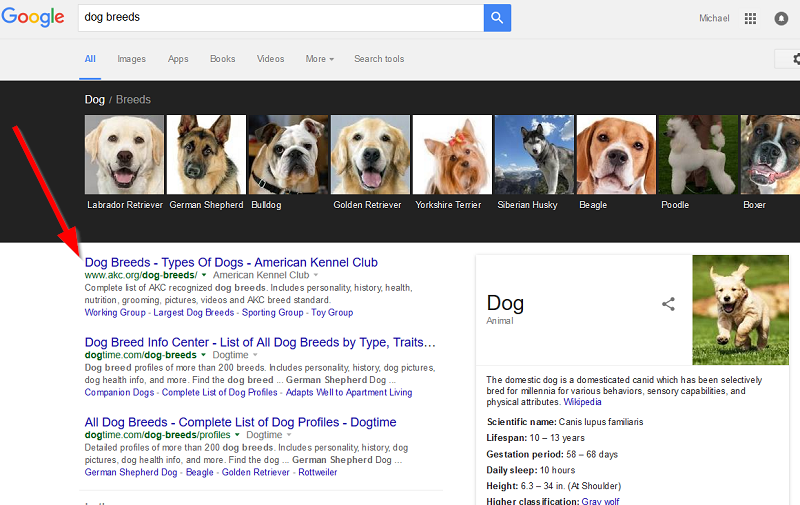 Looking at the above screenshot, you can see that the American Kennel Club (AKC) currently ranks #1 for the keyword "dog breeds." That page has thousands of backlinks pointing to it.
Let's see how AKC is doing on Twitter. Below is the screenshot of their Twitter profile:

AKC has 136,000 Twitter followers, which seems good. One of their recent Twitter updates received a decent engagement which shows their followers care about their tweets.
Analyze Their Twitter Activities
You should know what's working for them and why? You'll try to replicate what they are doing on your Twitter profile. Or, maybe you can do better than them.
There's a tool that will help you analyze the activities of your competitors on Twitter. It's called Twitonomy. Twitonomy will help you learn everything you need to know about my competitors on Twitter.

It seems AKC is active on Twitter, averaging 17 tweets per day.
With Twitonomy, you can see users who retweet, reply and mention them the most.
These are the users you should interact with.
And you shouldn't just interact with them. You should take the time to connect deeper with them, maybe through commenting on their tweets, or reaching out to them via their websites if they're listed on their Twitter profiles.
Steal Your Competitor's Followers
It's time to start stealing your competitor's followers. How do you do that? Follow every user that comment on their tweets. You should also follow users that post questions on your competitor's Twitter Timeline.
Twitter has a nice feature called List. With Twitter's list, you can easily monitor these users and strike when the opportunity presents itself. 
Hashtags are very important on Twitter. Twitter users use hashtags to find tweets that are relevant to their interests. You can use the same hashtags your competitor uses in their tweets.
For example, AKC uses these hashtags in their tweets.

Including these hashtags in your tweets would expose your Twitter profile and brand to your ideal customers. Twitonomy also helps you know which days and time your competitor's followers are most active. Looking at the data on Twitonomy, I can see that AKC followers are more active on Tuesdays and 8:00 PM Eastern Daylight Time.
You should be engaging with your competitor's Twitter followers when they are most active on Twitter. This is the time they are more likely to engage with you back.
Become An Industry Thought Leader
Simply following your competitor's followers is not enough to earn their trust. You need more. Your Twitter profile should be attractive to them. They should feel the presence of an authority when they visit your Twitter profile.
The best way to win the minds of customers is to become an industry thought leader. You have to become an authority customers look up to. When you become an authority, you'll be well-respected and connected enough to drive customers to your business.
How can you become an authority? The process of becoming an industry thought leader is not so straightforward. You'll have to wear different hats and appear in many places.
For example, when you visit Neil Patel's Twitter profile, you'll sense authority.
Looking at the above screenshot of Patel's profile, you'll see that he's very active on Twitter. He also publishes a lot of guest posts on authority sites that expose his Twitter profile.
For example, his recent Twitter updates are about two guest posts he published on Inc. and Entrepreneur.com respectively. Looking at Neil Patel's Twitter profile, I'm sure you'll want to follow him on Twitter. That makes you one of Patel's fans of course. You'll also notice that Neil is following 97k Twitter users. Most of these people are following his competitors.
So how can you become an authority like Neil?
Here are the things you should do:
Create a lot of EPIC contents better than anyone else
Interact and engage with credible people in your niche on Twitter
Be original and unique
Publish a lot of guest posts on authority sites in your niche
Write a book and promote it on Amazon Kindle
By doing these five things, you'll gradually build up your authority in any niche. As a result, your Twitter profile will appear more attractive to your competitor's followers.
—
Michael Akinlaby is a freelance writer and SEO consultant. He's the founder of RankRain, an internet marketing agency that helps businesses acquire customers for cheap.