Written by: Kristina Aumcore
The internet. It's something we use everyday, but because of how fast it came into our lives, we often forget where and how it started – and where it's going. The internet revolution is fastly sweeping our era, learn to predict its future and see where it's headed by looking at some of the tech trends we see today.
Innovation has taken form in a multitude of ways throughout the history of mankind. In 3,500 B.C. the discovery of the wheel occurred and was considered a staple in ingenuity of the human race. It wasn't until the industrial revolution and then the digital revolution that we realized technology is constantly advancing. Other than the obvious physical evolutions our species has endured, we are now becoming more and more intelligent as time goes on. This level of brilliance has directed us towards the movement we are experiencing now, thanks to what is known as the Internet Revolution.
The internet is almost as significant a part in our lives as eating food, breathing and other essential activities to survive. With almost 90% of people in North America being Internet users, this trend is taking prevalence in modern age functioning. Where this direction of web industry has come from and where is it headed; these are the questions we need to start contributing thought towards in order to understand the future of our humanity.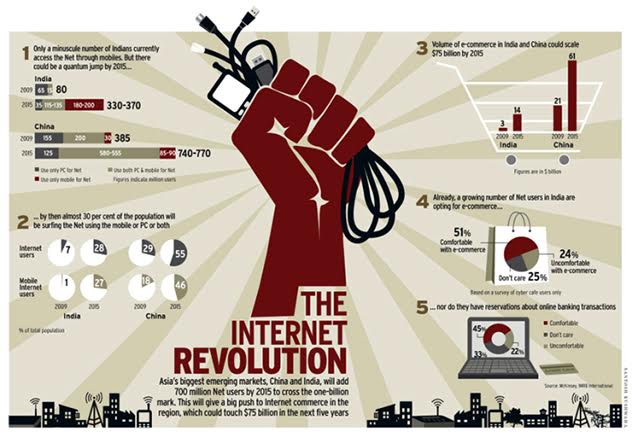 Image Source:  10ict.global2.vic.edu.au
The Beginning of the Future
Back in the 1960's if you went up to someone and asked them to friend you on Facebook, they would look at you like you had 4 heads. In that time computers were thought of as being huge, room-sized machines and rightfully so. The Internet, crazy to think about, simply did not exist just yet. During the Cold War and after the launching of Sputnik by The Soviet Union, The U.S. Defense Department needed to develop something that could preserve information after a possible nuclear attack. The ARPANET (Advanced Research Projects Agency Network) was created and would eventually be the network that turned into what the current day Internet is.
From there, things that the Internet could be used for took off. E-mail, web-browsing, video chat, gaming, etc. It seems that there are virtually unlimited ways the internet can be used.
The Transformation
Just a few years ago, we would all patiently wait as our dial-up connections would connect our computers to the internet, to browse the world wide web. Now, if the videos we're viewing on YouTube aren't loaded in 4k resolutions within milliseconds of clicking their links, we all question our existence. The society we live in now is heavily integrated with the need for technology and speed. We don't only see this with laptops that are capable of OLED displays, Intel Skylake CPU's, 1TB Hard drives, etc. we also witness this phenomenon with cell phones.
Smart phones are becoming more and more technologically sophisticated with every passing year. We look at the iPhone 7's 12MP camera, 64-bit coprocessor, Retina HD display, and touch ID; along with the Samsung Galaxy S7's Super AMOLED capacitive touchscreen, removable microSD slot up to 256 GB, and quad core CPU. We really see how far we've come from a technical standpoint of engineering. The capacity to which we can use the Internet with our smartphones is constantly expanding, to the point where there is now a dedicated web browser for mobile devices.
Google is constantly drawing up new algorithms for businesses to be found through their search engine. This has opened up opportunities for a digital agency to provide SEO or search engine optimization services for firms looking to increase their brand's identity. This is just one of many Google projects that the company is working on. Google Home a new un-released voice activated smart speaker, which allows you as the user to get answers from Google and stream music in proximity to the device. This is fairly similar to the Amazon Echo product, which is being sold on shelves now.
The Internet is no longer just a tool, it's a part of our lives. And it has integrated itself deeply in our day-to-day functions producing web-based products with abilities from playing music to locking doors, booking vacations, automating tasks and more.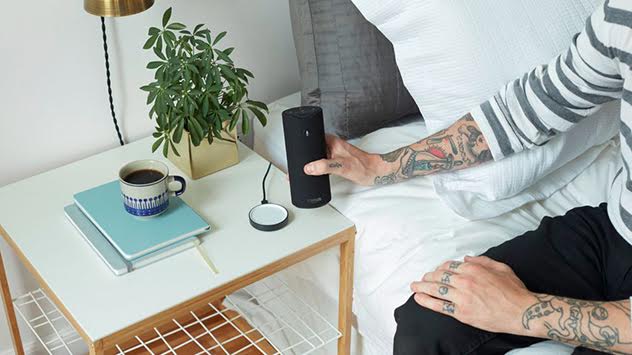 Image Source: Mashable.com
Internet of Things
The Internet of things is the networking of physical devices, with internet capabilities that allow them to receive and exchange data. Like with the previously mentioned hands-free voice activated devices, there has been a recent influx of products that fall under this internet of things. Drones being the most popular in this wave, are constantly offering new ways in which people can utilize cyberspace. The DJI Phantom 4, having mobile application and live view services, with 720p quality, gives interconnectivity a new name.
Brands and companies are prioritizing ingenious ways to incorporate the web into their products, creating a world that's pointed towards automation and 100% integration of internet and lifestyle.
And due to the flux, the correlating evolution of web-based products continues to rise. Companies are investing more money on improving products and services, enlisting the help of expert digital agency, to stay on par with the competition. Beyond the basic web products of the past (like websites or digital ads), the new revolution has pushed a step further to include mobile applications with highly integrated functionalities, voice command, artificial intelligence, digital automation and more.
The world needs web. And it doesn't take an expert to see the world around us though an evolution of internet integration the birth of new information in a way we cannot yet fully understand. Realize it or not, we're currently existing in a new era: the age of the internet revolution. Brace yourself for the future.
Kristina is a creative content writer for the digital agency, Aumcore. She loves to write blogs and articles around current and exciting business trends. She is driven by a passion for the marketing industry and the growing technological advances that contribute to this path.