Leading forecasting firm, eMarketer, just predicted that Snapchat would reach $1 billion in global advertising sales in 2017. These numbers would wallop the 366.7 million the messaging service is predicted to bring in this year.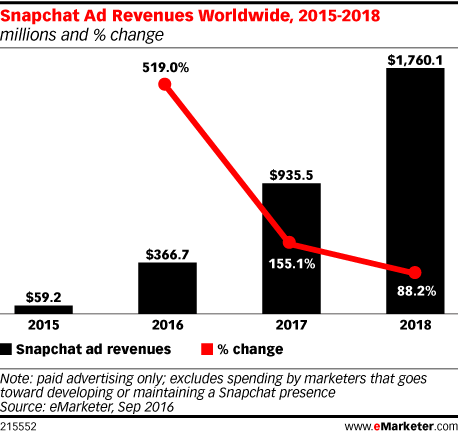 Kenneth Wisnefski, CEO and Founder of leading digital marketing agency WebiMax, urges caution when it comes to these lofty expectations. Wisnefski explains saying, "Snapchat has been playing catchup to Facebook and Instagram for some time now and there is plenty of work still to be done. Facebook and Instagram have taken steps towards integrating Snapchat technology into their platforms, which should drive away some of the Snapchat Audience."
Instagram just a month ago revealed Instagram stories. The story feature duplicates what Snapchat offers as users can compile short videos of their activities and store them for their friends to see for up to 24 hours. Just like Snapchat stories, the videos disappear after 24 hours.
Snapchat has 150 million users. Instagram has 500 million and while eMarketer predicts Instagram to make more money than Snapchat, Wisnefski predicts the 2.8 billion figure will have a lot to do with advertisers choosing Instagram instead of Snapchat.
"Advertisers love Snapchat because it attracts millennials. The majority of Snapchat users are on Facebook and Instagram every day. As Instagram evolves and enhances some of the features offered by Snapchat, they could see a sharp decrease in their audience base – thus hurting their ability to land key advertisers."
According to Wisnefski, we haven't seen incredible returns from Snapchat promotions at this juncture and there isn't enough evidence of major changes that would elicit such a huge boom in advertising revenue. The fear, of course, is that Snapchat being valued at $18 billion by investors in May could prove overly lofty in the near future. "Investors in the tech space looking at other platforms should be leery as Facebook and Instagram show no signs of slowing down and advertisers continue to have great success on the platforms," Wisnefski concludes.