As written for and published by Social Media Today
Jeffrey L. Cohen, of Radian6, spoke about this at the CloudForce Conference in San Francisco last week. It comes down to offering valuable content and building a trusted relationship as key elements to your sales and marketing strategy. People have very short attention spans, and businesses that understand this are producing a frictionless way for their customers to get the solutions they seek.
Businesses are doing this by giving significant thought to the problem their product or service is solving, offering free advice, content and consultation. This is your real-time opportunity for customers to experience what it's like working with your company. 
This approach isn't new, of course. It's even been touted as "customer-focused selling" or "solution selling" in some circles. But a true transition isn't just an adaptation of existing selling techniques to focus more on the customer. Instead, it's a whole new approach that can barely even be called "selling" at all. It can be thought of in terms of helping customers to find solutions that will help them achieve their objectives, and to Jeffrey's point, delivering them valuable content in doing so. 
Temporarily
leave

your objectives, your sales goals, and your quotas 

at the door

.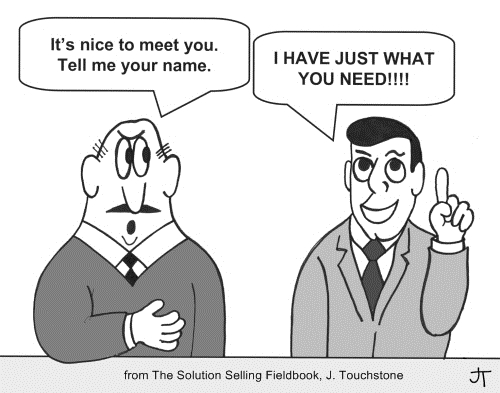 Today's customers are overflowing with information, and they are tired of slick, product-focused presentations. As their preferences evolve, so too does the savvy business who's offering solutions to customers in lieu of touting products. For today's discerning customer, the convenience of a solution-based approach translates to greater value.