The rise of online doctors and telemedicine healthcare in the U.S. is difficult to ignore. The practice continues to grow as more formalized by well-known hospitals and silicon startups.
In fact, the Centers for Medicare and Medicaid Services saw telemedicine and online doctors spending hike to $17.6 million in 2015. That is a 604 percent spike from 2006 to 2015.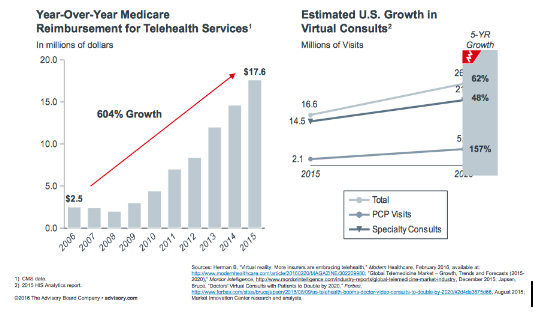 The rise of online doctors is not a surprise since health care perpetually falls short of meeting patient needs. From health condition issues to booked schedules at doctors' offices, patients need more options.
For instance, a report by the American Telemedicine Association found that 72 percent of people would prefer a virtual doctor due to "No available appointments/inability to get to healthcare provider's office due to schedule conflicts or travel time involved:"
By all indications, it appears that telemedicine and online doctors platforms will continue to flourish, filling the health care gap for patients. Now patients can call in, sign up, or download an app for expert medical advice, all from the comfort of their home.
Let's examine the variety of telemedicine and online doctor platforms filling the health care gap with a twist of innovation.
Johns Hopkins' Nurse Chat Truest Form of Telemedicine
One of the oldest and truest forms of remote health care is telemedicine. It has been around nearly as long as most medical professions, and it has become a vital source of health care for remote patients.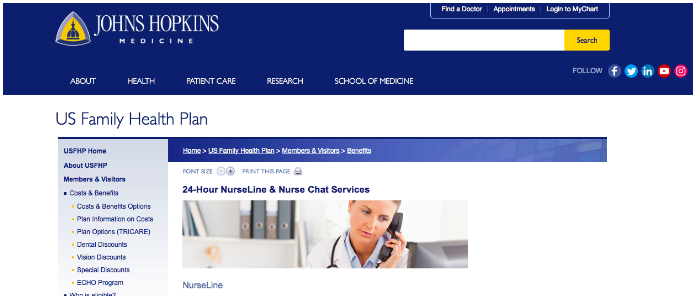 Johns Hopkins University's Nurse Chat allows remote, disabled, or just plain "too sick to leave the house" patients to call in for medical advice. It is a twist of online doctors, or in this case nurses, with the old telemedicine twist.
Johns Hopkins Nurse Chat is a 24-hour line where patients can call in to discuss symptoms, medication side effects, self-care home treatment, and advice on when to hightail it to the emergency room.
YourDoctors.Online Offers Global Second Opinions
Going a step further from telemedicine is the rise of online doctor platforms. These innovative platforms are changing the face of healthcare for patients by leaps and bounds.
Online doctors platforms like YourDoctors.Online connects North American doctors to patients around the world. This is certainly an invaluable resource for people in developing countries and remote or disabled patients in the U.S. as well.
These types of online platforms allow patients to talk to a doctor for free about symptoms and then receive medical advice after signing up for roughly $50. One exceptional aspect of online medical platforms like YourDoctors.Online is their ability to deliver second opinions from specialists.
For example, a patient can discuss their chronic illness diagnosis and treatment plan with online doctors, send in lab results and medical images, and then receive a second opinion. All from the sofa!
HealthTap App to Access Online Doctors
The rise of mobile use is hitting unimaginable highs as innovation continues to drive the digital era. In fact, the number of mobile phone users is expected to reach over 5 billion by 2019, according to Statista.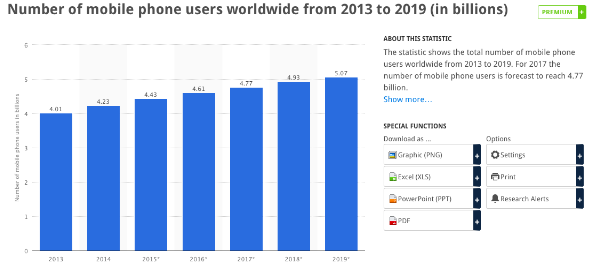 One online doctor's platform tapping into that mobile growth is HealthTap. But unlike other platforms, they are connecting patients with doctors via a smartphone app. This makes sense since 90 percent of time on a smartphone is spent on apps.
HealthTap patients simply download the app on their smartphone and they can begin asking medical questions for free. The app also allows patients to have virtual medical appointments in a FaceTime type doctor/patient interaction as well.
Online doctors apps can be useful for quick medical advice on the go. For $99 per month, patients can in-app message, text, and chat with doctors online. If you are sick abroad or if injured on a weekend adventure, health care apps like these are certainly a great mix of tech and health.
Online Doctors Platforms and Apps are Revolutionizing Health Care
Telemedicine, online medical platforms and health apps are all truly revolutionizing health care. As the online health industry continues to grow, a more competitive marketplace will emerge.
This will drive down patient costs, and potentially improve overall patient health and wellness. If patients can easily connect with doctors online, they may be more inclined to discuss medical issues more often. This could increase preventative care and drive better health and wellness overall.
This is especially true for remote or disabled patients in the U.S., only seeing a doctor maybe once per year. The rise of online doctors is filling the health care gap for patients, and it very well could be the future of medicine.