As published on Technorati
There are around 5.3 billion mobile subscribers across the world, meaning 77% of the world's population uses a phone. Around 3.8 billion of these mobile users live in emerging economies. Mobile solution provider, and
 TechCrunch Disrupt
 start-up
Saya
 (pronounced, Say-yah), wants to be part of that market—the unsaturated part. The company's solution targets the most basic, lowest priced phones that access the internet.
Available on J2ME, Blackberry (and soon Android and iOS platforms), Saya allows users to message phone and Facebook contacts, as well as conduct random streetchats with nearby users. Saya's Java solution creates smartphone-like features for traditional mobile phones and integrates three chat types into a single application. The company's goal? To cultivate consumers from the billions of people around the world who aren't smart-phone enabled.
Emerging Economies Mobile Market
Just how big is this market? Big today, and bigger tomorrow. Industry expert Vision Mobile'sMobile Megatrends report illustrates the market opportunity.
Across the board, analysts agree on the growth of non-smart broadband phones, particularly in emerging markets. In fact, as NASDAQ reports, once-prominent Nokia is banking on it as a major part of their strategy to regain market relevance. The company is aggressively introducing "feature phones" like the Nokia 110 to emerging markets like India and Indonesia. These and other countries provide a huge demand for feature phones, where Nokia doesn't have to compete against price-prohibitive Apple iPhones.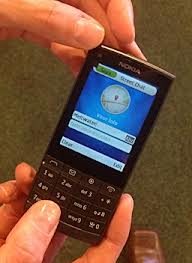 Phones like the 110 are internet-ready, dual-SIM enabled, but possessing far fewer capabilities than smartphones. Essentially, each of these phones is Saya-ready, and that's what the company is banking on. In countries that can't produce the infrastructure support demand for smartphones, feature phones are highly desirable. And in these same markets where consumer disposable income is limited, a solution like Saya's is primed for adoption.
Where traditional SMS messages can cost around $0.01 a piece, Saya's solution registers at more like $0.01 per month. They do this with ads, but relevant ones. Relevant because they are location based. Saya is banking on this being a trade-off users will accept, and initial metrics indicate they're right. The company's initial "alpha" invitation to 2,000 users quickly grew to 400,000. This, because each new user was encouraged to invite others. That number then grew to 9 million invitations across several countries, and things were put on hold.
Right now Saya sees regular usage by 80,000 active users. When I met these guys at the goal was simple: get funded and flip the "call" switch again, to enable those waiting.

For many people in developing countries, mobile broadband is the most practical way users access the Internet. Research released by Ovum shows how fixed broadband is largely beyond the reach of the vast majority of emerging market consumers. Pair that with mobile instant messaging capability, and this is why Saya's solution is such a great fit. Frankly, mobile IM is the single native feature I miss having since I ditched my Blackberry for an Android.
Hatching Saya
So how does a group of entrepreneurs from an African country get started on a project like this, much less, take it to fruition? Enterprise incubation. Enter, Meltwater. Best known as a media monitoring SaaS provider, the Meltwater Group fuels this type of ingenuity. The  Meltwater Foundation, a non-profit branch of the company, provides the entrepreneurial and software training to companies like Saya, through the Meltwater Entrepreneurial School of Technology(MEST) in Ghana. MEST is host to 11 companies at the moment.
Saya's gambling on this strategy where others are not, and Meltwater's helping them do it. And if recent Twitter and Facebook moves are indication, Saya's got a good bet. Facebook values the feature phone market so much they acquired app platform Snaptu in March 2011 to later release Facebook for Every Phone as a service. And in July, Twitter released its new Nokia app, introducing a native, fully-featured Twitter experience to its 1.5 billion Series 40 feature phones around the globe.
Keeping these phones enabled is big business. Saya now means allegiance later. As feature phone users become increasingly engaged with the company's service and later upgrade to smartphones, they can remain Saya users. And hopefully through TechCruch, the guys from Ghana will be funded and ready.