According to Digi-Capital, 2015 was a breakout year for augmented reality and virtual reality (AR/VR) investments. After a huge leap in Q4 2014, 2015 saw investments reach $686 million, making six straight quarters of AR/VR investment growth.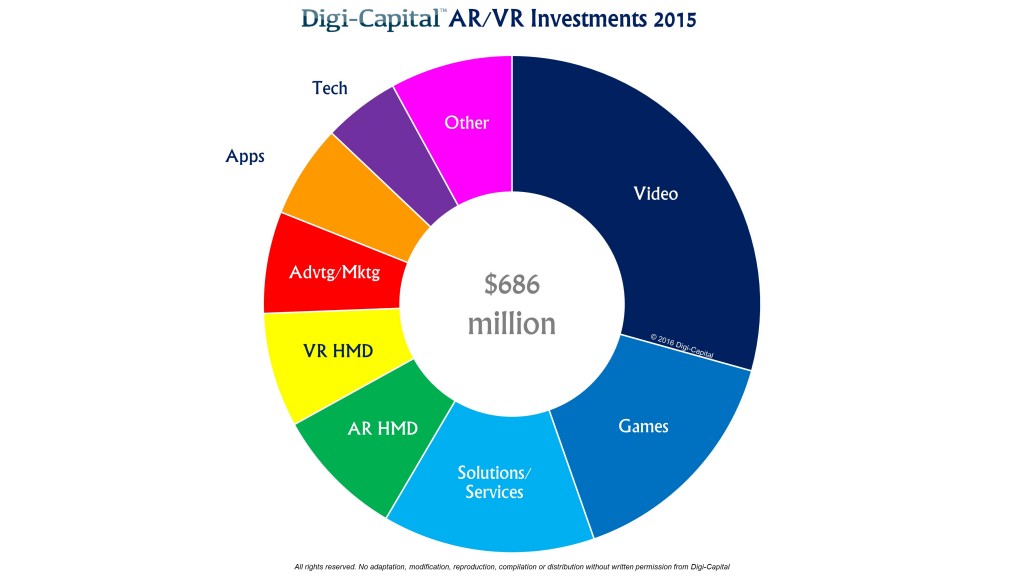 Still, a dearth in development of consumer-grade hardware has Digi-Capital analysts revising an initial 2020 forecast of $150 billion in the space.  AR now appears largely focused on enterprise users this year, with most consumer AR expected to launch around 2017. The CPU/GPU requirements for high-end VR come at a premium, with Sony Playstation VR and mobile VR (from Samsung and others) expected to be the initial consumer VR market drivers, changing installed base forecasts in favor of mobile VR.
What does this mean for established players and startups? The short version is that everything has changed and nothing has changed. Despite Apple buying Metaio, it might take 18 to 24 months for a consumer market large enough for it to enter. Facebook, HTC/Valve, Sony and others will push forward with PC/console VR, as Facebook now explores AR in parallel. Samsung (with Facebook) and dozens of competitors will drive mobile VR. Google's friends Magic Leap will do what they're going to do, as Microsoft, ODG and others focus on Enterprise AR in 2016 ahead of consumer AR next year. Mobile VR will see hardware prices fall driven by Chinese competitors like Letv, and everyone hopes Moore's Law brings high-end VR within reach of the average consumer.
The direction remains the same, it's just a question of timing.