A question for social media mavens and marketing gurus: How do you enhance, not just preserve, the legacy of an iconic leader, philanthropist and humanitarian?
How do you encapsulate a medical career of international renown, with a global roster of patients and a local series of living memorials, of the beneficiaries of college scholarships and summertime festivities, when the namesake of your non-profit foundation is no longer physically with us?
The answer to that query belongs to the organization that furthers this individual's passion for excellence and his compassion for the men and women –the burn survivors and recipients of this surgeon's healing hands – known as the Dr. Richard Grossman Community Foundation.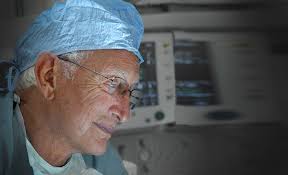 Through this institution, by virtue of its words and deeds, we can learn a lot about the eternal presence of a wonderful soul and the practical importance of translating one man's accomplishments into relevant material for users of social media.
I celebrate Dr. Grossman for many reasons, chief among them, the fact that his achievements continue to attract attention – and his work is alive and well – for current and future generations to enjoy.
He proves that what a professional does in the community, for the health and longevity of the community, transfers quite easily to the broader online community of social media.
That is, if you want to flourish online, then you must invest the time – offline – to build a memorial to a cause greater than yourself; that you must do your job, free of rank or ego, with the understanding that the power you possess is a gift to be bestowed – through the charitable nature of your work, and by the charity of your financial largesse – for those of limited means but unlimited dreams; that what you do in the real world will perpetuate itself in the virtual world of social media, until those who will never have the chance to meet you will nonetheless have the opportunity to get to know you; that strangers from one area will become your friends and followers in the digital realm of Facebook and Twitter, provided your integrity speaks for itself.
Such is the case with Dr. Grossman because, within my hometown in Southern California, there is not a surgeon who does not know this man's name. There is not a fellow specialist who is unaware of this man's life and legacy.
That
is how you stay alive in the dynamic arena of
social media
.
Indeed, there are working executives with less vigor – their vital signs are fine, despite their collective lack of vitality – compared to Dr. Grossman.
And yes, these same individuals have nowhere near the earned recognition and online visibility that accrues to the life of Dr. Grossman.
The moral of this story should, thus, be clear: If you seek to make a name for yourself, and if you plan to acknowledge the value of community by rewarding the citizens of your community, then what you do here – in this world – will grow in that other world of rapid news and the fast transmission of information.
Dr. Grossman shows us the way forward, brightened by the beauty of his eyes and illuminated by the purity of his intentions.
He is forever with us.
—
Follow Julie Albright at Medium.com/@WaldenBromley