The Art of Storytelling"
Paradise, where virtue is rewarded, where neither evil nor death exist, is the eternal dream of man." Thus begins the chronographic story Medieval Heaven, by NARR8. The Russian-native company (pronounced "narˌāt"), with offices recently launched here in the U.S., offers a fresh approach to mobile apps and content, delivering an array of interactive stories, articles, and motion comics. NARR8's target audience? "Readers, dreamers, and explorers who want to experience an entirely new way of getting entertaining and informative content."
The secret behind it all? Exceptional storytelling.
Eric Kim, an industry peer of mine, and the CEO of brand management company, Twylah, recently wrote a blog post about how we connect through storytelling. The way Kim explains it, we are at the beginning of a shift and transition in the way consumers interact with brands and companies. This movement is largely empowered by the "democratization of media," where everyone is now a publisher and thereby owns a broader, louder voice.
Louder voices, more channels, and endless content have given consumers more choices. In this new world, exceptionally good content thrives.
That's what NARR8 is banking on. The company's content goes beyond the standard eBook format by incorporating dynamic special effects and animations along with full music soundtracks to create a totally unique experience.
The fact is, we're starving for stories. Each of us is dying to know what happened, and what happens next. NARR8 taps into that desire, and uses the latest social channels to engage readers.
In storytelling, the traditional cliffhanger is a striking event that happens at the end of an episode, scene, or chapter of a story. It leaves doubt in the reader's mind — usually regarding the fate of the protagonist — and all but forces them to come back to see what happens next. In the pro-reader, high-engagement world of NARR8, you participate in what happens next.
Headquartered in Moscow, Russia, NARR8's immersive mobile app and content channel offers a variety of content genres. Many in episodic format, they provide users a veritable cornucopia of ideas, characters, information and entertainment all in a single portal. All free of initial charge.
Game-Insight, merely three years old, has grown to over 400 game developers (over 550 total employees) and and internal network of more than fifteen different studios. The company's high-quality games, many of which have already become #1 top-grossing hits in mobile application stores and on social networks, boasts a global audience of more than 140 million users.
I met with Game-Insight Senior Vice-President who represents and consults on behalf of NARR8 (as the sister company/same investor IMI.VC), Darya Trushkina, at the VentureBeat Mobile Summit this week in Sausalito. There she was, seated at the head of a massive conference table surrounded by a collection of mobile publishers, game developers, investors, and industry thought leaders. Each, picking her brain for a little more insight into the recipe for mobile app success.
I can't reveal everything they were asking, but I can say there were a lot of questions. And Trushkina had a lot of answers. Naturally, mobile app players want to know the secret to the company's success producing top-ranking apps and content, paired with exceptional user retention. In an industry where return mobile app usage nears 25%, NARR8 enjoys a user following inversely proportional to that.The channels readers, players and users keep coming back for more.
Since the company's launch on Android devices earlier this year, the app has received a rating of 4.6 out of 5 stars on Google Play. "Our goal at NARR8 is to blur (and eventually erase) the line between books and TV shows/movies," Trushkina explains. "We offer compelling motion comics, interactive novels, and interactive nonfiction articles that come alive on users' iPads, Android, and soon, Windows RT devices."
Using the latest in HTML 5 technology, the company's next app update promises to add functionality that will break down the wall between static comic books and animation cartoon features. "We've also recently added new features as part of NARR8's developing business model, which monetizes in much the same way that successful free-to-play mobile games do," Trushkina continues. A consistent flow of compelling content, an in-game purchase offerings. But unlike free-to-play mobile games, NARR8 has observed an astonishingly high level of user engagement, clocking in an average of 10-11 minutes average time per session among its userbase.
So what makes all this work? What brings about this type of success?
Creating Remarkable Reader Engagement
Social Media
This is my bailiwick, so I'll start here. So few do it right, NARR8 does it exceptionally well. The company's social media strategy is a functional part of its user engagement approach.
NARR8's Facebook Page isn't merely a pin-board for after thoughts and server updates. The content creator posts a variety of game updates, episode previews, screen captures, and competitions on an almost daily basis.
Entrepreneurs seeking to involve your readers more into your product lifecycle, take note. NARR8 hosts social media sweepstakes to collect user generated feedback and involve readers in the storytelling process. And the page's 35,000 followers reciprocate with a flurry of likes, shares, comments, and suggestions. The current promotion invites players and followers to write an alternate ending to a Prodigal Angel story; the ultimate winner receiving a new tablet.
Head over to NARR8's Instagram Page for a "behind the scenes" look at the personalities who make up the company, and a day in the life of story development. In a world full of contrived reality programming, unfiltered, authentic sharing offers a fresh, new perspective.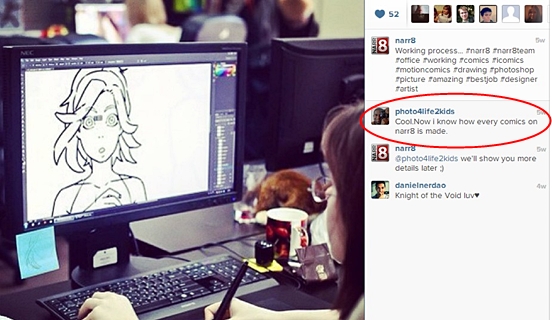 Video
On-topic content contributes for sure. The company's 6-month old YouTube channel already has 350,000 views. Just have a look at an engaging video the company produced over the recent holiday.
It's April, the holiday long past, and still, I've watched this thing a few times. Stellar animation, warm sentiment and purpose all make this work.
Monetization Strategy
Did I mention NARR8 is free? Sure, lots of apps are "free" but none entirely. Ultimately they must generate revenue. The beauty of the freemium app model is that it's both a distribution model and a monetization strategy. Free apps enjoy higher download rates than their paid counterparts. So, by offering free mobile apps that feature in-app purchasing, you're already ahead of the mobile app game.
Facebook-gaming consolidator Zynga Inc. (which acquired Farmville) is now earning over $1 billion in revenue every year by offering free versions of popular games, and then tempting people to buy the premium version for the extra features that make it more fun. When you can offer people greater value via additional content or premium features, they'll take it. And that's the model NARR8 is using.
The fine art is to figure out how, and still attract masses of users without alienating them. NARR8's monetization strategy, is built around a reader's natural inclination to watch his favorite series almost non-stop. Each part will end at a critical and gripping moment. To find out immediately what happens next, users will need to pay – or otherwise wait to weeks to see the continuation of the content free of charge.
But you have to do this right. Wait too long in the story, and you've missed your opportunity. Do it too early or too often, and you piss your readers off.
One of the distinct advantages of being in a company of game industry veterans like NARR8, is that you've worked through the patterns of success and failure. You've tried a variety of things, and figured out what works. In game development, that kind of competitive expertise is realized only through experience.
Localization
NARR8 continues to expand rapidly, having extended its reach to Spanish- and Korean-speaking territories in addition to its original English and Russian versions. "Wait, the whole world doesn't speak English?" I asked Trushkina in jest. Often times we think that way.
As individuals, it's careless. As game developers, it's deadly. The Globalization and Localization Association reports 56.2 percent of consumers say that the ability to obtain information in their own language is more important than price.
Gamification
NARR8 introduced a new virtual currency called "NARRs" in an update earlier this year. These units are transferred to a user's account automatically after they perform certain activities within the app. Do something, get something back in return, and tell all your friends about it so they do something too–that's gamification.
By performing actions such as registration, reading an episode, or linking to social networking services, NARR8 users keep coming back for more. Trushkina explains, "Our virtual currency unlocks new content for free over time, but gives users the option to purchase additional currency to unlock new content sooner."
This only works when you have a fully robust set of activities and content for users to interact with, and that's why it works well for the company. Quality content first, gamification after.
—
NARR8 is free to download for Android devices on Google Play, and for iOS through the Apple App Store. An overview can be found here: