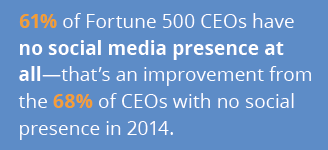 A new study sponsored by Domo and CEO.com found that 61 percent of Fortune 500 CEOs are not active on any major social network, and are missing an opportunity to use social platforms to interact with their key audiences. This year's Social CEO Report, an annual survey that investigates the social media habits of business leaders, shows that social media usage among this elite group is gradually increasing, as 70 percent of Fortune 500 CEOs weren't active on social media when the first report was published for 2012.
While social media adoption among these CEOs remains sluggish, the report reveals that CEOs of companies new to the Fortune 500 or newly appointed CEOs to companies already on the list are responsible for much of the increase.
The current report also found that 195 CEOs on the list are active on at least one of six major social networks (Twitter, Facebook, Google+, Instagram, LinkedIn and YouTube), yet no single CEO is active across all six platforms.
Other notable findings from the study include:
Warren Buffet has tweeted only seven times and yet holds the record for the all-time highest retweeted tweet.
The average CEO includes links to content in 19 percent of tweets, while 11 percent of tweets are replies.
Jack Salzwedel of American Family Insurance is the most engaged CEO on the Fortune 500 list.
Though Google+ usage by Fortune 500 CEOs has more than quadrupled over the past four years, it is still lagging far, far behind other social platforms, with only 17 CEOs having accounts.
Only 2.6 percent of Fortune 500 CEOs have Instagram accounts.
Larry Page of Google, and Mark Zuckerberg of Facebook are the only two CEOs with active YouTube channels of their own.