As written for Technorati
Business Intelligence for Broad Audiences
Big Data is exploding right now, but its complexity and size can make it challenging to harness all of what this information can offer. Pentaho Business Analytics is a data integration and business analytics platform that brings together IT and business users to easily access, integrate, visualize and explore data to positively impact business results.
What's different about Pentaho? The company has focused on creating a flexible product for a significantly lower cost than competitors, Pentaho's solution can be deployed to more people within an organization with fewer technological barriers to entry. The company attributes is growth and flexibility to three trends.
1. A powerful developer community driving adoption through Pentaho's open source platform.
2. Use cases, from a broad variety of large and small businesses across industries like digital media, mobile apps, gaming, healthcare, security, finance, and government.
3.  New tools are making big data more accessible, and less complex (which had been an obstacle for many companies), making big data available to a wider audience of non-developers.
BeachMint eCommerce Sites
In a case study recently shared with me, a single BeachMint business intelligence analyst is able to deliver actionable metrics to a 150-person company.
BeachMint is an ecommerce startup that lets customers subscribe to receive products hand-picked by celebrities each month. The company launched its first vertical, JewelMint, in October 2010, pairing actress Kate Bosworth with her stylist Cher Coulter. Each month the duo select or create pieces of jewelry that get delivered to subscribers for an affordable personalized shopping experience.
JewelMint proved a success, and the company launched a variety of other programs, including the most recent Justin Timberlake-led HomeMint, an exclusive monthly collection that combines personal style and home design. With its variety of programs, BeachMint required the ability to quickly slice and dice terabytes of data and millions of daily emails. By reporting on every click and page view, BeachMint would be able to perform deep, precisecustomer segmentation by age, income and behavior.
Business Challenges
The company's limitations, however, were in its size and resources. The cost-conscious start-up needed a solution that could easily scale, yet still handle big data requirements. They needed it to compete with sophisticated, proprietary solutions on interactive, self-service business analytics and data integration functionality.
Pentaho Solution
Pentaho fit the bill. Their end-to-end solution for data integration and business analytics helping to operationalize over one terabyte of BeachMint's data. Pentaho Business Analytics product helps BeachMint with social monitoring, customer retention, financial reporting, product and website optimization and more. And its open source big data platform includes MySQL and analytic database management from HP Vertica.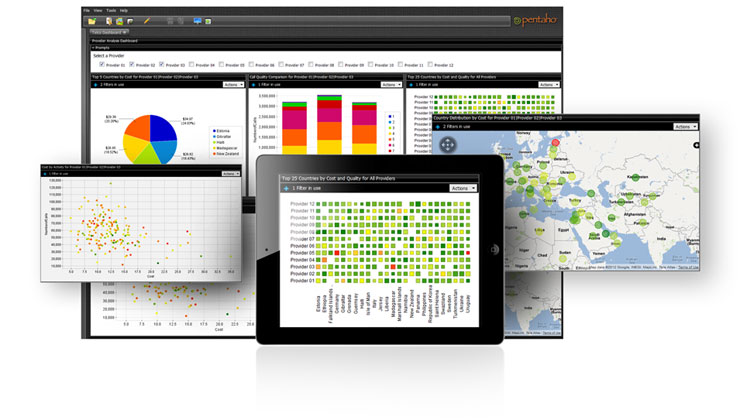 Results

Game changer for customer acquisition BeachMint's cross-functional teams now enjoy easy access to analysis around cross-selling opportunities. They have the ability to surface data on how much crossover exists between the company's six different mint properties, a level of intelligence inaccessible before.
This has led to improved customer service, as well. BeachMint has gained a deeper understanding of customer preferences by looking beyond averages of numbers to provide segmentation of customers by age, income bracket and behavior. Customer insights influence inventory purchases, website design, and BeachMint's proprietary recommendation engine, the company's "secret sauce."

BeachMint closely monitors its large Facebook and Twitter communities with social monitoring data tracking. Data such as fans, likes, favorites, customer product reviews and comments becomes measurable and actionable. Through data monitoring of their online forums, the marketing teams were able to identify a coupon code that leaked out and was being used by customers. Because Pentaho's business alerts were set to report on high activity for coupon codes, BeachMint was able to flag and resolve the problem in merely two hours.
Today, nearly every BeachMint department has one or two people using BI, effectively creating quantitative experts in every group. The company's new-found understanding of data has resulted in improved sales forecasting, as well as customer retention and continuity programs to minimize customer churn. The self-service capabilities of Pentaho Business Analytics provides a scalable solution, eliminating the need to hire more engineers or a data scientist, allowing BeachMint to stay focused on its core competency.
Related articles