Old School Superpages
We've all been there before, our anticipation surging when Sue, the neighbor, leaks the big surprise and says, "You have a package at your door." Two flights of stairs later, the excitement quickly dwindles when you see it's merely this year's the four-and-a-half pound installment of the Superpages.
For most of us, the fate of these dated marketing instruments is very much the same: monitor stand. My grandmother doesn't even use these things anymore, because she can't read them.
If you're Chica and Joe, host to the fun, "tackling one project at a time" online column, you can recycle your phonebook into a pen organizer. And its even kind-of cool. Yet, hardly the intent of SuperPages, and entirely unworthy of the pulp processing required for it.
New School Inventiveness
These days, Superpages is living up to its name. Speaking at the BIA/Kelsey-hosted Mobile Local Media Conference this week in San Francisco, Chris Folmar, Director of Mobile Development for SuperMedia shared Superpages' mobile success. The household name company broke the mold of local directory apps by innovating new touch screen based features and an innovative user interface.
The Superpages mobile app, available for iPhone, Android, Kindle Fire and iPad, features a virtual wheel users can spin to find local information such as deals, gas prices, movie listings, restaurants, services and retailors, along with many other subcategories. The app earned the prestigious Best App in the "Marketing/Branding/Advertising" category at the MediaPost 2012 Appy Awards, held earlier this year. The Appy Awards recognizes extraordinary applications across devices, platforms and carriers. And it's not bad company to be in, either, with past winners including Angry Birds, Facebook and Skye mobile apps.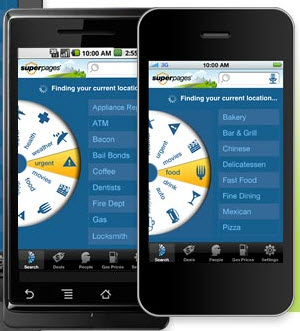 Superpages' mobile app wasn't always this cool. It's initial review in 2008 by App Safari coined it little more than "a fully iPhone optimized version of its popular Superpages website." As we've learned, making a mobile version of something does not make it optimal for the mobile user. According to Folmar, the folks at Superpages understood this. The local search expert introduced a complete redesign of its Superpages mobile application user-interface and search engine technology in its current product.
Today's Superpages app is easier to use than ever before. With things like a single field auto-complete search, consumers can search the Yellow or White Pages and find business information with few smartphone touches. And with phone numbers, listed and linked, a call to your business of choice is merely a touch away.
Folmar explains how prior to the application's redesign, the conversion rate from listing to call hovered around 4%. In the new and improved version, Superpages is seeing a staggering 38% conversion rate for a 1,200% increase in calls.
"Spin it, Say it, Search it," explains Folmar, "With the new features we've added, consumers can easily search and find information and insights on local businesses and retailers." With a flick of your finger, the new Superpages spinner makes it easy to browse popular categories in a fun, interactive way. As the home page of the app, this spinning interface lets consumers spin to more than 75 popular Yellow Pages categories. Said Greg Sterling, senior analyst Opus Research, "…the scroll wheel is kind of addictive."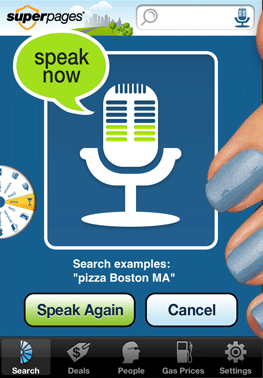 Most recently, the Superpages app has added new features, including the ability to make OpenTable restaurant reservations, use MovieTickets.com for ticket purchases. Consumers can also search by voice. With laws tightening around phone use and driving, this means no more typing when you're on the go. The app's smart location calculations produce results ordered by distance to a user's current location.
And as Folmar demonstrated, when typing is needed, the app's single field search with auto-complete will guess what consumers are looking for and help complete the entry faster.
Other Superpages mobile app features include:
Money-saving local deals.
Easy click-to-call business listings.
Ability to read or write reviews, save or email business info, view Web site, get maps and directions, or share on Facebook.
Step-by-step interactive driving directions with an option to have multiple stops on the way to your destination.
GPS assist auto-location with manual override.
Weather forecasts and historical look-up.
Find Movies Fast: Search by movie or theater and see show times, read reviews, or watch trailers.
For Your Old Phone Books
Meanwhile, I have two more of my favorite transformations for those heavy weight phonebooks:
Make a secret storage box for valuables out of a large phone book.
If you're ripening green tomatoes (or storing fruits such as apples long-term) wrap each fruit in a page from the phone book and store wrapped fruit in a box in a cool, dry place.