By Brian Kearney
Social media is a vital part of any marketing campaign. It serves a multitude of purposes that can make or break your brand, while providing valuable insight into your target audience, as well as untapped markets.
Below is a list of five social media tools that can take your marketing campaign to the next level, whether it is providing insights into your followers, ensuring you're providing engaging and quality content, or ways to amplify your message to reach an even wider audience.
Hashtags.org (Twitter)
Using hashtags is an important part of Twitter. They enable you to reach millions of people, and when used correctly, can grab the attention of your target audience and potentially lead to conversions.
Hashtags.org allows users to access analytics of any hashtag. The free version provides estimated Tweets per hour based on a 24-hour period. The paid version allows users to expand the view of analytics and track Tweets per hour up to 12 months.
Let's say you're a B2C beauty brand on Twitter. How do you know what hashtags will have the biggest reach? A tool like Hashtags.org can tell you. Do you Tweet using the hashtag #Beauty, #BeautyProducts, or #BeautyBrand? Taking a look at the screenshots below, it's pretty clear which one will have the most reach.

Followerwonk (Twitter)
Followerwonk is a product of Moz, and allows users to find, analyze, and optimize your Twitter account. It allows you to dig deeper into your followers, and access information like where they're located, when they Tweet, and who they are. You also have the option to compare your Twitter account to competitors, which has obvious valuable benefits.
Followerwonk also has the capability to find and connect with influencers in your specific niche, which can lead to valuable relationships. The screenshot below are likely people I'd want to engage with on Twitter if I were a B2C beauty brand.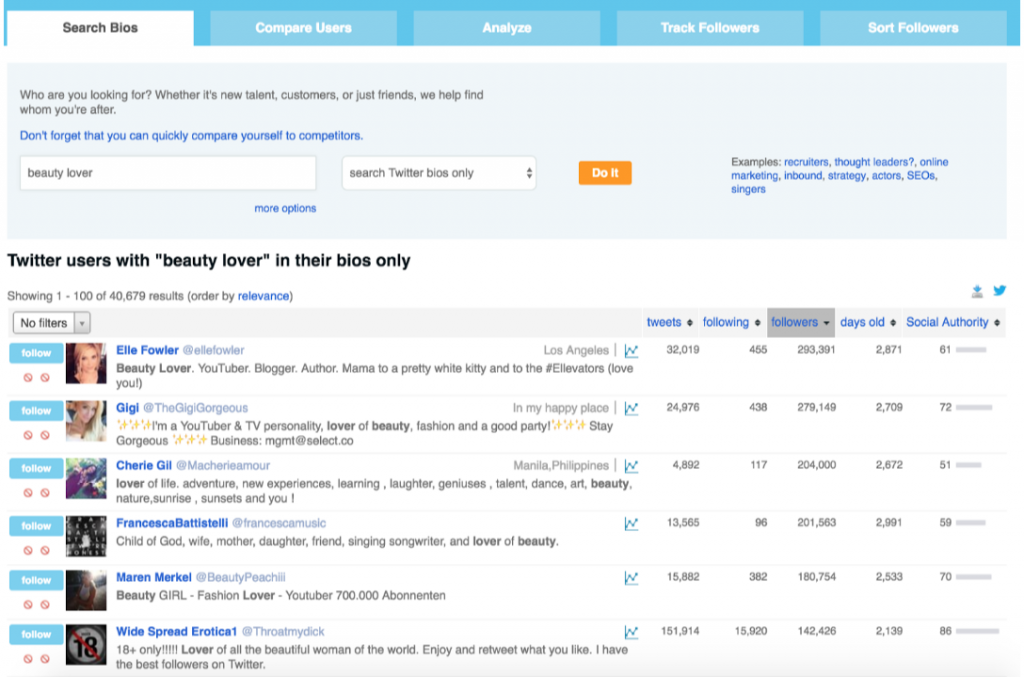 Followerwonk can provide a plethora of other useful insights and information, among them including:  
Analysis of competitor's most engaging Tweets

Track how many users have followed/unfollowed you for a given period of time

Analyze your Tweets to find the ones that resonate most with your audience
Canva (All Platforms)
Adding visual content to your social posts is crucial for engagement, but sizing them appropriately for each medium can be time consuming and difficult if you don't know the correct measurements.
Canva is an easy-to-use tool that lets users upload images and resizes them for the appropriate social media platform. Users can add text, shapes, icons, frames, and other elements to their uploaded images. Users can also choose from a library of free photos to use. Once you've uploaded your image and sized it for the appropriate social channel, you're free to download the image with no watermark, etc., and ready for use.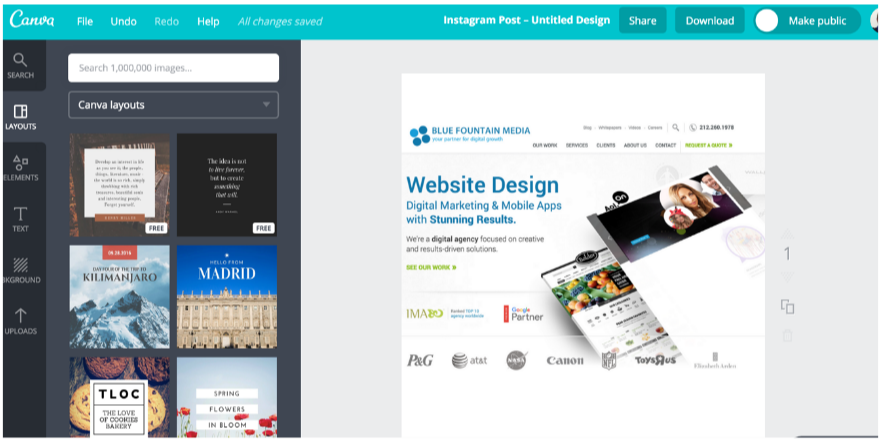 Feedly (All Platforms)
Feedly is a content curation tool that has many valuable benefits. Add publications, blogs, YouTube channels, as well as the ability to monitor news about your company, product, craft, or competitors using keyword alerts. The ability to organize all of this into an easy-to-read dashboard where you can share content on all your social channels makes for the perfect content curation tool.
Buffer (All Platforms)
Buffer is an easy-to-navigate social media marketing tool that allows users to schedule posts for all platforms, and gives users insights into their analytics to improve their marketing strategy. Buffer allows you to schedule posts, either at times you specify, or choose the automatic posting option, where Buffer determines the right posting time for your brand based on the engagement of your audience.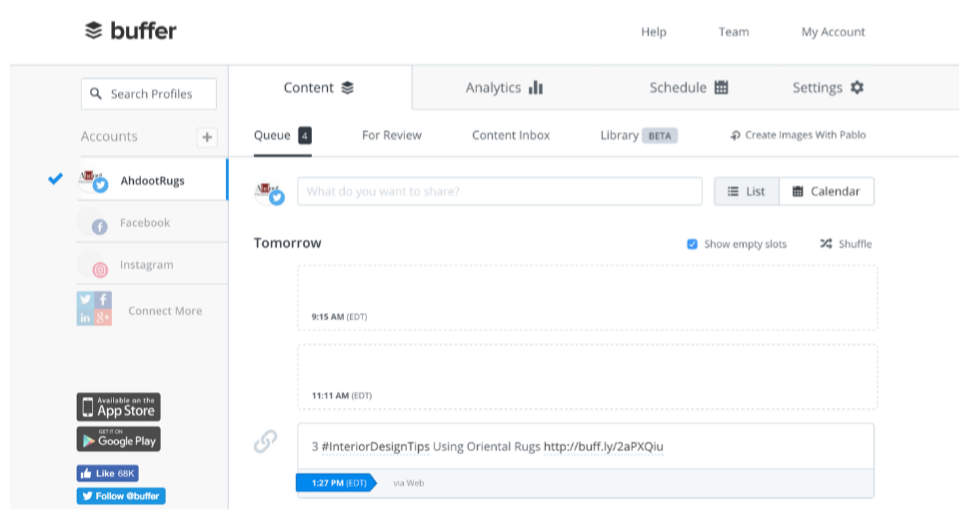 Author Bio: Brian Kearney is a Digital PR Specialist at Blue Fountain Media, where he helps drive client PR and social media efforts across the digital landscape. When Brian isn't in the office, he enjoys Tweeting, traveling with his friends, and spending weekends at his lake house.