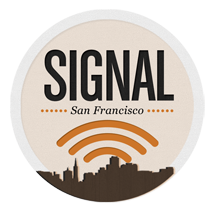 I go a lot of conferences. I attend some, present at others, and take away something from each. With Signal San Francisco, the team at Federated Media does a whole lot right. The conference format makes Signal SF an incredibly efficient way to soak up a whole lot of knowledge in a short period of time. Succinct, pithy, 10-minute presentations from industry leaders should be the model for all conferences.
Federated Media does an incredible job with lining up speakers for these events. The line-up was an unrivaled assortment of "who's who" mixed with "up and coming." You're only able to assemble that collection of talent if you're someone people like, respect and enjoy. The conference doesn't in any way "feel" Federated Media self-promoting and that's likely why it's developed such a loyal following. Interviews are intertwined with case study presentations in what is a fluid narrative that doesn't get redundant.
Themes & Topics
Some of the conference's recurring themes revolved around:
The evolution of CMO to a more quantitative role with advancements in ROI measurement (MarketShare, JumpTime)
In social media, experiences mean more to brands than overt advertising (Facebook, Instagram)
Listening to your customers is the key currency in the new web (AKQA/The Gap, Levi's)
Big named brands not normally known for customer engagement are now embracing it (Microsoft, Intel, HP)
And lastly, not everyone loves Google, but we're all curious for "what's next" (Google)
Good Quotes
Some of my favorite conference quotes, include:
"We don't usually do these, as we are not really into marketing our marketing." – Brian Irving, Levi's
"We have a different philosophy from Google. We are trying to build a best of breed stack with others, not own the stack." – Rik van der Kooi, Microsoft
"The single most compelling thing you can do online—post unique content." – Laney Whitcanack, Federated Media
More Write-Ups
Chock full of incredible content and presenters, I've written-up and published my favorites to some of the web's best publications.
Two thumbs up, FM. I was delighted to be involved in Signal SF, and look forward to the next.