Article first written for, and published as The Social Media Tool Pyramid: Interview with Jeremy Epstein, VP at Sprinklr on Technorati.
Enterprise Social Media Monitoring Tools
What do you do when you're a massive enterprise institution, maybe even a bit "old school" in the way you adopt new technology, and you find out from an objective survey, that 10 percent or more of your brand followers do so via social media channels?

In speaking with Jeremy Epstein, VP of Marketing for Sprinklr, I learned there's a universal graduated process that we all go through in "reacting to," or "embracing" social media. Either way we approach social media as an organization, the process is similar. Jeremy explained, "We see a lot of businesses who started off just managing these different channels out of necessity by juggling different social media tools, but that doesn't work for long."  Eventually that becomes painfully inefficient and they migrate to using smaller scale tools like HootSuite and the like. These are great tools for an SMB, or for different functions within an organization, but lacking at an enterprise level.
The issue becomes when you realize social isn't just for the marketing and PR teams. "Social becomes a key instrument in HR, customer service, product development, event management and crisis management," described Jeremy. When the necessity for it spreads to those functions there's a whole other level of scalability and technical capability a big company needs to manage it all. That's what Sprinklr does. According to Jeremy, "Sprinklr was founded on the core idea that it is not only possible for large enterprises to successfully adapt to the realities of a world dominated by mobile, social, and network-empowered customers, but to also dramatically thrive in it."
The Social Media Tool Requirements Pyramid
This is my representation on the social media tool path: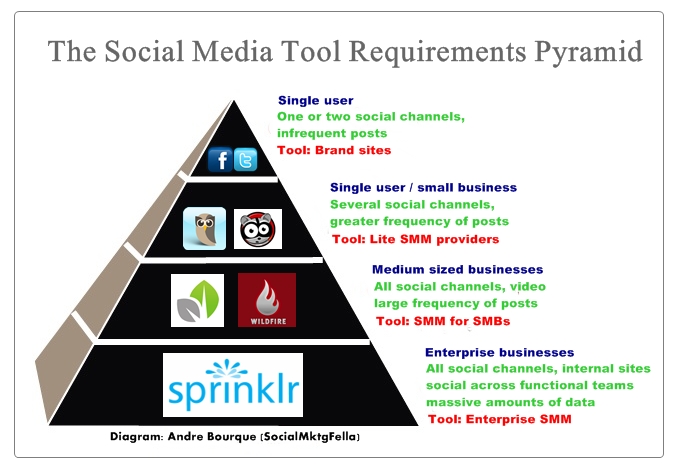 Prior to this conversation, I hadn't really thought of it that way, but it makes sense. How 
do
 you manage all that at a Fortune 1,000 or multinational corporation? "You'd be amazed at the number of enterprise companies emailing around spreadsheets with social media user names and passwords," Jeremy remarked. I shudder to see that now in my in-box, another Excel file with a whole lot of "Jane250" in one column and "OurCompany123" in the other. What's worse, I can imagine that document sitting idle in the inbox of the guy in accounting who's now on vacation.
Okay, Jeremy, I'm listening, so what's the solution and why Sprinklr? This is when it's good to just put out the cold hard stats, which he does. In a recently released case study, General Motors described its effort to streamline how it responds to mentions on Facebook, Twitter, and blogs. This was one of those companies that realized they needed to do something when they learned that 11 percent of the people they surveyed said they consider social media is a source of information about automakers, and 39 percent of those said social media strongly affects their buying decisions.
In response to this, GM launched Twitter accounts for each of its brands, Facebook accounts for brands and cars, YouTube channels, a Google+ page, blog, and all the prominent social touch points. And they called on Sprinklr's solution to manage it all. To Jeremy's earlier point, this eventually went beyond public relations and marketing, to other functional units, and a whole set of processes needed to be developed to support it. That's what distinguished social media monitoring tools for business in general, from those specifically architected for the challenges of an enterprise organization.
More on GM's launch and successes can be found here. But in summary, the new system and processes have generated some incredible statistics:
Using the system has cut down customer response times from 12 hours to 90 minutes
It's generated a surge of Facebook likes, comments, and shares, and measurable growth in Twitter and other channels
And it's enabled the brand to engage with high influencers who use social media to talk about their brands
And these results aren't isolated. Sprinklr now has more than 100 globally recognized brands as clients. Jeremy added, "Many of them have global deployments that typically span from hundreds to thousands of user seats in up to 75 countries."
This sounds like a social media solution enterprise companies have been waiting for.