Article first published as Vid.ly Killed the Video Puzzle – Interview with Jeff Malkin, President of Encoding.com on Technorati.
The year was 1981 when MTV and British New Wave group, The Buggles, proclaimed that video killed the radio star. That was just the beginning.
"Rewritten by machine and new technology, and now I understand the problems you can see." (Video Killed the Radio Star, The Buggles)*
Digital video was first introduced commercially in 1986 with the Sony D-1 format, a process that recorded an uncompressed standard definition component video signal in digital form. That system was eventually be replaced by more affordable solutions that used video compression. And over the next twenty-plus years, things got very confusing. This website provides a complete compendium of digital video formats and processes.  That's a half-day read that I'll leave you to on your own.
What's notable now is the shimmer of light that's broken through the digital video cloud formation that's been a scrape of disparate industry platforms, standards, and solutions. In an interview with Technorati, Jeff Malkin, President of Encoding.com, talks about his company, its Vid.ly product, and what it's done for the digital video publishing market. "We're seeing a major trend with studios bringing so much long-form content online," Jeff remarks, "All this content needs to be transcoded over and over again, and there are few in the world who have the capacity to do so."
Offered through a flexible SaaS, Encoding.com's robust encoding platform enables publishers and developers to instantly scale, while eliminating expensive video infrastructure investments. "We support all popular web and mobile formats through technology," Jeff explains, "and when an enduser presses play, the proper device is recognized." That's impressive.
What's equally impressive about Encoding.com's
Vid.ly product
, is how it enables brands to quickly and effectively run sophisticated digital video competitions as an iPod and iPad application. The company's proprietary
Encoding Intelligence™
solution helps publishers to accelerate processing, reduce errors, and optimize video across the appropriate user devices. This advancement in video distribution technology has fueled some big brand campaigns.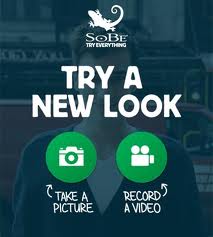 I the Fall of last year, Encoding.com teamed with Firstborn, a leading New York City-based digital agency, to help deliver the SoBe "Try a New Look" campaign. The complicated video management component of this project was dramatically simplified by leveraging the Encoding.com. The SoBe project not only required video encoding for the iPad, but needed to provide clipping, rotation, concatenation and muxing (adding) an audio track to video track.  "Originally scoped as a four-month project, it was delivered in two weeks using our technology," explains Jeff.
In another far-reaching campaign, Encoding.com's technology was the channel 20th Century Fox used in  partnering with the National Association for Music Education, to distribute $1 million in high school as part of the "Glee Give a Note" contest. "That campaign brought about 33 million Facebook impressions," Jeff cited. And today, Mozilla's "FireFox Flicks" contest is using the technology, as well. Running through May 1st, the objective of this campaign is to give budding film makers the opportunity to create and submit short videos promoting Firefox. The introduction of Encoding.com to the digital video landscape is making it all possible in ways no one else could before.