It is very likely that while shopping for one CBD product or the other, you have probably come across products labeled full-spectrum, broad-spectrum or isolate.
These three terms are different although they have the same root. They are terms used to define the type of CBD, which is a short form for cannabidiol, contained in a product. Each one of them connotes important factors you need to know and understand so that you are sure of what you are getting when buying or using them. Knowing the difference between these three will help you make informed decisions on which of them will suit you the best.
The cannabis plant contains compounds called cannabinoids. These include several terpenes like THC and CBD along with several others. The full collection of cannabinoids is called the cannabinoids spectrum. What determines if a CBD is either full, broad or isolate product is the cannabinoids spectrum range it contains.
A full-spectrum CBD is an extract of cannabinoids that contains all the compounds that are naturally occurring in the cannabis plant. These include all the terpenes, essential oils, flavonoids, natural fatty acids, CBG, CBN and THC, and every other cannabinoid. Each of these elements all have their own therapeutic value. Full-spectrum products are the most popular due to what is called the "entourage effect" which is the effect of the cannabinoids and terpenes working together.
The isolate is the purest form of cannabidiol. It is produced by extracting it from the plant and isolating it from every other compound. That is, isolate contains only CBD and nothing else. It is typically extracted from hemp due to its low THC content.
Broad-spectrum CBD is a mid-point between the full-spectrum and the isolate. The key feature is that the THC content is completely removed so you have every other cannabinoid present but no THC.
Since broad-spectrum contains multiple cannabinoids, like the full-spectrum, it can deliver the benefits of the "entourage effect" without the psychoactive effects of THC.
Broad-spectrum CBD is a good choice for people who do not want any trace of THC in their body for any reason, be it legal or simply for the purpose of passing a drug test. It offers users the opportunity to enjoy the broad range of health benefits of the cannabis plant and yet not get high or run afoul of the law.
How to Buy CBD Oil
When buying any form of cannabidiol, here are three major things you should watch out for. Note that there are more factors to consider in purchasing cannabidiol but for this article, we will only consider these three. Check here for more of them.
Decide on the Type of Product You Want
One of the first things to consider when buying cannabidiol is to determine what you want to use it for and the type that will suit your needs. You will need to decide if you want a product with THC or one with no THC. This will help you know if you will be buying a full-spectrum, broad-spectrum or an isolate. Keep in mind that different brands might vary in regards to the strength of the products. If your job requires that you get tested often, it will be wise to go for a broad-spectrum or isolate product.
Figure Out the Quality
Having decided on the type of product you want, the next thing is to determine its quality. Cannabidiol products come in milligrams (mg) which range from 20mg to 1,000mg per dosage. Based on the type of product you have chosen, pick a dosage that will suit your lifestyle.
Asides its potency, cannabidiol products will be labeled either as organic, vegan, or pesticide-free. A vegan or organic CBD oil is simple to make and it should probably be top of your list. Most reputable manufacturers will provide you with a lab report if you request it (that is if it is not publicly available) and you should take advantage of this to determine its quality.
Check How the CBD Was Extracted
Checking how the cannabidiol was extracted is quite important as this indicates its quality and tells if the genetic structure has changed or not. Products that have been CO2 extracted are some of the best. CO2 works as a solvent at certain temperatures and pressure and allows most compounds to be extracted with little or no damage giving you a high-quality product.
Where to Buy CBD Oil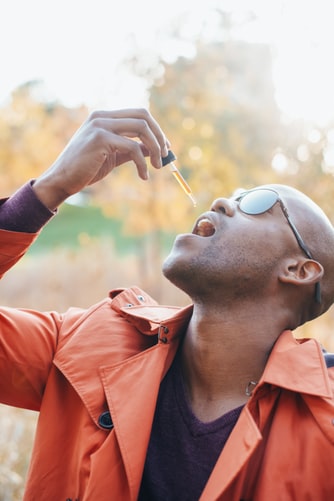 If you need to buy a broad spectrum CBD product or any other CBD product for that matter, you want to get the very best. This may not be easy as several vendors and sellers claim to offer the best of these products.
Due to its legalization, cannabidiol products are generally hot sale items these days. Everyone wants to benefit in some way or another from its supposed benefits. This has resulted in the proliferation of sellers who are all seeking to make profits from its high demand. This has sadly resulted in the sale of low-quality cannabidiol products by many unscrupulous sellers. 
You can buy broad-spectrum CBD oil online from reputable companies such as http://www.naturallifecbd.co.uk who focus on producing high-quality products and whose objective is promoting health.
You should not buy CBD oil from Amazon as they prohibit it on their platform. Most hemp or cannabidiol products you will find on Amazon are made with hemp seed oil and it does not contain a significant amount of cannabidiol or none at all. 
If you are seeking to buy high-quality cannabidiol products, vape shops and gas stations are also not the best of places to purchase high-quality products. Most of the time, they focus on cheap, low-quality products that they want to move quickly.
To ensure you only purchase your product from trusted sellers, do the following:
Ask for recommendations from trusted people.

Search online for direct manufacturers. Once you can ascertain the quality of their products, look for the accredited sales outlets or representatives.

Check for reviews from independent review sites like Google. Do not depend on the review you find on the sites themselves as these can be staged. Look for reviews of products from independent sites as this will give you a good idea of what products to consider.
With careful research and investigation, you will certainly find good quality broad-spectrum cannabidiol products that you can use without fear.