An eMarketer study in 2014 predicted that internet users were to hit 3 billion in 2015. Well, this has come to pass and in fact, the number actually reached 3.2 billion according to a study done by Miniwatts Marketing Group. As a business owner, it is imperative to leverage these numbers and the best way to do so is through a WordPress business platform.
Not only will you be visible globally but you will also be hosted on one of the most professional content management systems. In fact, according to a 2014 study, 74.6 million websites depend on WordPress and the top 100 bloggers also use the same CMS. From eBay, CNN and New York Times to Mashable, WordPress offers the most obvious home.
If you are using WordPress you definitely appreciate the flexibility it offers. This content management system (CMS) is considered the most customizable platform and if you want to run an efficient online business, then this is the most ideal option.
How to Maximize Database Services for WordPress
Despite WordPress functionality, you will still find it a bit arduous to deal with the growing data.  With every request, post, comment or update on the site, more data is generated and with this comes technical problems. One of the hardest parts of owning a website thus becomes database administration.
There are two ways of managing your data; you can either opt to learn the technical skills involved in dealing with WordPress' MySQL database which is not only time consuming but also expensive.  Alternatively, you can optimize your data by using a database administration expert.  These specialists can either be hired or you can outsource such services from a remote database administration expert.
Once you hire the services of such an expert for your website, there will be fewer technical glitches and less downtime. In the internet platform these are the greatest pitfalls for website owners and using these experts alleviates the problems.
Are these specialists necessary for even small businesses? Can you manage to run your business and still monitor your database? A database expert helps to maintain a successful website through invasive monitoring. They are thus able to detect any errors and remedy the same promptly. Through automated alerts they are able to notify you of any arising data issue. It is also easy to get live reports on ongoing maintenance work.
What a Database Expert Actually Does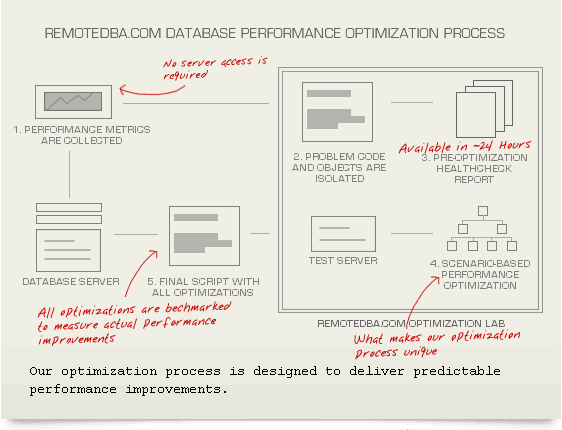 To appreciate the important role of a database services specialist, it is imperative to have a look at how they facilitate a working database environment. Here are some practical areas where these experts come in handy:
Installation and Configuration of the Database
Installation of WordPress is an easy process but you can still leverage these professionals to start things off on a solid footing. They also help in configuring your database, upgrading it and migrating onto a new version. It is important to understand that when you have a new server, data from the previous one must be transferred.
Database Security
Your website carries a lot of information including users' personal profiles. As such, you must have the prerequisite security guidelines and this is where this specialist comes in handy. Hackers and other malicious visitors can wreck your business if such sensitive information falls in the wrong hands. The main tasks involved here include authentication, authorization and tracking of how data is being accessed. In essence, a database administrator sets up user account logins, sets permissions and tracks every single activity that is going on.
Data Backup and Recovery
According to a Boston Computing Networks report, 60% of businesses that lose their data will shut down within 6 months of the loss. As a website owner, you have invested heavily in your business and data is, in fact, your most important asset. For this reason, the input of a database specialist becomes invaluable in developing, implementing and testing a backup plant regularly. The backups must be done on schedule and a data recovery plan must also be in place.
Capacity Management
Your DBA determines the storage capacity and also plans how data is stored and retrieved. This is one of the most important roles of a DBA as it also determines how responsive your website is. They will advise on scalability as they closely monitor the growth of your website and promptly upgrade when the need arises.
Performance Monitoring and Remedying
The main risk your website suffers is from lack of reliability. A database expert comes in handy. Through 24/7 monitoring, these experts will know when a problem is about to arise and deal with it effectively. They have the necessary tools to keep them alert regarding any system failure and this, in turn, keeps your website in tip top condition.
Performance monitoring is necessary and helps to identify problems before they cripple operations. Tuning a database server is one of the most important tasks these professionals offer you. Once a problem is identified it will immediately be resolved, thus limiting any chances for a downtime.
In essence, your WordPress site requires these IT gurus to proactively offer you technical support and improve uptime. They offer functional and technical support to enhance site reliability, stability, and performance. Database experts also facilitate database connectivity and also manage data importing and exporting across systems. Throughout this process, you will get reports on what is exactly is happening with your website.
How to Hire a Database Expert
Now that you appreciate how important these specialists are for your website you must hire the best. It is important to ask for referrals before signing any papers. More importantly, look at the sites they are currently working with and test their reliability.
It is also important to agree on the channels of communication to be used to update you about the ongoing monitoring and fine tuning. You should also read reviews and testimonials by previous clients and during the initial consultation, make sure you appraise their experience and expertise in the industry. A reliable DBA should also have the prerequisite resources to work for your website's database.
—
Sujain Thomas is a data IT professional who works closely with DBA experts to provide her clients with fantastic database services to their data problems. If you need data IT solutions, she is the person for the job