Measuring Lifestyle Magazines with the eValue Score
Social media analytics company Engagement Labs recently ranked the top men's and women's lifestyle magazines based on social media performance. The company's eValue score delivers intelligent brand data for social media networks including Facebook, Twitter, Instagram and YouTube.
A score is assigned between 0-100, and is comprised of the aggregate of three subscores (engagement, impact, and responsiveness) as well as a benchmarking relative to other social media brands. For example, recent metrics on Canadian beer brands.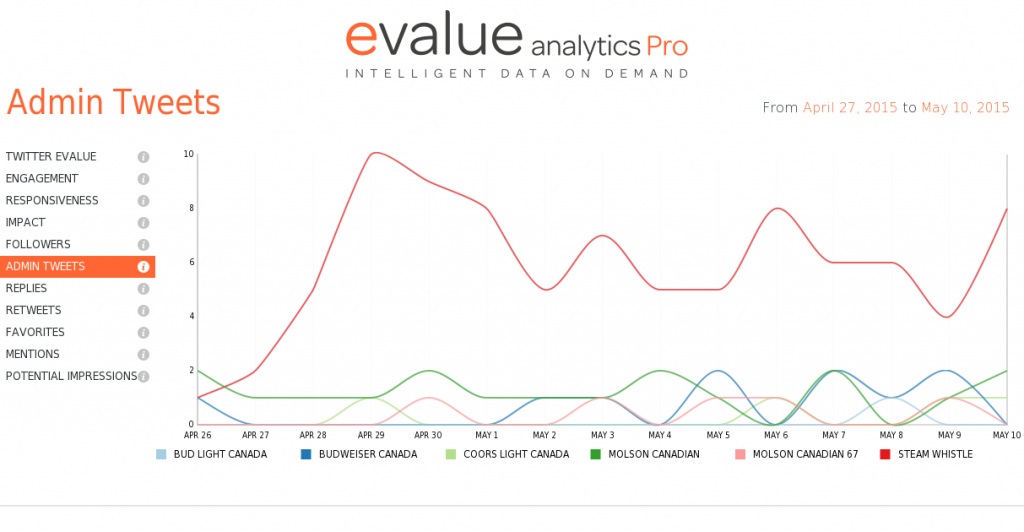 eValue Subscores Defined
These are the three subscores that make up part of the eValue score.
Engagement: Measures the level of interaction (likes, comments, favorites, shares, clicks, etc.) generated by your content and how well your community reacts to it.
Impact: Measures how many unique users may be exposed to a piece of content posted by the channel through organic, viral and paid reach. Impact allows marketers to better understand and measure the quality of the audience they are targeting and how well their content is shared across a given channel.
Responsiveness: Measures the rate, speed and quality of the brand's responses to their followers. This measurement takes into account the effort that brands put in responding to posts day-to-day. A low score represents the many missed opportunities to engage directly with potential consumers.
Lifestyle Top 10s
When it comes to lifestyle magazines and social media, the top performer on Twitter isn't necessarily the top performer on Instagram. Prevention magazine, for example, ranks #2 on Facebook performance, but fails to even break the top 10 for Twitter or Instagram.
Men's lifestyle publisher Slam, ranks #2 on Twitter, but a meager #9 on Facebook. Below are Engagement Labs' findings in this recent study.