The wedding industry has been rooted in tradition for centuries. Wedding traditions, like the wearing of the bridal veil, have been in existence since ancient Judaic times, while other traditions, such as the lighting of the unity candle or the wearing of a white wedding gown, are fairly new.
Because the industry consists of lots of different components from caterers to music providers, only touch-point of communication between business verticals has long been the bride or the event planner. So when technology comes kicking and screaming to be introduced to old school weddings, innovation can be hard to implement.
Behind all those silk covered buttons and wedding cupcakes, however, lies a goldmine of killer apps, wearables and platforms. $300 billion globally, in fact. The $55 billion US wedding market alone fuels over 500,000 businesses, putting 750,000 people to work in over 55 unique products and services.
In August of 2014, Mashable and TheKnot.com conducted a social and tech wedding survey to better understand the trends of newly engaged couples and their social media, wedding planing app, and event promotion practices. It turns out, today's weddings are overwhelmingly digitally connected. "The biggest change we've seen is in the amount of brides using their mobile phone to plan their wedding—it has doubled in just three years," reports Rebecca Dolgin, Editor in Chief of The Knot.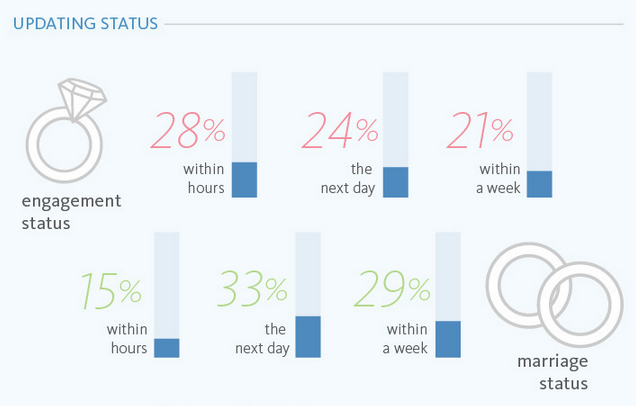 According to SellTheBride.com, a modern, digitally-enhanced wedding needs to have new technologies and trends.
Live streaming:  Venues and vendors around the globe are beginning to offer live streaming for weddings because virtual guests are at the heart of the future of wedding planning.
Wedding planning apps. Apps like Plan The Day enable collaboration between brides, vendors, and guests. Timelines, tasks, and notifications turn wedding planning into sophisticated project management.
Social media-enabled weddings. From wedding hashtags, Pinterest pins, Facebook updates, to digital invites, today's weddings need to embrace social to extend their reach.
Virtual planning meetings. Peer-to-peer computer and mobile apps like Personify, transform traditional video calls into more like an in-person meeting through a 3-D experience.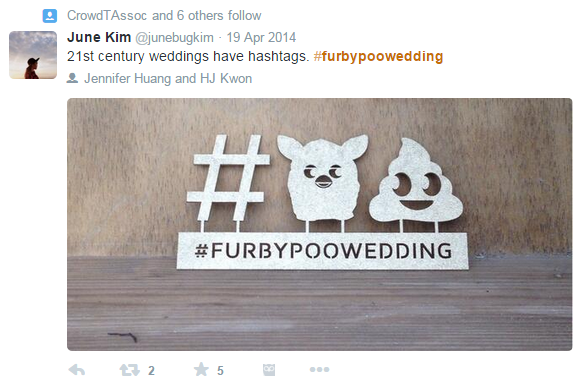 So where's all this wedding technology coming from, and who builds it? As Tech Crunch explains, venture capitalists love markets where consumers spend exorbitantly for services that are extortionately priced. And they really like it when it's an upward trending industry wide open with opportunity. Entrepreneurs backed by eager investors are hopping aboard the wedtech boom.
Today's wedding spending is high on tech innovation, with 61 percent of engaged couples used their phones to access wedding planning sites. Even the ultimate champion of early wed-stars, Dave McClure of 500 Startups became one of the Valley's first incubators to begin developing platforms for weddings as a unique business model. All these early forecasters know there's money in this space — they just hadn't cracked the 'wed-code' yet.
Elisa Camahort-Page, COO of BlogHer Inc, an online media property of SheKnows Media, explained why innovation in the wedding space is so sorely needed: "When I got married seven years ago wedding blogs were already popular and full of great advice, but I was amazed at the lack of tech solutions to make planning my wedding easier. I created my own RSVP widget (and still get asked if it's available for general use)," Page is quoted as saying. "The landscape has changed radically since then, and smart developers are realizing that there's no one more primed to spend and desperate for innovation and efficiencies than engaged couples!"
A landscape, in fact, that's built its own bustling ecosystem. The wedding technology space has its own groups, publications, and competitions. The burgeoning industry even has its own conferences.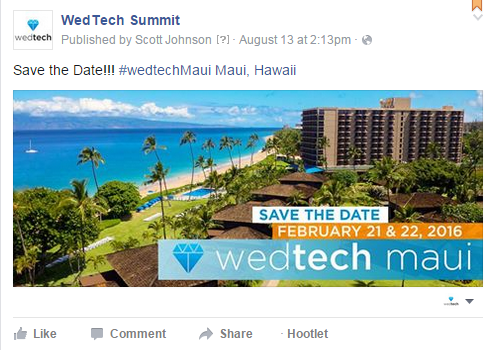 Each of these serves to introduce matrimonial users to online and mobile wedding tools. Today's social-mobile, younger couples demand tools that efficiently fit into the rest of their lives. Because of this, Silicon Valley is "really starting to rally around weddings," as Carolyn Gerin, co-founder of the WedTech Summit explains. "Millennials are not looking at tradition. They don't care if Martha Stewart says it's all about pink cupcakes."