Article first published as Project Management through Incentivization: Interview with RedCritter CEO, Mike Beaty on Technorati.
Project Management Software
Imagine you're a business who's product delivery requires a whole lot of timely coordination between different functional groups. "Hey, that sounds like me," you might be saying. It sounds like a lot of industry whose challenge is the coordination, motivation, and processes around project management.
Eight years ago a saving grace came in the form of a handy product called Basecamp. We could share documents, capture topic strands, manage revisions. It was great at first. Then business really got going, things like social media came into form, and solutions like Basecamp were suddenly more burdensome than facilitating.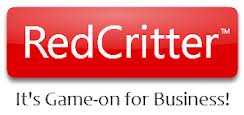 Speaking at this week's Gamification Summit in San Francisco was RedCritter, a company committed to changing the value and usability of project management software solutions. Before anyone gets caught up in the "G-word," as it's been called by analysts, critics, and proponents alike, let's level set. What we're really talking about is incentives. Incentivizing behavior, sharing, accomplishment, even failure that is thereafter learned from.
I call it "incentivization" and that's what this is truly about.
The company's product, RedCritter Tracker, is a project management solution for both individuals and teams to manage multiple projects at the same time. One of the biggest differences between RedCritter Tracker and other project management applications is its reward system. Employees can unlock badges and earn points for accomplishing goals and tasks. Each task includes a timer that lets the user monitor hours for billing purposes. The application also offers a rewards store, focusing on meaningful, positive reinforcement for hard work.
The way it works, points can be saved up and spent in the company store. The store is stocked by the employer and can contain anything from a catered lunch to event tickets or gifts. Explains RedCritter CEO, Mike Beaty, "This gives employers a fun, encouraging way to keep employees interested while maintaining morale."
Does this all work at engaging employees and advancing project management activities? According to one of RedCritter's clients, game producer, Matmi, it does so quite well. Matmi's CEO, Jeff Coghlan, declared so onstage into what became my Tweet: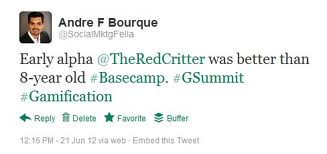 "Ouch!" I don't make this stuff up, I just report it.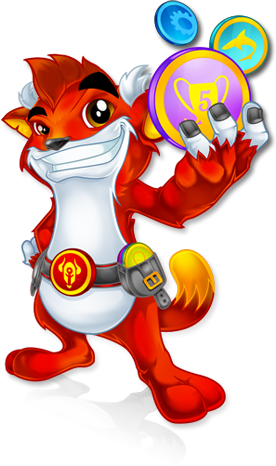 Part of what makes it work so well is the platform's drag and drop interface, that lets users easily shift one task to another position on the to do list. Another differentiating feature is RedCritter's set of 50 standardized badges that can be unlocked with the right corresponding project management activity. Beaty explains how the set badges gives his platform a consistent standard that is transferable, and understandable outside of the enterprise itself, and into the industry as a whole. "Badges are more than just about status," Beaty explains, "they are also a visual representation of talents, traits, and characteristics." RedCritter's badges are a way to measure things like social media usage, how often or quickly someone uses email, or even how late or early they work.
These "intangible" factors do more than just provide a Facebook-like "check-in" for users, but also help employers in profiling who does what, and more importantly, who's best suited for what. "With standardized rewards and game mechanics," Beaty adds, "you can more appropriately pick your team and skill sets for a project."
RedCriter Tracker makes employee skill sets visible to make it easier for management to select appropriate team members. The solution comes with a default "master list" of typical software development and management skills that can be customized to an organization's needs. To build following and interest, the skills can also be embedded into email signatures, documents, and blogs so that competencies are constantly visible and relevant.
In short, RedCritter's product features things like:
Manage multiple projects at one time in one place
Drag and drop tasks in the appropriate areas
Set up a rewards store to encourage employees
Employees earn badges for completing activities
Profiles lets the user see badges and current tasks
A video overview of the product is available on YouTube:
What all this brings about is a level of transparency across an organization that is ultimately to the benefit of project management. This approach, introduced at the foundation level, and properly nurtured, carries through into execution, delivery, and customer service, as well. RedCritter's framework of rewards and incentives is applied in a way that allows management to uphold processes and guide efforts while allowing individuality.