Written By: Graham Onak
It's an old saying but it rings true: content is king. The quality and quantity of web content is directly related to your site's ability to drive conversions. If you're looking to improve your conversion rate, try starting with your content. Here are ways you can turn your site into a conversion powerhouse by tweaking your content.
Content Tips That Can Help Boost Your Conversions
Watch Content Layout
Your website layout is important. Visitors want to find information quickly and easily. Keeping those visitors around longer or getting them to the right place will improve your site's conversions. Here's how you can do that.
Break up large blocks of text using paragraphs. Large blocks of text tend to be difficult to read and don't give the readers a break. This makes it hard to digest and follow.

Highlight headlines with bold formatting and use numbered subheadings to help make them stand out more. Some readers are skimmers. You want to make sure they find what they want quickly.

Use bullet points to help showcase important key information that you want your readers to learn from your content.
In utilizing these three key format fundamentals you can help balance out the white space and help make your content more appealing to your visitors. The easier it is to read, the more likely they'll stay on your website and move towards whatever your conversion funnel looks like.
Choose The Right Font
Believe it or not, your site's font can really make a difference. Different font types offer different voices. Depending on your business or website, the font should match the type of voice you're after otherwise you'll find your visitors won't take you seriously. Here's an example of different fonts and their voices.

As you can see above, fonts change the voice greatly depending on the one you've chosen. While bloggers may be able to get away with using different voices, if you're a business that wants to sell their products, it's always good to use a professional font. You wouldn't buy luxury products or pharmaceuticals from a site using Comic Sans, would you?
Include Useful Information
The content you write, whether product descriptions, blog posts or articles, all has one thing in common: it needs to answer your visitors' questions. Here's how you can start doing that.
Blogs and Articles
Make sure the content you're writing is of help to your readers. It should provide key takeaways that they can use. Try to incorporate tips into each piece or subheading to help boost interest for readers.

Make sure the article answers a question that someone actually has. This can be done by checking up on Google search for questions being asked in your niche or by using Google Keyword Planner. Both of these tools will give you valuable insight into what people are searching for and can help give you ideas that will be popular with visitors.

Don't be vague – go into detail. If someone is searching for an answer to a problem, they will want to solve it, not just know others have the problem too.

Proofread and edit. Mistakes make your content appear unprofessional which can lead to your visitors leaving your site quickly.
Product Descriptions
When writing your product descriptions make sure you include why it would benefit your customers. Instead of saying "this knife is sharp" you can say "this knife is sharp enough to make quick work of vegetables, leaving you plenty of time to clean up after a tasty meal and relax on the couch." This can help to make all the difference in whether they choose a product or not.

Incorporate key bullet point features that you want to highlight. People tend to scan content so having bullet point features of a product can help them to make a quick purchasing decision.

Keep your product descriptions short but not too short. 200-300 words is enough as long as you include the benefits in the description.
Add Great Images
Images make your content appealing to your audience, and with mediocre images or no images at all, you'll find it hard for visitors to really engage and be interested in your offerings.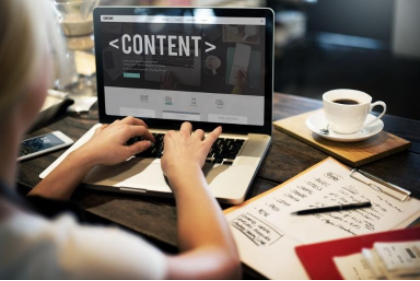 Add a relevant image every 500 words to help deliver more appeal from your content.

For tutorials or "how to" posts involving software or the computer, try adding screenshots. There's no better way of teaching than literally showing someone how to do something.

Use images that are royalty free to use. You can do a Google image search and set the search filter to a variety of usage settings. Shutterstock, iStock and other image websites also offer paid solutions.
The big takeaway here is that boring, mediocre content doesn't cut it and you only have a few seconds to get your visitors attention. You need to make your site stand out visually and through the quality of your ideas. Hopefully, these tips will help you take a new look at your website and drive more conversions by tweaking your content.
Author Bio: Graham is a marketing consultant and owner of GAINtap, a Chicago-based marketing consulting and web marketing company. He leads a team of specialists that help clients create handcrafted fulfillment solutions covering content marketing, search engine optimization and digital advertising.