Written By: Jonathon Bullock
Clients are growing more and more skeptical of investing in creative solutions without any plan for ROI.
This isn't just in the realm of content marketing – you could ask anyone in almost any communications discipline to pitch an idea to a client without a clear strategy for returning on their investment. And it's not as if clients' attitudes have changed out of the blue. This is the runoff of financial rises and crashes over the last decade and the transition in power from old powerhouses such as Target to the modern equivalents such as Amazon.
You can think of any marketing or advertising firm as fishing experts, and clients as hungry people without the skills to catch fish. The role of the expert is simple – to help pull in extra fish for them. And whoever can prove they'll catch the most fish will be the person they hire.
How can content writing produce tangible ROI?
This doesn't take the most crafted copywriting to have ever graced the planet. You don't need a writer so in-tune with conversions and sales that they can sweet-talk the audience into buying. It takes a strategist, a bit of time, and the right words at the end.
The strategist
At the heart of strategy, you have to understand the business, and how the audience currently engages. Does the business carry high website use, but struggle to convert visitors? Do they already know 30% of those aware of their brand will choose them over their competitor? Are there certain digital resources (such as interactive guides or calculators) which are proven to create conversions? What can your content marketing strategy deliver to drive performance?
A bit of time
From first-hand experience, this is hardly the fastest procedure in the world. Mining through digital resources to clearly understand how the target market engages with the brand is about as taxing as content marketing gets. But the net result is, you can draw that company's conversion funnel.
And no, it doesn't look like this:
How beautiful is the old-fashioned sales funnel? The target audience moves through so cleanly, so clearly. It must be so simple to define what the objective of a content marketing strategy should be.
For anything greater than the lowest-involvement decisions imaginable though, the funnel will vary on the availability of the product/service to the consumer, their urgency for it, the significance or cost of buying, the disparity between competitors, and plenty more factors. This is the closest all-rounder I've found to a modern-day digital conversion funnel: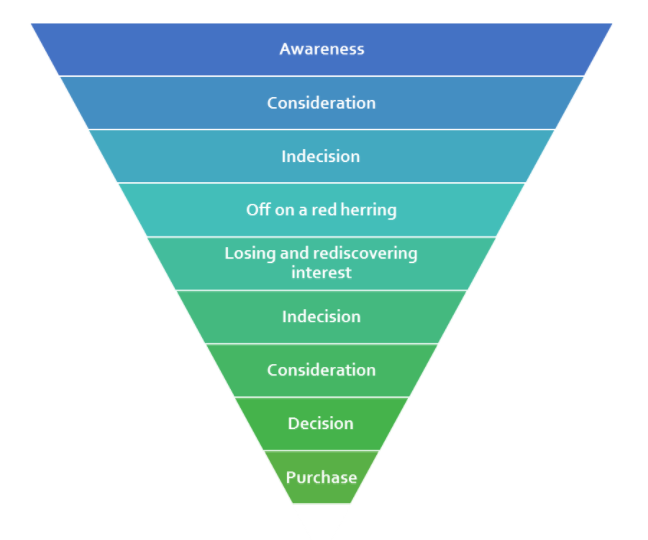 But, I digress. The short of it is: if you can understand how users go through your client's funnel, you can strategize how content will widen it.
The 'right' words
The 'right words could be anything, whatever your time and strategizing have suggested will deliver ROI. It could be:
Leading viewers to make an online inquiry, based on data showing 50% of enquirers convert

Standing out in a market where all competitors are equal – but targeting long-tail keywords near the consumer's point of purchase

Understanding the high conversion rate from paid social, so creating highly engaging content tailored to minimize amplification spend
The 'right' words will look different for every client, but they all have a reasonable and clear plan for ROI at the core.
So what's the future of creative content?
Alive and well. Creating something new is an essential piece of any content marketing campaign.
Going back to the world of fishing, you can think of strategy as the hook and line, and creative as bait. Without bait, there's no chance you'll catch a fish. And if you throw out bait without a hook or a line, there's no doubt you'll attract the interest of the fish – they may even come back for more.
But try telling a client you'll catch a fish without a line or hook.
Author Bio:
Jonathon Bullock, is a content marketing specialist with Search Factory | iProspect Brisbane, Australia. As a Senior Content Executive, Jono (as we call him) produces outstanding content for our digital marketing clients, helping us towards our goal of being the leading SEO Company in Brisbane.