Shortages of pandemic personal protective equipment (PPE) and other critical health care supplies necessary plague the United States, as well as the rest of the globe. Skyrocketing PE prices have left some buyers paying 6,000% mark-ups on N95 masks, while manufacturers and distributors struggle with shipping backlogs. All this has forced many organizations to procure critically needed PPE through unproven back channels and chaotic black markets.
This bustling, impromptu PPE market is riddled with quality control challenges, counterfeit products, uncertainty around product origins and effectiveness, and a wealth of scams. Pop-up PPE brokers are pitching deals at an increasing rate as supply shortage has grown critical.
One mainstream distributor said that legitimate 3M products also are being diverted out of normal channels by manufacturers or others who want to profit from runaway prices. "The question is, how did the stuff get diverted in the first place?" said Michael Einhorn, president of Dealmed, a supply company in Brooklyn, New York. "There's something fundamentally wrong with the supply chain."
"A million people in their garage" seem to have access to the products when authorized distributors do not, Einhorn said. "They're flipping it to a guy, who's flipping it to another guy. By the time it ends up in a hospital, 10 people have touched it and made money."
A Reuters Special Report by @JTanfani and @horwitzjosh on the "The Mask Middlemen" chasing big profits amid a global shortage of masks durign the coronavirus pandemichttps://t.co/4aS8gsTfmM

— Vincent Lee (@Rover829) April 1, 2020
The FBI has warned against schemes where criminals solicit an "advance fee" or "business email compromise (BEC), claiming to have medical supplies for sale, when they, in fact, do not. Under this scam, companies wire the funds to disingenuous PPE Sellers before receiving the equipment. Alternatively, some companies are being approached by well-meaning brokers who are, in turn, being deceived by Sellers who falsely claim they will deliver supplies through the broker.
ProPublica published an engaging and telling narrative of a writer taken on a fruitless journey through this PPE business labyrinth entitled, "The Secret, Absurd World of Coronavirus Mask Traders and Middlemen Trying To Get Rich Off Government Money."
In the end, the writer was ghosted by the PPE seller after reminding him of promises about billion-dollar investors, a Mexican supplier, and other dubious claims. The deceitful Seller ended their business relationship in a sitcom scripted act, "You're breaking up," he said. "I can't hear you."
All this has created a pandemic PPE market resting on a foundation of doubt and greed, producing a multitude of process pain-points along the way. Some of the most common inhibitors to a successful PPE deal include:
Buyers insisting on following their own and banking procedures

Buyers unwilling to issue a suitable Proof of Funds (POF) BCL/RWA letter

Delayed compliance with standard operating procedural (SOP) documentation requirements

Buyers attempting the PPE "Dip and Pay" trading scheme to find a product buyer after having Proof of Life (POL) verified

Sellers unwilling to supply any evidence of proof of product

Deal has too many intermediary handshakes and commissions
While there is no single, surefire way to overcome these obstacles, creative hacks can help facilitate things. Below are five I've picked up along the way.
1) Zoom: Ready, Set…Screen Share

Sometimes you need to resort to tried-and-true methods of engagement to avoid an immobilizing PPE buyer-seller standoff. Think "gun draws" in old Western movies, only augmented by virtual technology.
That's essentially what you're hoping to orchestrate is a live Zoom call where both the Buyer and Seller mandate simultaneously "proof up" their respective proof of funds (POF) and proof of the product's existence, or life (POL).
Both parties need to be vetted as thoroughly as possible in advance, but with this approach, both the Buyer and Seller are set to receive their required documentation through screen sharing in an even, coordinated exchange.
The live audio and video help build authenticity and trust around the transaction, as both parties are introduced and revealed to one another.
2) PPE Trade Escrow

An escrow service is a cash-in-advance option available to exporters and importers that reduces the potential risk of fraud. It acts as a trusted third-party that collects, holds and disburses funds according to exporter and importer instructions.
This trusted, third-party financial middleman and platform serve to bring checks-and-balances into variable PPE transaction standard operating processes. This added level of risk-mitigation can help make a buyer comfortable enough to present their funds.
There are three parties involved in an escrow account service agreement:
The buyer (the purchasing company)

The seller (the supplier, the factory or the trading company)

The escrow service provider (also known as the escrow agent)
In summary, the trade escrow process includes these steps.
Both the Buyer and Seller agree to terms, and the transaction begins using a certified 3rd party Escrow Service Provider.

The Buyer submits a payment by approved payment method to our secure Escrow Account.

The Escrow Service Provider verifies the payment, and the Seller is notified that funds have been secured 'In Escrow'.

Upon payment verification, the Seller is authorized to send the PPE and submit the tracking information.

The Escrow Service Provider verifies that the Buyer receives the PPE.

The Buyer has a predetermined period of time to inspect and accept the merchandise purchased and the option to accept or reject it.

The Escrow Service Provider releases funds to the Seller from the Escrow Account.
3) PPE Trade Financing and Underwriting

While managing PPE funds through an escrow account serves a transactional purpose, you need to have pole vaulted over the hardest part to use it. The purchase agreements must be completed, and proof of funds verified to the Seller's satisfaction.
This is where PPE trade financing and underwriting can be used to move things along without the Buyer's immediate need to disclose confidential banking information. With an experienced PPE financing and underwriting firm, Buyers can get view product lot numbers, SGS inspection reports, or even the on-ground PPE product itself.
With an experienced PPE financing and underwriting firm, Buyers can get view product lot numbers, SGS inspection reports, or even the on-ground PPE product itself.
Click To Tweet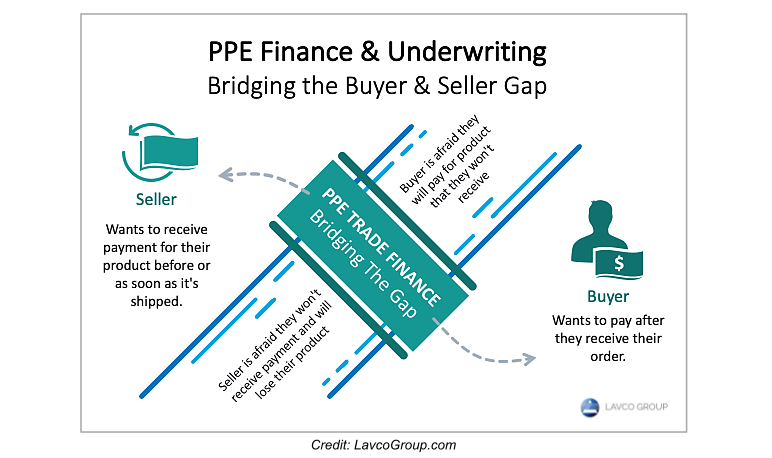 The PPE trade financier's responsibility is to vet his Buyer as thoroughly as possible and to a degree that is satisfactory enough to issue the Seller a binding purchasing agreement once predetermined conditions are met.
"In effect, the underwriter is doing the Seller's vetting for them," Hamid R. Lavassani, president and CEO of Lavco Group said. His prominent PPE trade financing and underwriting firm was one of the first to introduce these services to the PPE market.
None of this is free, of course. The buyer pays a premium for the intermediary credit, but in many cases it's a mere fraction of what a PPE deal gone wrong could otherwise cost.
4) Blockchain for PPE

As an open, distributed ledger that can verify and permanently record transactions between parties, blockchain technology is one of the best technological hacks for the fractured PPE market. In addition to real-time supply chain reporting, blockchain for PPE enables proof and transfer of ownership. 3rd party authentication of key lot numbers, inspection reports, funds, and distribution points can all be integrated and retained in the immutable blockchain supply chain solution.
A Healthcare IT News proposal to create a Federal Reserve-type structure for PPE supply chain management notes that, "reallocation of stockpiles from hospital to hospital (with critical need) via blockchain can decrease a need for a federal or state reserve stockpile. This can ultimately help eliminate waste by not requiring the government to keep supplies for these hospitals that are critically low."
IBM recently introduced Rapid Supplier Connect, a blockchain-based system and network said to be used by enterprise healthcare, non-profit, and government entities. I have seen a demo of the solution and it holds promise.
"Buyers need to assess the credibility of new suppliers quickly, and simplify the process of locating essential items," said IBM. "The system features a streamlined onboarding process, validation checks and inventory information in nearly real time."
As with the cannabis industry, blockchain solutions enable PPE products to be fully traceable throughout the supply chain. The challenge for cannabis blockchain, however, is still the same: gaining critical mass in adoption.
5) Banker-to-Banker Call
A wise PPE broker once told me, "Get the bankers together as soon as you can and let them hash out the next steps." Those two parties have the collective power to move a PPE deal forward.
The Buyer's banker can verify funds in a variety of ways, and to varying degrees of comfort. A Seller's banker can make decisions on their client's behalf, and quickly facilitate communication and document reciprocation.
These direct banker-to-banker calls often include the participation of party attorneys, the buyer and seller, and even intermediaries. The idea is to get the two bankers verifying funds, and have the rest of the players in place to do the rest.
When it works, it works well.