Written By: Jared Carrizales
Have you been wondering which industry has the largest reach on social media? Well, the answer may surprise you, especially if you haven't been able to gain traction with your social campaigns. Here's the top niche on social media.
The Top 5 Industries on Facebook Revealed
The United States' November 2016 report from socialbakers reveals the top five industries on facebook, based on the number of followers.
The number five leading industry on this platform is retail food. In total, this niche has over 291 million followers. Brands like Whole Foods and Safeway fall into this category.
Fashion is the fourth industry on the list. Over 308 million followers like pages in this niche. Here, brands like Macy's and Forever 21 take up a huge portion of overall social media reach.
The third top industry on Facebook is fmcg (fast) food. This niche has nearly 320 million followers. Think of companies like McDonald's and Starbucks.
Second on the list of top niches on Facebook is general retail. General consumer brands with in-store shopping like Target and WalMart have over 408 million total followers.
Number one – the single most popular niche – is eCommerce. Sites like Amazon, Ebay, and Etsy dominate social media with almost 443 million followers total.
[socialbakers lists the leading US industries on Facebook.]
These retail brands beat industries like non-profit, finance, real estate, and more. So, if you're a retailer or eCommerce business whose social media messages aren't reaching as many people as you would like, this could mean that you need a crash course in social media for product sales.
How Should Retailers Use Social Media to Promote Products?
Facebook is notoriously difficult to advertise on, even though the platform is perfectly setup for promotions. Marketers used to preach about "conversations" with consumers on social media, which is still the case, but now there is so much more data available to help you make informed promotional decisions. Here's how you should use social media to promote your products.
Why and How to Use Video in to Sell Products on Social Media
Cisco has predicted that video content will make up 80% of all internet traffic by 2019. Their studies also show that 4 X more consumers prefer to watch a video about a product than read about it. This makes video the most effective type of content to advertise your products on social media.
Launched in the Spring of 2016, Facebook Live has disrupted the way people view and share videos on social media. Now, anyone with a smartphone and wifi or a data connection can share what they're doing with the world in real-time. What's awesome is that Facebook users spend 300% more time watching live videos than other video content. The live feature can be used on personal profiles, and business pages.
Etsy is known for selling handmade and vintage products online – their Facebook page is full primarily of posts containing product images. One such post from January 28th, 2017 has 4 shares. Others like it have a handful of shares or none at all. These product image posts get some reach, but there seems to be a better way.
A video post from January 27, 2017 already has 250 shares and nearly 200K views. This video shows a hand-carved stamp being used to create a stunning print – a real-life example of how one Etsy product can be used.
Each and every detail of this stamp was hand-carved by Etsy shop Rise and Wander. Watch as the final result is revealed. http://etsy.me/2iGQ6FJ
This should give you an idea how to create videos that awe your customers and entice them to help you spread the word: Create a video that shows one or more of your products in use and consider live-streaming for instant impact.
Have You Tried Posting in Relevant Groups?
Social media groups are a great way to share your products and services, but not everyone is using them yet. One interesting aspect of Facebook group marketing is that many of the groups are either private or closed, meaning that the data and content aren't allowed to be shared from directly within the group. You'll have to try it for yourself to see how well it works.
Don't join groups full of other social media marketers, though – that is not your target audience. Join groups where your target niche is likely to be. If you sell children's books, for example, join a mommy chat group, not an author group. If you are promoting your art, don't join an artist's group. Instead, join a group that is likely to be interested in your specific style of art. Are your paintings surreal? If so, join a group like Psychedelics & Philosophy.
Finally, don't just dive in and start sharing your products right away. First, join discussions and be helpful to others. Ask and answer relevant questions.
When executing a Facebook group marketing strategy, include a link to your website and/ or your company's social media page on your public profile. This way, when someone is interested in what you're saying, and they decide to click through to your profile, they can find your products organically.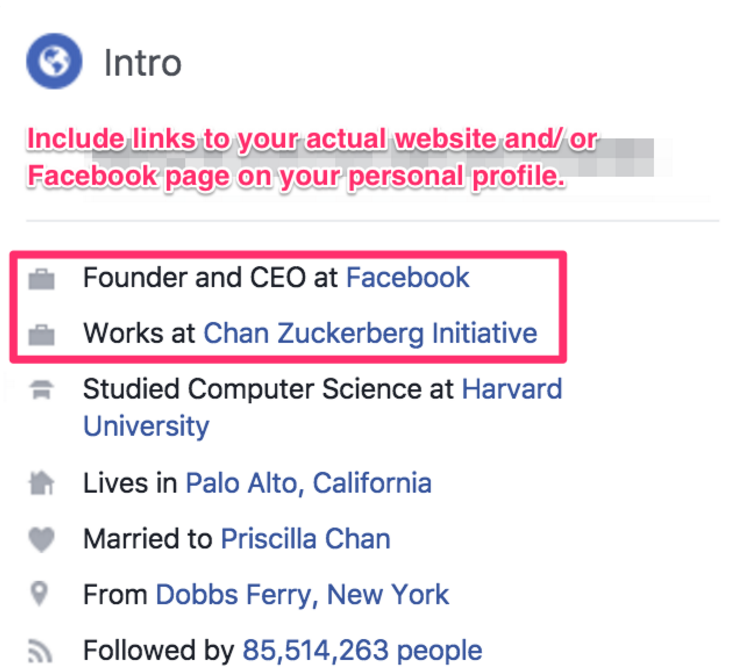 [Include a link to your website or Facebook business page on your personal profile.]
Mark Zuckerberg is the founder of Facebook. If you should follow anyone's lead, it's his. On Zuckerberg's personal profile, links are included to Facebook and his wife's organization, The Chan-Zuckerberg Initiative. Make sure your links actually take people your landing pages, and not just to blank pages (I see this all too often).
This is How to Make Sure Your Website is Social Friendly
Your Facebook posts are only part of the social outreach puzzle. It's critical that your eCommerce website is social-friendly. Include the following elements in your marketing strategy to make sure your site is optimized for viral sharing.
   1. A responsive eCommerce theme will ensure that visitors from both mobile and desktop browsers see what you want them to see. Images and content will appear aesthetically appealing from any device.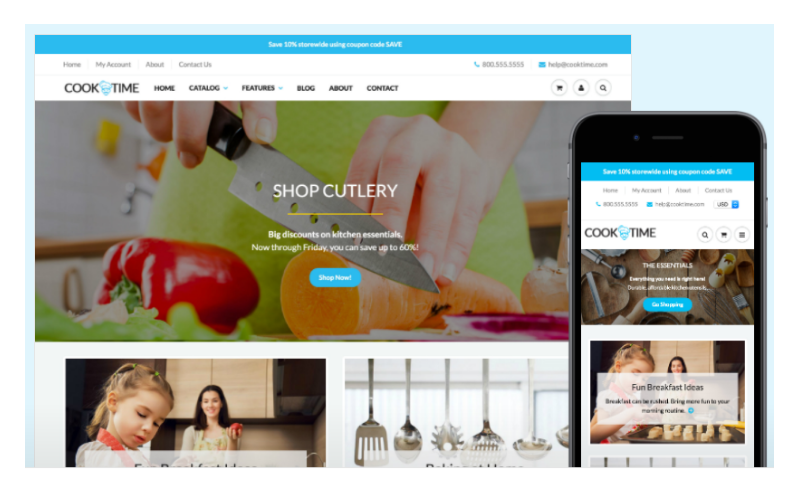 [Shopify provides responsive, ready-made eCommerce themes.]
   2. Social sharing tools make it easy for customers to share your product images and website content with their friends, family, and followers.
[Social sharing tools like Post.io help you optimize product pages for sharing across all platforms.]
   3. Click-to-Tweet provides an effortless way for shoppers to tweet pre-chosen snippets of your content to their Twitter feed.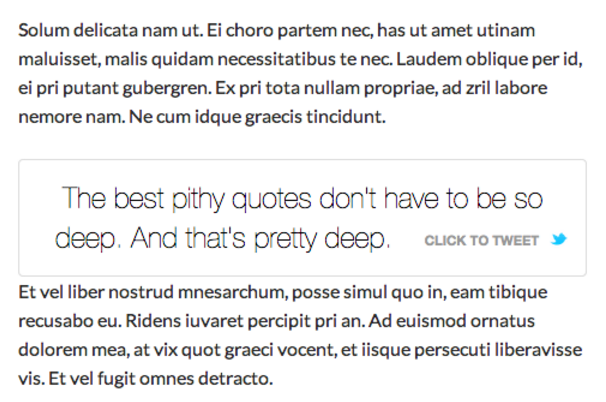 [Click-to-tweet makes it easy for people to share your snippets on Twitter.]
Conclusion
E-Commerce is the number one industry on social media. And, the top five niches are retail-based. If you're having trouble with social reach for your retail business, follow the advice here. It will optimize your promotional content for the most social sharing.
After you try these tips, let us know how it works for you in the comments below.
Author Bio: 

Jared Carrizales leads the team at

Heroic Search

in Tulsa and Dallas. They handle content marketing, social advertising, and digital public relations. Get in touch with Jared on

LinkedIn

and

Twitter

.